1.

Welcome

Thank you for purchasing our Breken-Electronics repair template. If you have any questions that are beyond the scope of this help file, please feel free to contact us here by mailing us at webmaster@makewebbetter.com

Breken- Electronic repair template is a HTML5 & CSS3 responsive template. This template is basically for electronic repair. User can easily use this template for any repair shop. It is a feature rich and beautifully designed. It supports bootstrap framework so easy to customize and develop your own styles. Easily customizable, 24/7 support time.
How to Use
Download zip folder of Breken- Electronic repair template.
Extract the folder of Breken- Electronic repair template
Just replace the dummy content according to your need.
Your Breken- Electronic repair template is ready.
2.

General Information
Software requirements
Sublime Text 3 used to edit the .HTML, .JQuery, .CSS and .SCSS files.
Grunt used as precompiler for SCSS to CSS convert.
The following scheme displays the template files structure.
Documentation – contains documentation of design customization and support
Template – contains the main files of the Breken- Electronic repair template is a electronic repair template

CSS – contains all Stylesheets used for UI.
Fonts – contains Bootstrap icon files and Enchanting celebration font folder.
Images – contains all the images.
JS – contains all javascript library or plugin files.
SASS – contains all SCSS files.
index.html – contain first home page code.
About.html – contains about page code.
Contact.html – contains contact page code.
Blog.html – contains blog page code.
blog-detail.html – contains blog detail-page code.
Project.html – contains project page code.
Project-detail.html – contains all UI code.
Service.html – contains all UI code.
404-page.html – contains all UI code.
Coming.html – contains all UI code.
home-2.html – contains all UI code.

Screenshot – Contains screenshot of template.
readme.txt – contains the information about Bootstrap presentation layouts.
3.

File Structure
HTML Structure
The html and css file is well commented.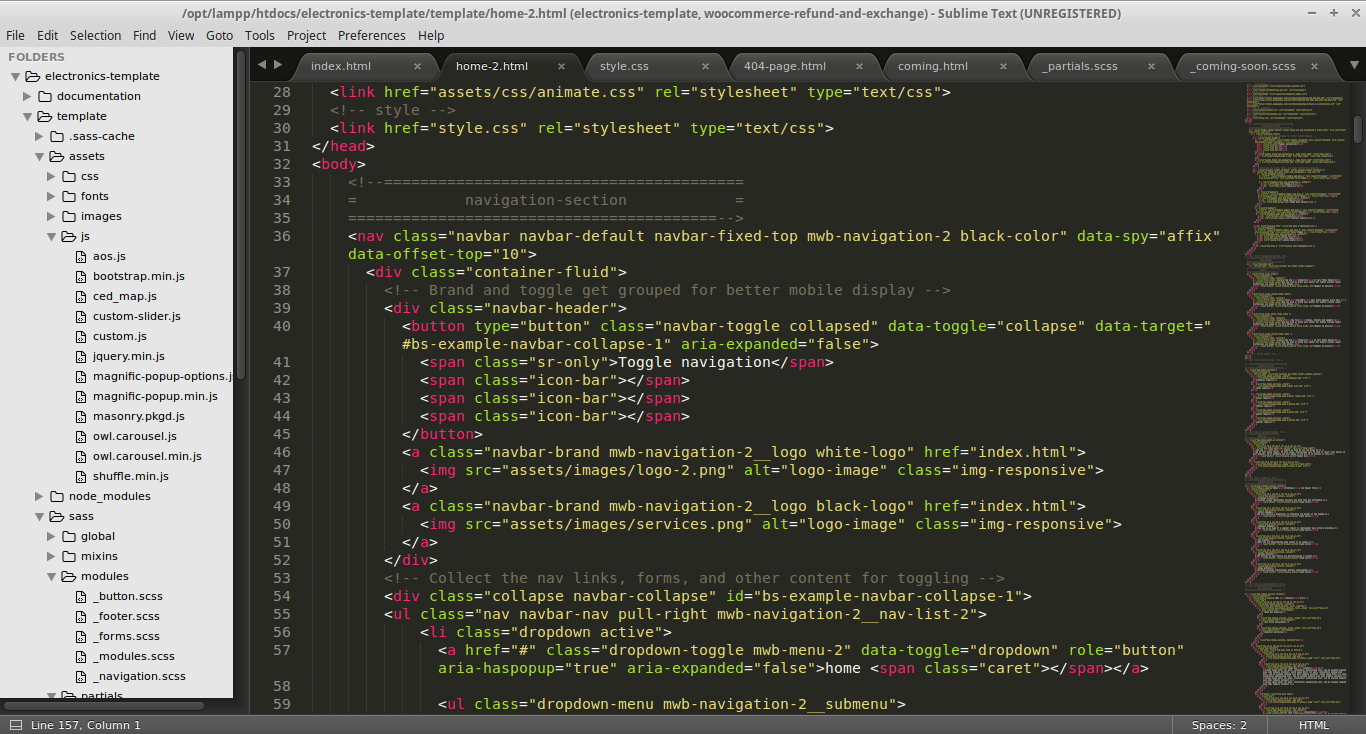 CSS Structure
If any styles need to be changed just replace it with the wanted styles in the respective block in your style.css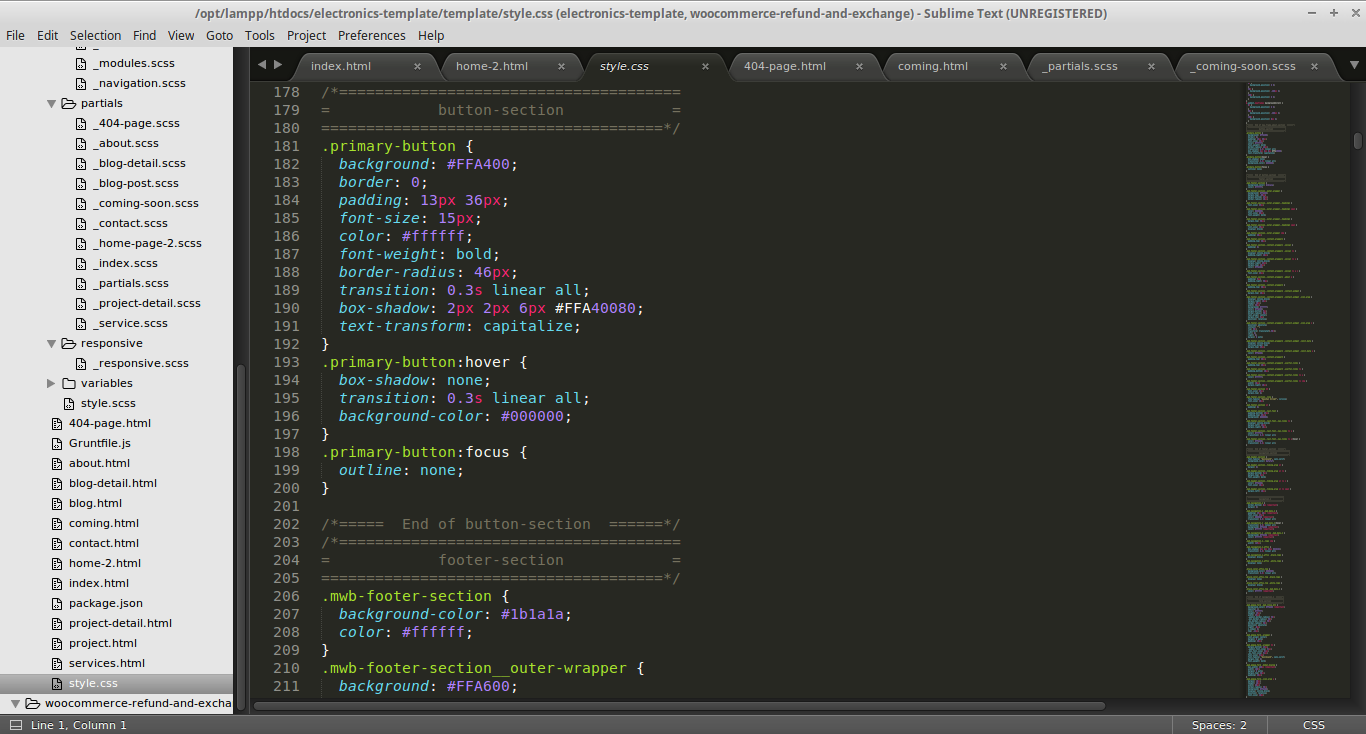 JQuery Strucutre
The JQuery file is custom.js and custom-slider.js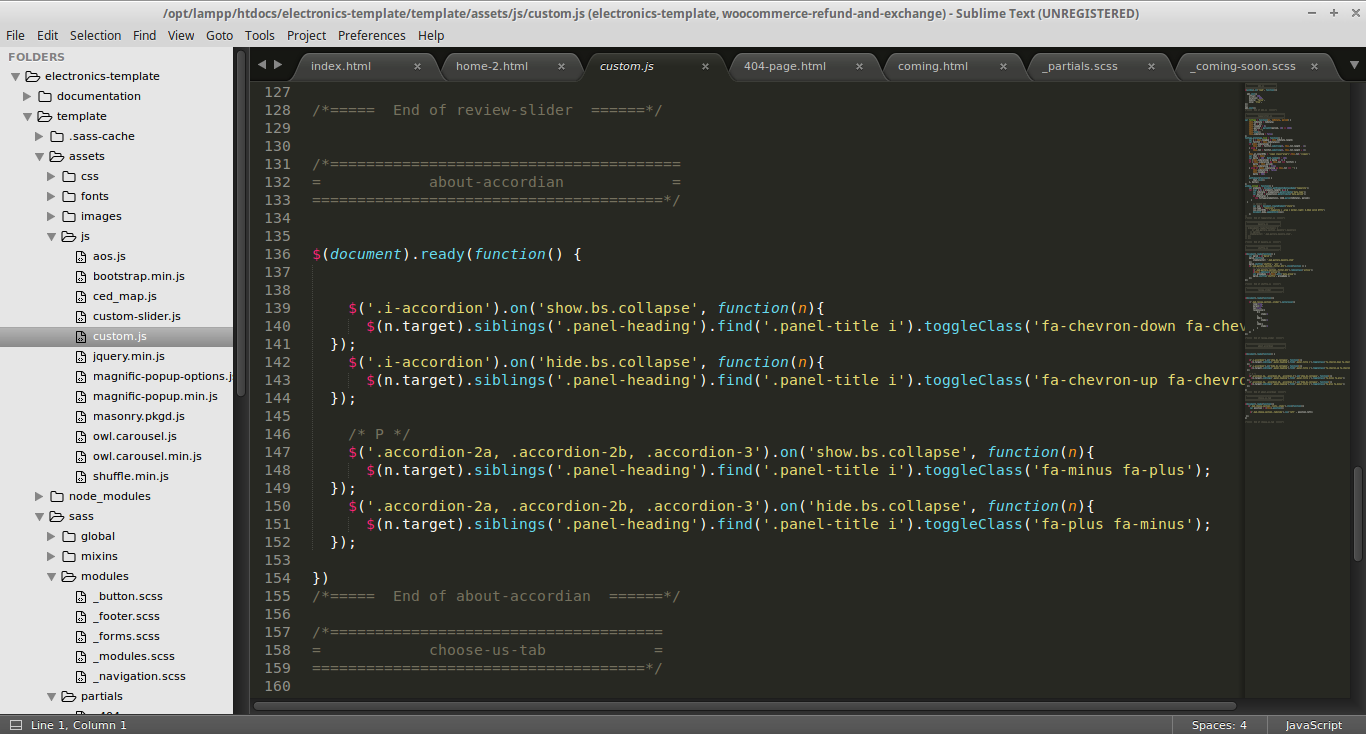 4.

Reference File

In this template we have used google font "Roboto", "Quicksand", "Kaushan Script". You can learn more on using Google Web Fonts by checking the tutorial on how to work with Google web Fonts.
JQuery Plugin:
In this snippet jQuery libraries have been used for slider and for some animation.
jQuery (assets/js/jquery.min.js)
Bootstrap (assets/js/bootstrap.min.js)
Owl Carousel (assets/js/owl.carousel.min.js)
Magnific (assets/js/magnific.min.js)
Shuffle (assets/js/shuffle.min.js)
Masonry (assets/js/masonry.min.js)
AOS (assets/js/aos.js)
Stylesheet (CSS) Reference File
Bootstrap (assets/css/bootstrap.min.css)
Font-awesome (assets/css/font-awesome.min.css)
Magnific Popup(/assets/css/magnific.popup.css)
Owl-carousel (assets/css/owl.carosuel.min.css)
AOS (assets/css/aos.css)
Animate (assets/css/animate.css)
5.

Pages Nomenclature

We have designed different pages.
index.html

home-page-2.html

blog.html

blog-detail.html

project.html

project-detail.html

service.html

about.html

404.html

coming.html

contact.html
6.

Customization

Breken-Electronics repair template is based on HTML and css so you can edit it yourself.

Breken-Electronics repair Template use bootstrap to make it very easy for anybody to understand and we have created all the design in separate section. If user want to use any effect then pick that particular section and use it.
7.

Upload Document

Unzip package in an directory where you will see Breken-Electronics repair Template folder. In this folder, change according to you then upload this folder on server root directory.
8.

Help & Support

24/7 Support, Just mail us any issue we will be happpy to help.

You can email us.

Email – webmaster@makewebbetter.com

Thank you for purchasing Breken-Electronics repair Template. If you have any question that is beyond the scope of this documentation, Please feel free to create a support ticket by sending an email to webmaster@makewebbetter.com