1.

Overview

CF7 Integration with Google Sheets plugin permits flawless integration of the Contact Form 7 with Google Sheets. Admins can undeniably send their Contact Form 7 submissions/entries over Google Sheets as per their fields. This will aid them to create expository data of submissions over Google Sheets.

Here are some compendious features of CF7 Integration with Google Sheets plugin:
Integrate Contact Form 7 with Google Sheets

Associate Form fields with Google Sheets fields

Map phone and file upload fields in feeds

Add data type

Create unlimited feeds

Manually sync data 

Create sheets from the plugin itself 

List out all spreadsheets in a separate tab

Save and edit CF7 submissions

Add notes to submissions

Export CF7 submissions as CSV

Get descriptive information about submissions
2.

Installation

Run the plugin on WordPress site with the help of Automatic Installation. To utilize this plugin, follow these simple steps:
Move to the WordPress page and down the plugin. 

Log in to your

WordPress Dashboard

.

From the sidebar section, press on

Plugins

.

Press on the

Add New

button.

Click the

Choose File

button and select your downloaded plugin's .zip file, and click on

Install

.

Proceed further by clicking on the

Activate

button.
Now, you can smoothly use the CF7 Integration with Google Sheets.
3.1.

Submissions

There will be a separate menu manifesting Submissions where all your CF7 form submissions will be listed. You can easily find your desired submission there.

Click on the Submissions menu-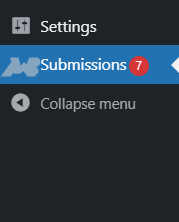 All your submissions will appear here-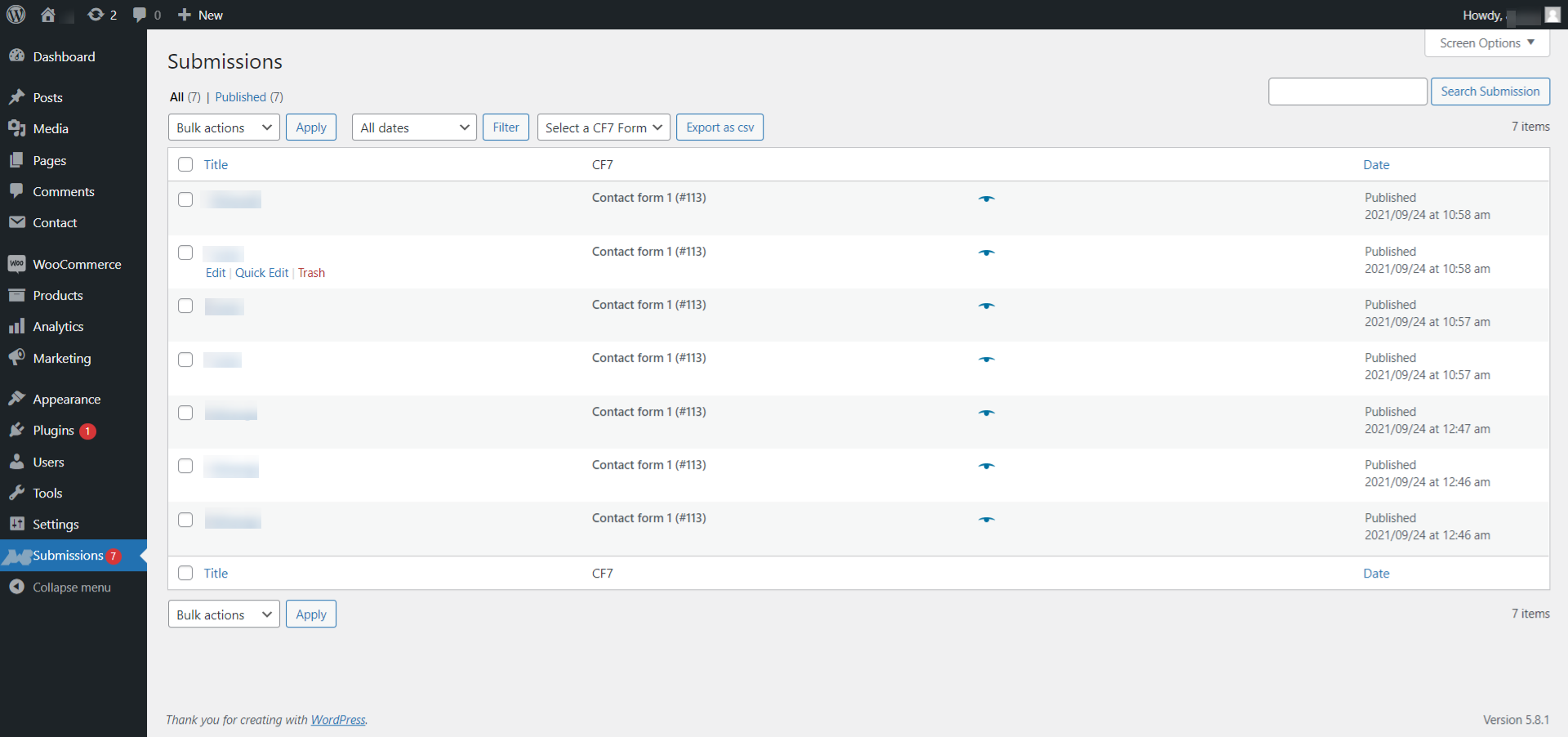 Also, you can view the number of CF7 submissions on the Dashboard.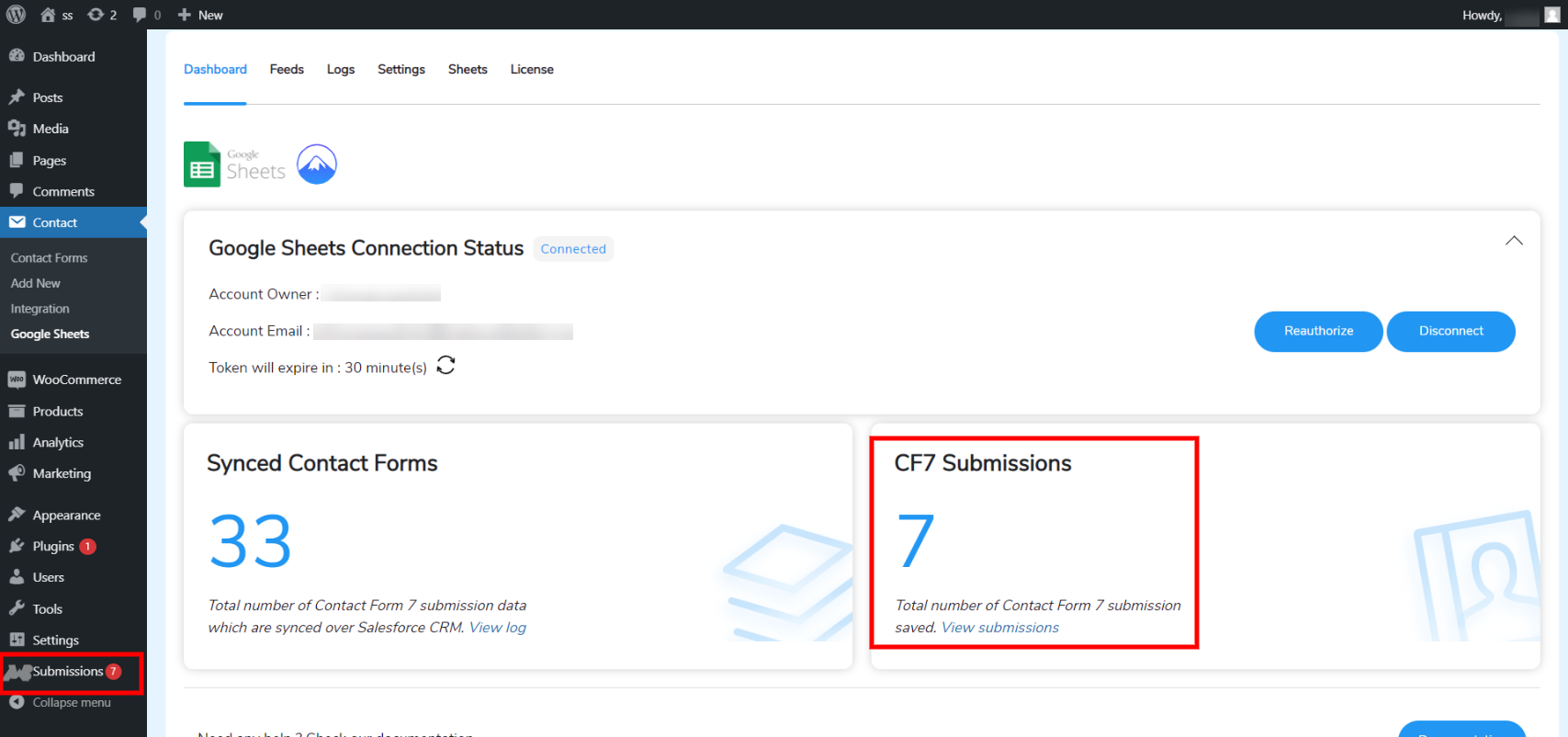 3.2.

Limitless Feeds

In the org plugin, you can only create three feeds. But, the pro version of CF7 Integration with Google Sheets allows you to create unlimited feeds.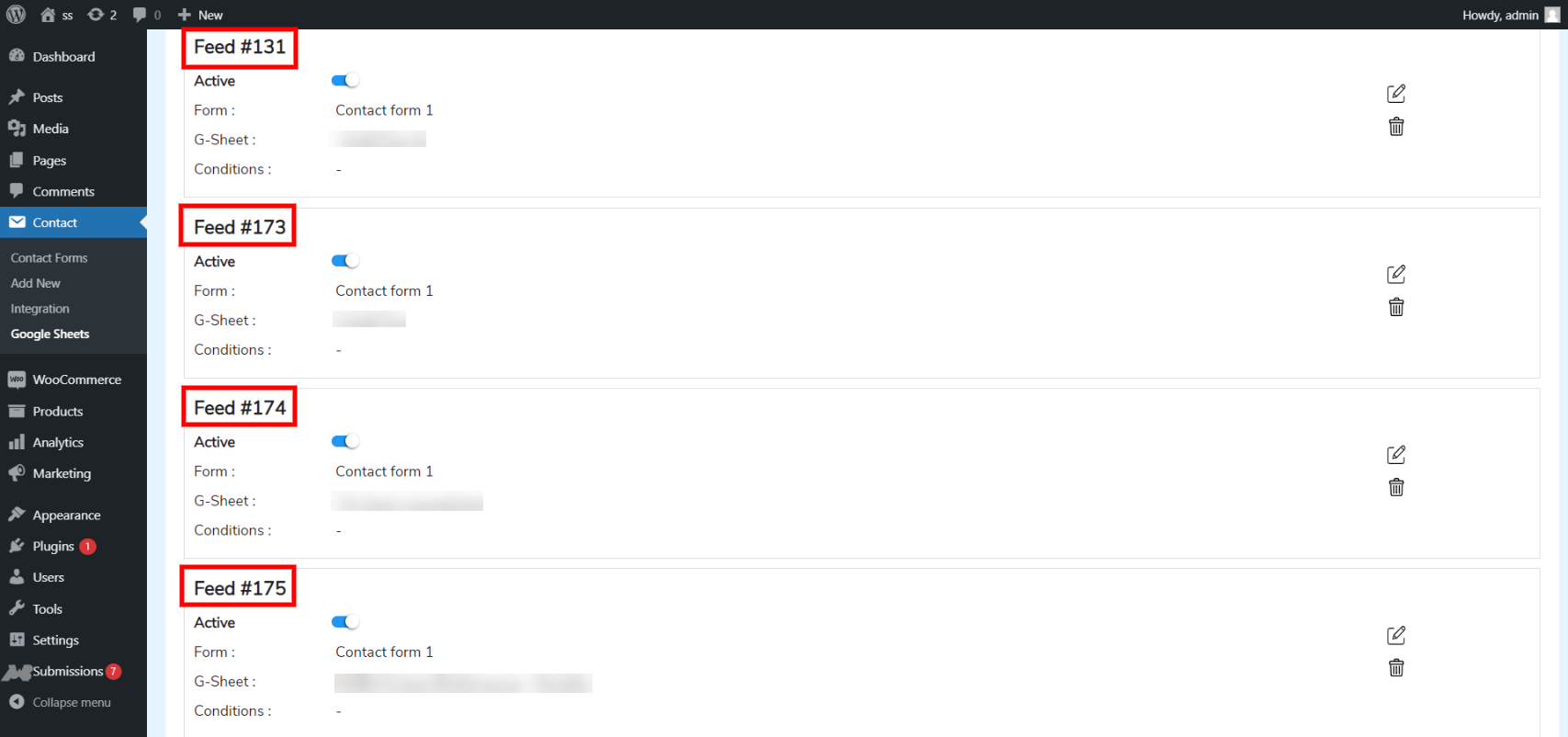 3.3.

Map Phone And File Upload Fields In Feeds

In CF7 Integration with Google Sheets- file field, phone field, and number field alternatives are available. So, you can smoothly sync your mobile and phone, and file upload data over Google Sheets.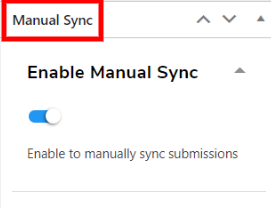 3.4.

Data Type

You can opt-in: RAW data or USER_ENTERED data.

If you set RAW data, then your data will be set over Google Sheets without parse. If you opt-in USER_ENTERED data, then the data will parse.

For instance, in the Raw data case, the values will remain the same while in the USER_ENTERED case the numbers will stay as numbers, but strings may be converted to dates, numbers, etc. obeying the same rules that are applied when entering text into a cell via the Google Sheets UI.

3.5.

Sheet Tab

You can distinctly view all your sheets from the Sheets tab in this Google Spreadsheet add-on.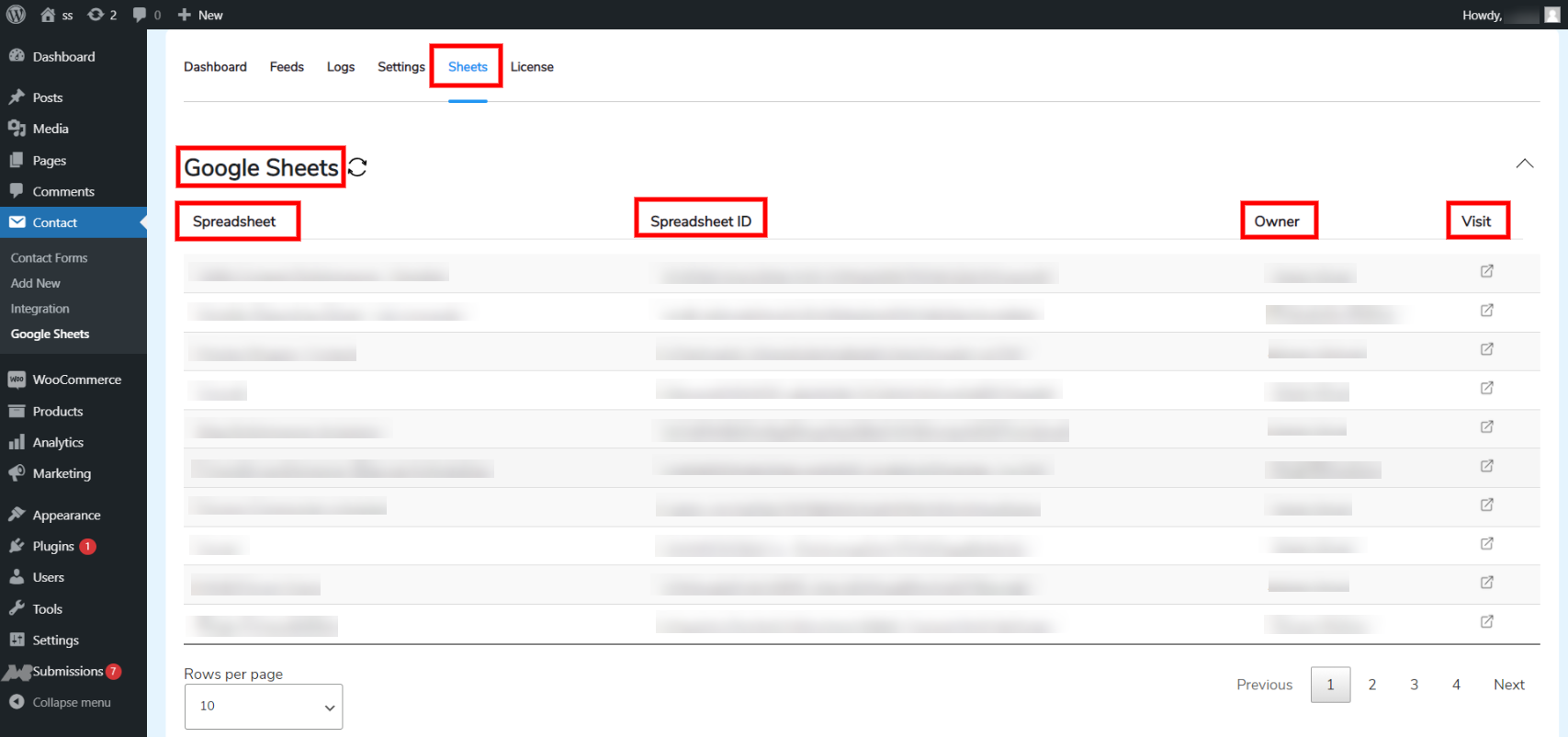 3.6.

Sheets Creation

You can hurdle-free create spreadsheets within the plugin itself. You don't need to create spreadsheets from your Google account. Provide your desired spreadsheets properties.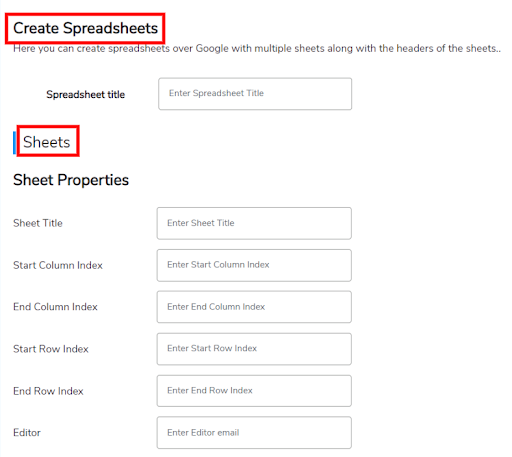 3.7.

Save And Edit CF7 Submissions

You can easily save and manage your form submissions. You can edit them too.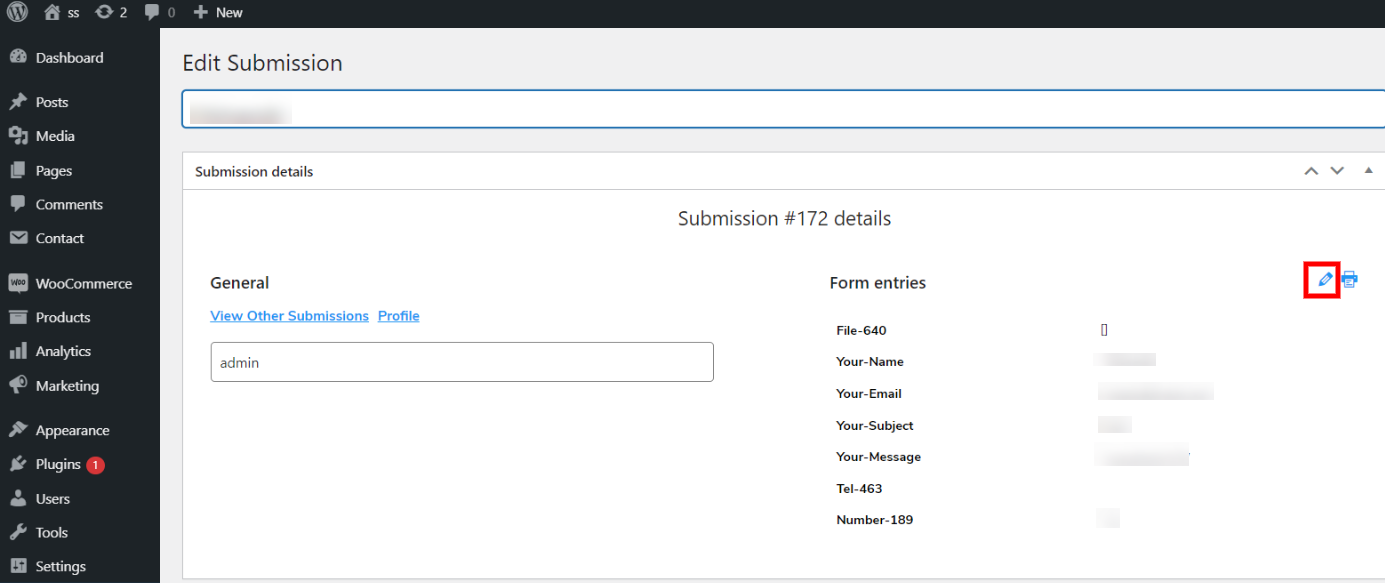 3.8.

Detailed Information

You will get additional information about your submissions such as your submission ID, contact form, system, etc.

3.9.

Notes Addition

Add notes to save your crucial submissions and delete them too. Set priority for them such as Red for high priority, Yellow for medium priority, and Green for low priority.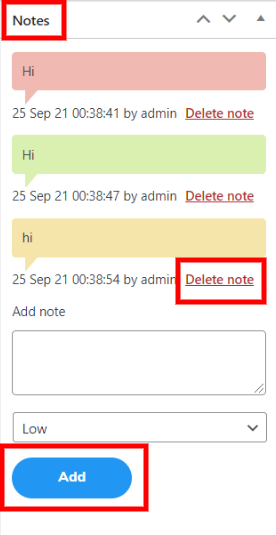 3.10.

Manual Data Synchronization

You can sync your data manually if you don't want to sync your form submissions data in real-time.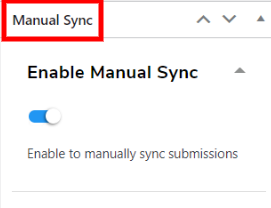 3.11.

Additional Settings

CF7 Integration with Google Sheets offers additional features such as-
Do Not Save Submissions

– If you don't want the submission to save, then you can enable this setting

Do Not Track Forms

– You can choose the specific form which you don't want to track.

Delete IP Tracking-

With this

setting, you can disable IP tracking

from the submissions

.