1.

Overview

Come Back for WordPress allows the user to come back to the previously opened tab with the help of the messages and favicon.
The admin can also add two messages these two time periods that get changed over the time lapse of the previous.
He can also select a favicon image according to any purpose displaying to come back.
2.

Installation
Automatic Installations
Automatic installation is the easiest option handled by WordPress.
(i) Download CCome Back for WordPress plugin.
(ii) Login to your WordPress Dashboard.
(iii) Navigate to the sidebar, click on plugins.
(iv) Click on Add New and then hits on Upload Plugins.
(v) Hit the browse button and choose your downloaded plugin's .zip file, and click on Install Now.
(vi) One click on  Activate Link.
(vii) And the last type Come Come Back for WordPress and hit on search plugin.
(viii) Once You find the plugin Click on "Activate Plugin" tab.
Manual Installation
Manual installation of the plugin is another option to install the plugin to your WordPress-environment.
The manual installation method involves downloading our Come Back for WordPress Extension and uploading it to your web server via your favorite FTP application.
Steps are as follows :
(i) Upload the Come Back for WooCommerce folder to the /wp-content/plugins/ directory.
(ii) Activate the plugin through the 'Plugins' menu in WordPress.
3.

Workflow

After successfully installation of the plugin, activate it.
Now you can see the 'Come Back' tab on the WordPress panel after plugin activation.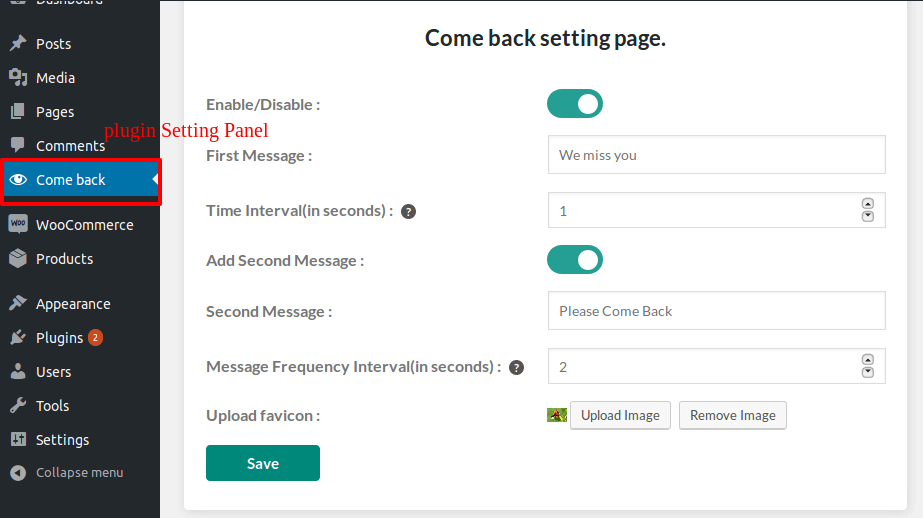 Click on the Come Back tab to view the plugin functionalities and you can also see the preview of the frontend.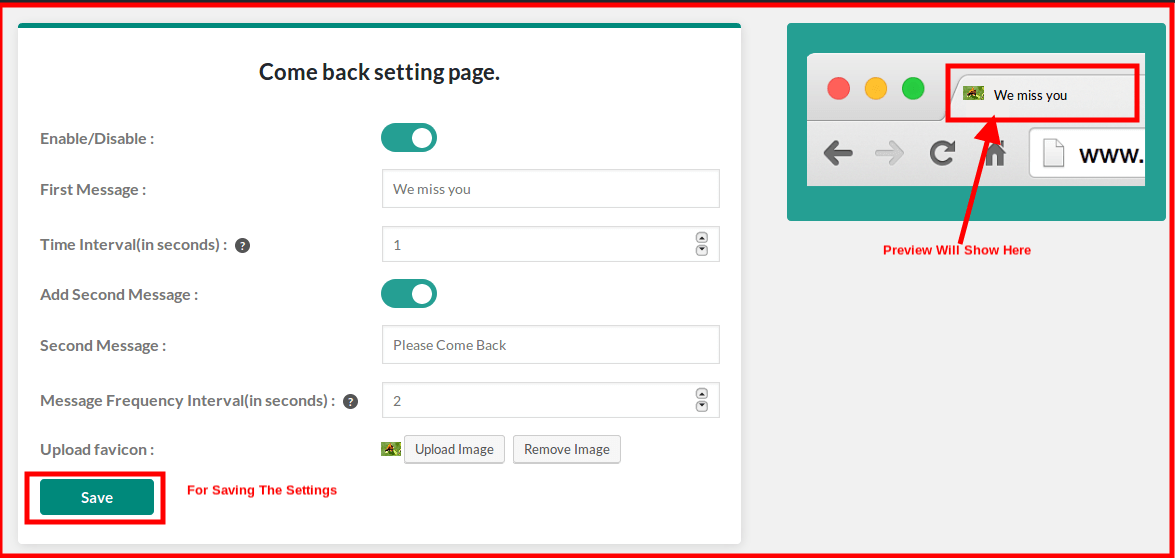 Enable/Disable: Enable/Disable the plugin functionalities
First Message: Write a message that will display first on the forgotten tab.
Time Interval: Set the time interval between messages
Add Second Message: Write a message that will display second on the forgotten tab.
Message Frequency Interval: Set the message frequency time between the messages.
Upload Favicon: Select a favicon that displays on the tab with the forgotten messages.
On the frontend, you can see the functionalities of the plugin.