1.

Introduction

Hireme is a clean and professional CV/Resume/Portfolio WordPress theme. It is mainly for individuals who want to build a site for themselves only. You can easily create beautiful pages without coding with the help of King Composer page builder. Our theme contains Two Color version (Dark and Light) with a powerful theme setting option so you can easily switch colors according to your need. Hireme is the theme you need to give your work perfect exposure to your audience. WordPress resume theme-Hireme will includes
-2 color version (Dark and Light)
-Powerful theme settings
-Provides perfect exposure to the user

Hireme integrates well with all devices that include Desktop, Tablets, and Mobile. It comes with predefined one-click installable demo-content.

Included Files:

Hireme WordPress Theme
Child Theme
Theme Documentation
2.

Installation
2.1 AUTOMATIC INSTALLATION:
Automatic installation is the easiest option as WordPress handles the file transfers itself and you don't need to leave your web browser.
Steps are as follows:
To do an automatic install log in to your WordPress dashboard, navigate to the Appearance->Themes menu and click Add New.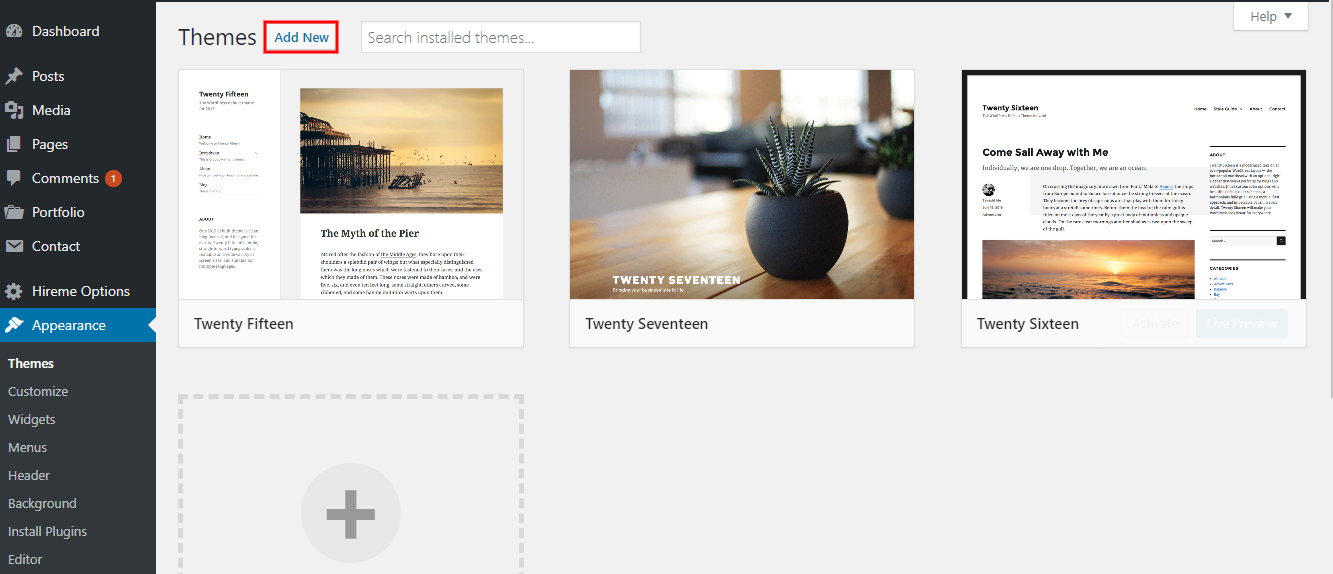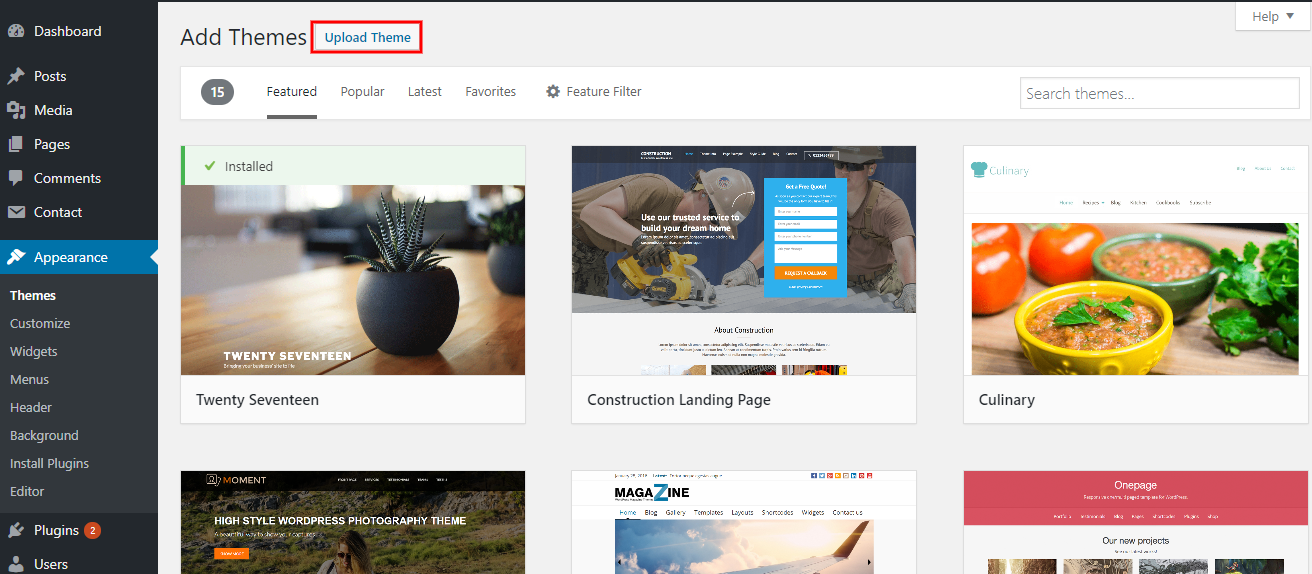 After Installation, Click Activate.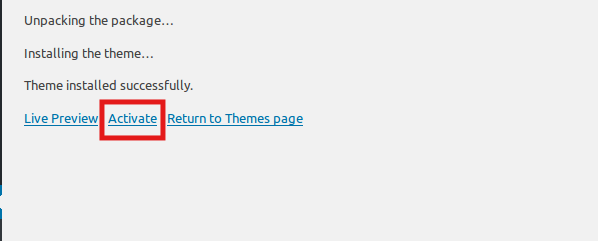 2.2 MANUAL INSTALLATION:
Manual installation of Extension is another option to install Extension to your WordPress-environment. The manual installation method involves downloading our WordPress Extension and uploading it to your web server via your favorite FTP application.
Steps are as follows:
1. Extract the downloaded "hireme.zip" file.
2. Upload the hireme.zip folder to the /wp-content/themes/ directory.
2.3 Required plugins:
This is a professional resume theme which incorporates with given plugin

Now install all required plugin.

3.

Theme Setup

If you installed Hireme Theme, you don't need to create a new Home Page, you just need to click on the Demo importer, that page will be automatically created from your site.
3.1.

Demo Importer

Import the theme on your site by following steps:

Navigate to Theme Options-> Demo Importer
Here simple click on the demo importer button, that the theme automatically imports on your site as well as main theme.

4.

Theme Options

Theme Options is this the central setting  through this setting we can manage the front page of the theme
go to: Navigate to Your Dashboard -> Hireme Options
4.1.

Intro Setting

Set the basic introduction of the theme here like Intro Setting, Background Image, Social Media Links, and Upload Resume.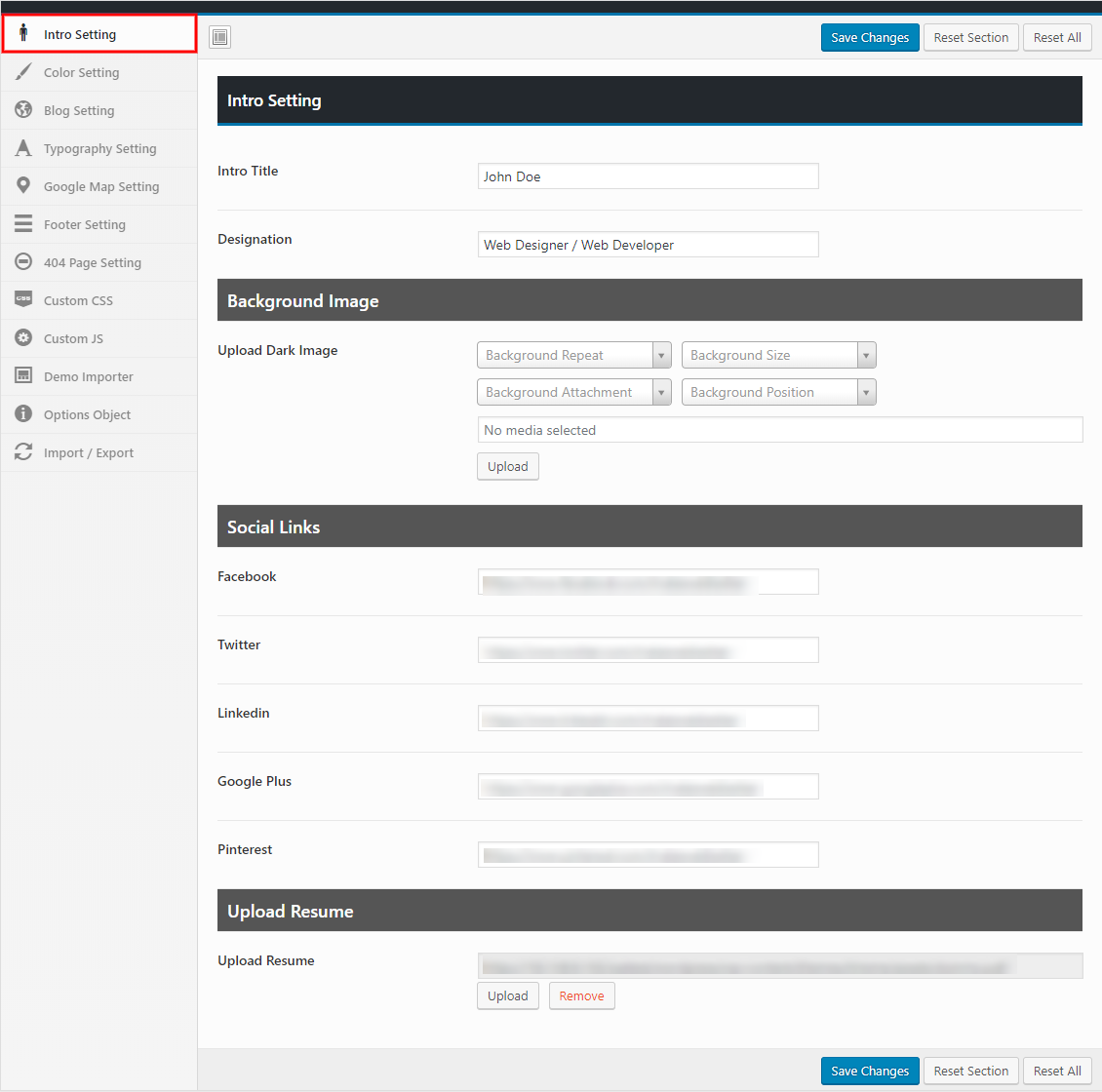 Intro Setting: In the intro setting you will write your Name and Designation.
Background Image: In this section, you will set the background image of the front page.
Social Links: Here you will add the one or more social media links on the front page.
Upload Resume: Here you will upload your resume by simply click on the upload button.
4.2.

Color Setting

Here you will set the color version, background image and background color of the theme and also give the primary and secondary text color.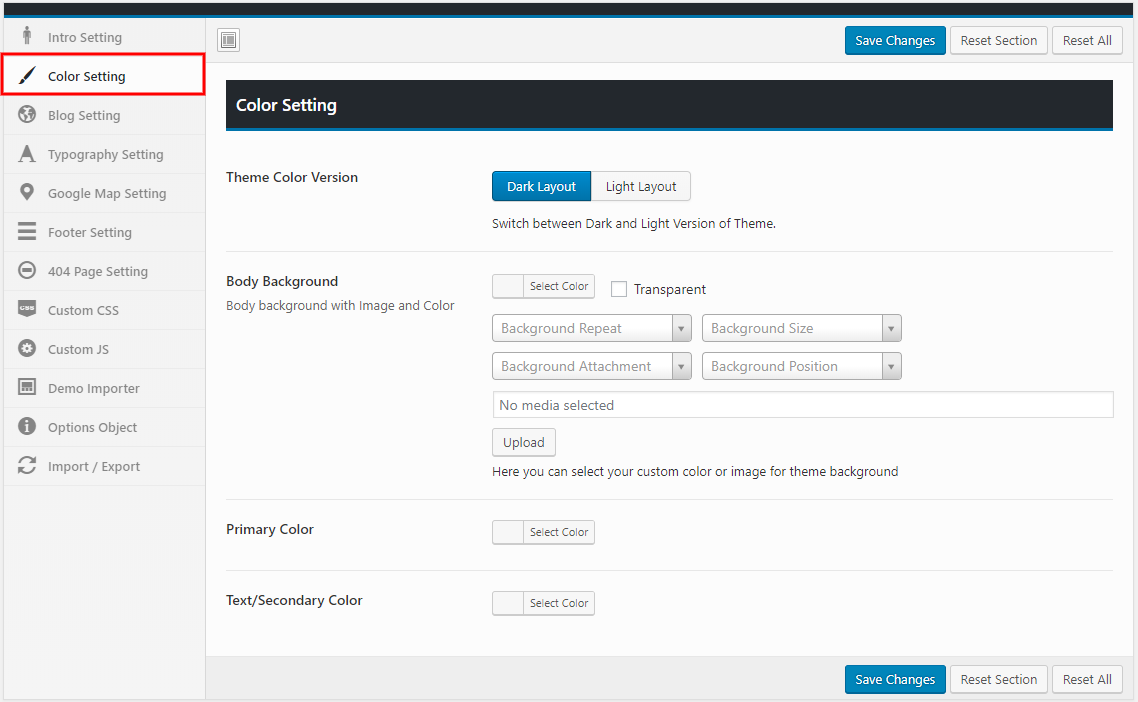 Theme Color Version: In this section, you can switch between the layout of the theme as the dark or light layout.
4.3.

Blog Setting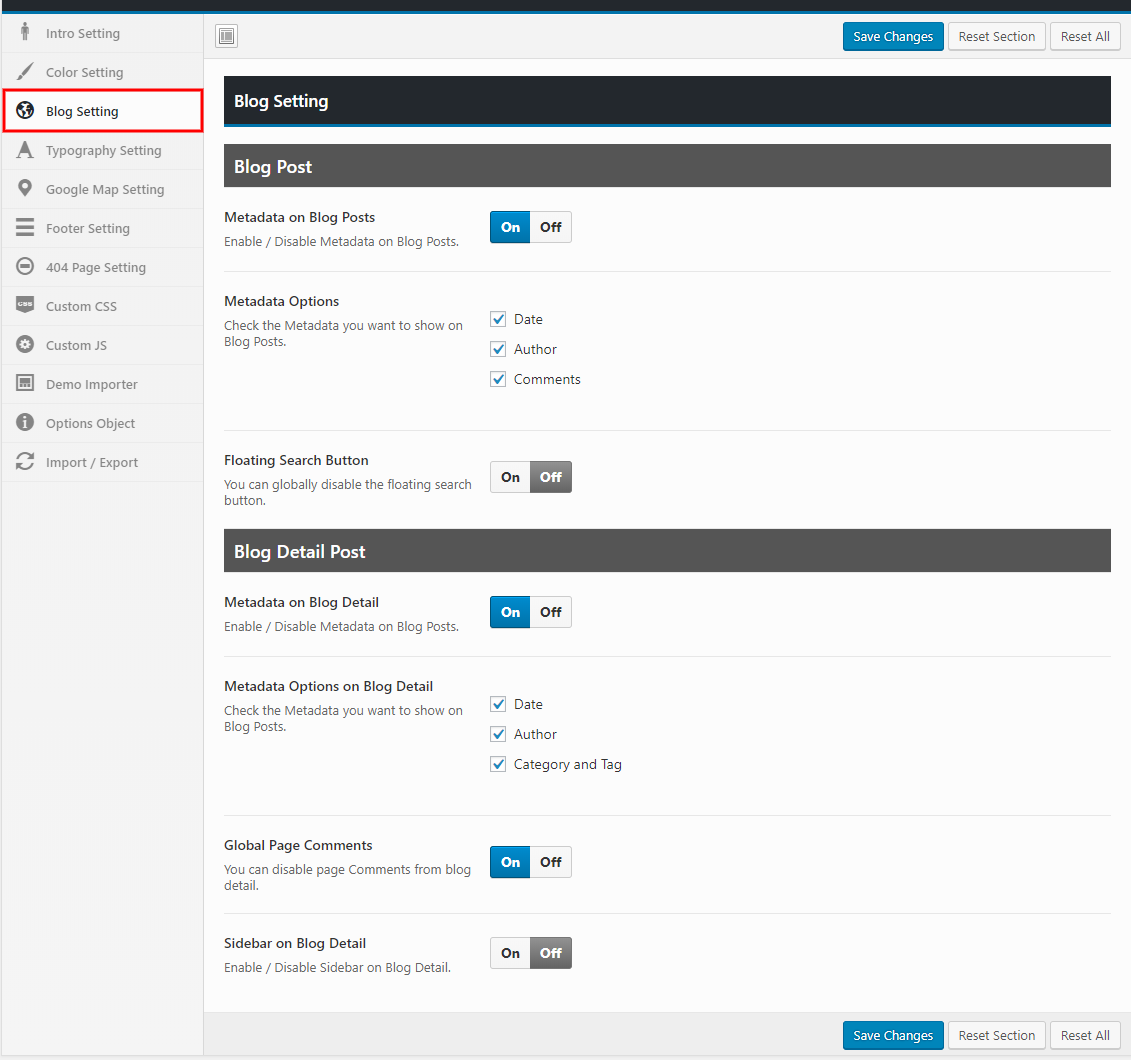 Blog Post
1)Metadata on the Blog Post: Here you can enable the metadata on the blog page.which is includes.
2)Floating search button: Here You will globally enable/disable the floating search button.
Blog Detail Post
1)Metadata on Blog Detail:  Here you will enable/disable the metadata on the blog detail page.which is includes.
Date
Author
Category and Tags
2)Global Page Comments: Here You will enable/disable page Comments from blog detail.
3)Sidebar on Blog Detail: Here You will enable/disable Sidebar on Blog Detail.
4.4.

Typography Setting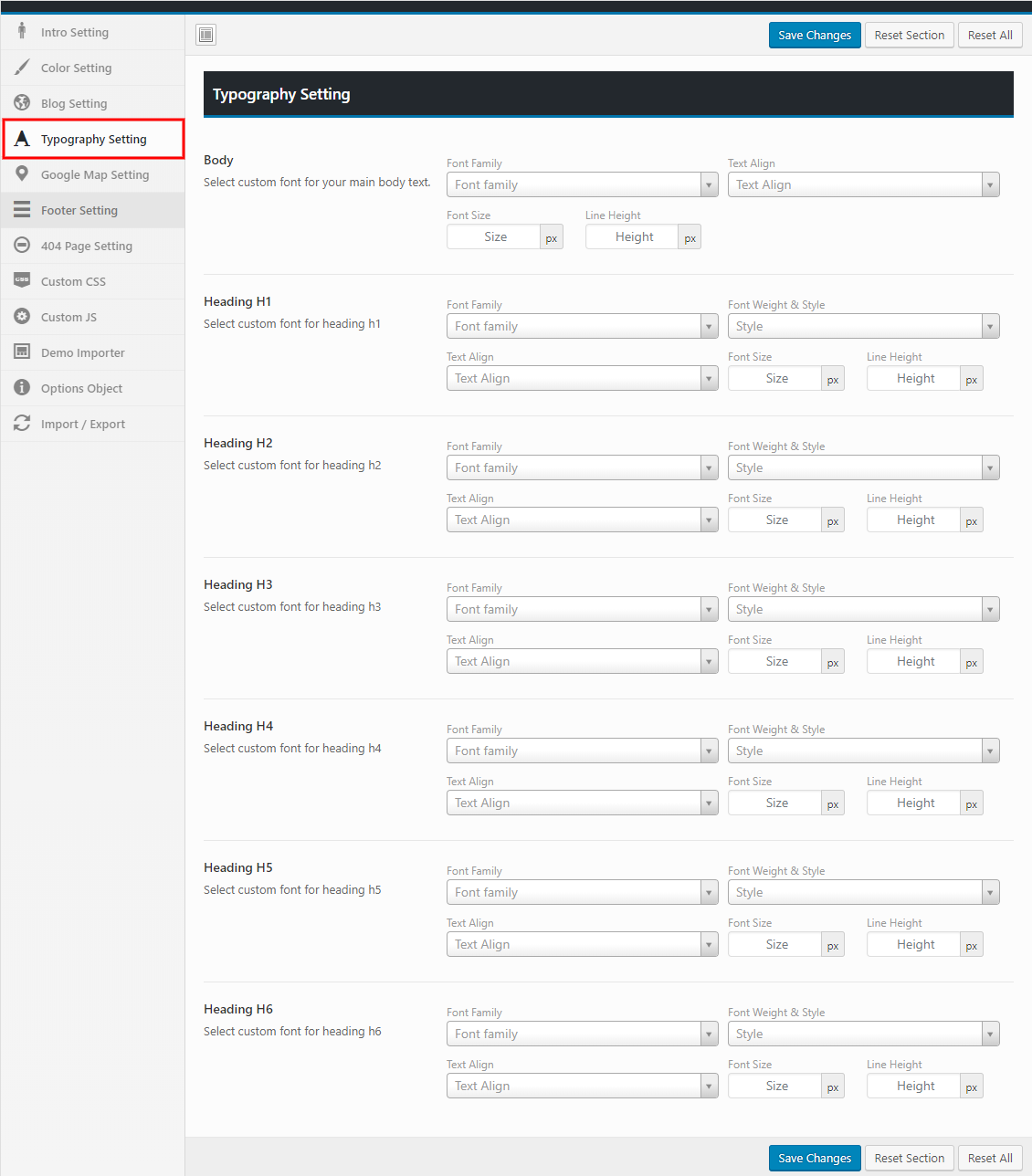 Body: you can custom font for the body content here you can choose the font family, font size, Line height, Text Align.
Headings: for the heading, you can choose the Font Family, Font Weight, Font Style, Text Align, Font size.
4.5.

Google Map Setting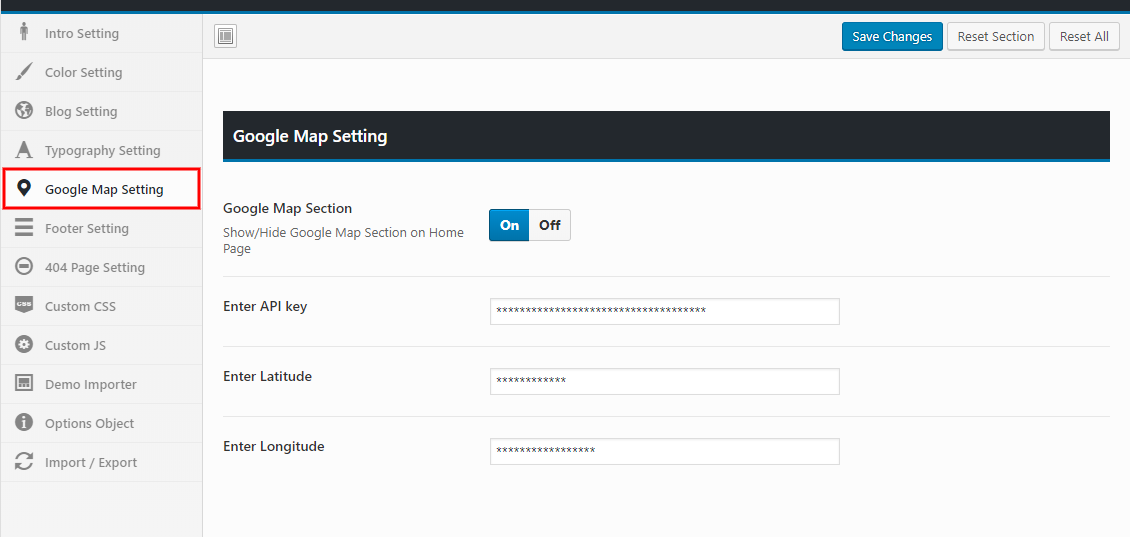 1) Enter API Key: Enter the API key for the map.
2) Enter Longitude: Enter the longitude of the location for the map.
3) Enter Latitude: Enter the latitude of the location for the map.
4.7.

404 Page Setting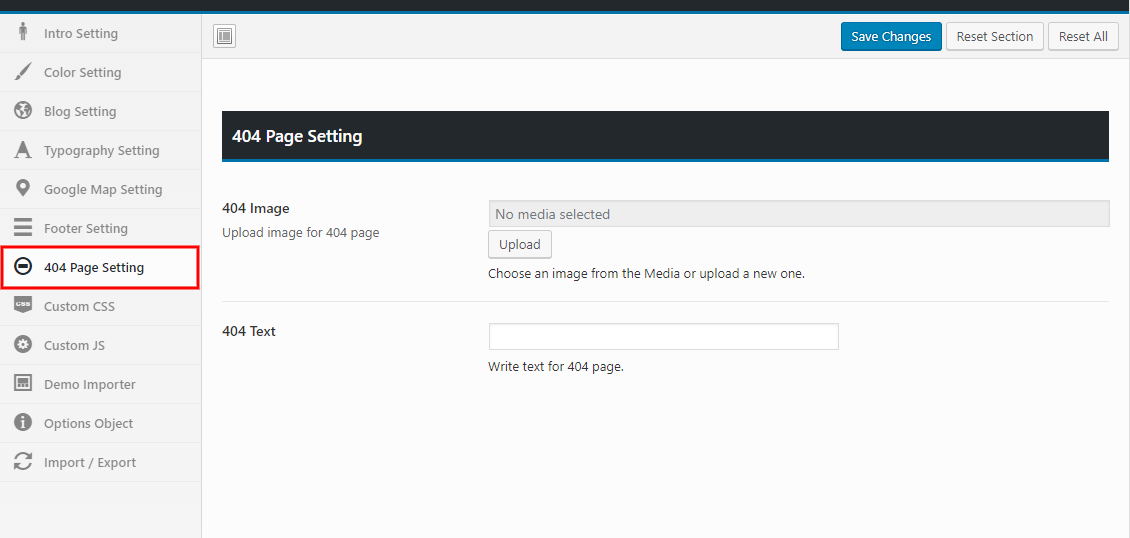 404 Image: You can upload the image for 404 page.
404 Text: You can also write the text for 404 page.
4.8.

Custom Setting

Custom CSS:
Here you can also write your own CSS for the theme.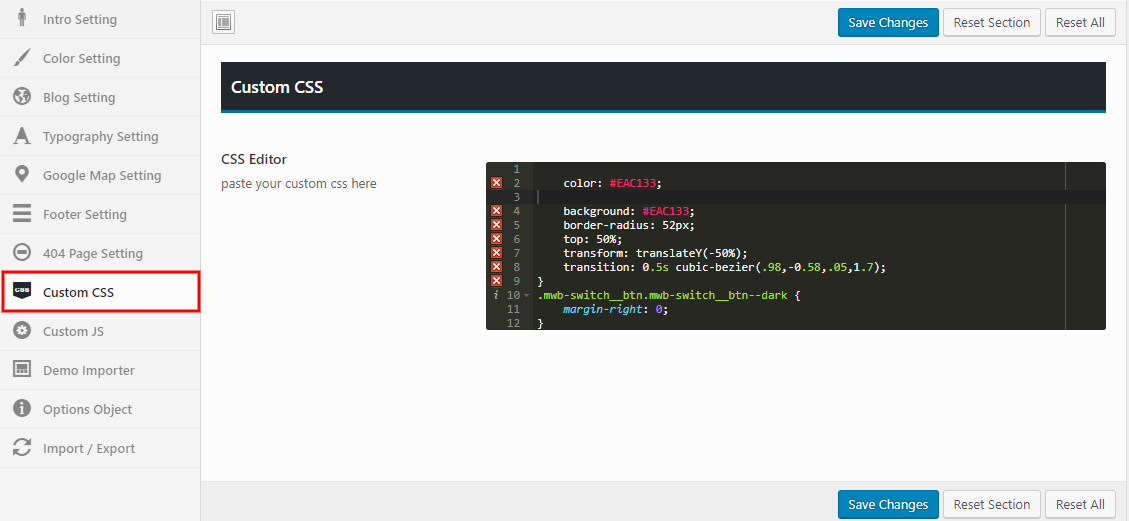 Custom JS:
Here you can write your own JS for the theme.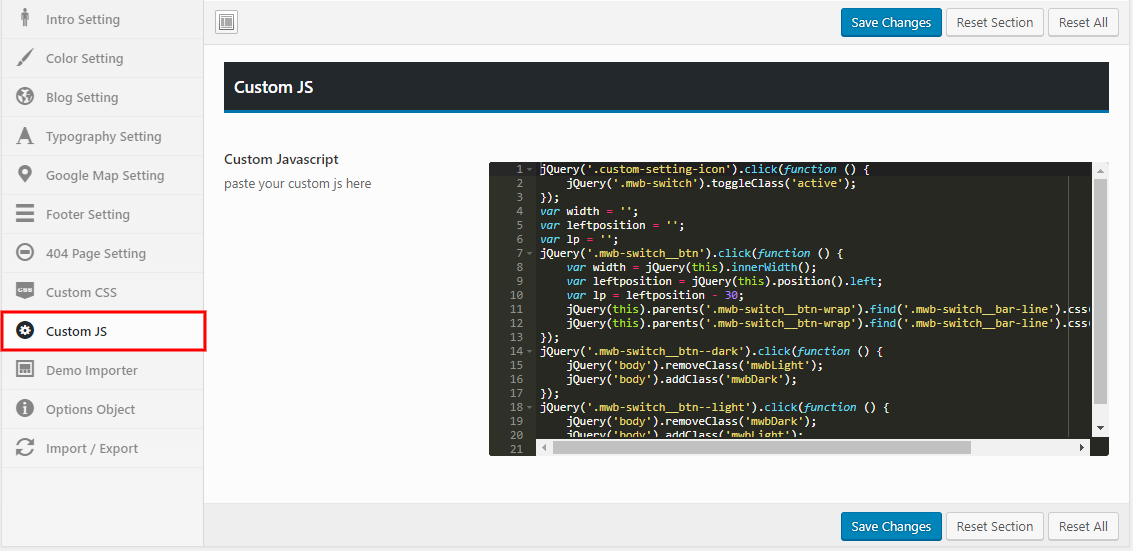 5.

Post
Creating Posts
Hireme supports 4 WordPress native post formats.
Standard
Gallery
Audio
Video
To create a new post, You can navigate to Posts -> Add New.
Post featured images
set the post featured image for all post.
Set featured images
To add featured images for posts, Please follow the steps below:
Navigate to Post -> Add New.
At the right of the screen, click on "set featured image" to set featured image.

Set Post Formate
To create a post, follow these steps below:
Navigate to Post -> Add New.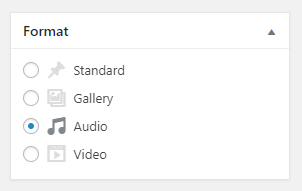 Select a post format at the format box (the right of the screen)
Input the  URL or you can upload your audio, video, gallery and so on from adding media.
6.

Portfolio
To create a new portfolio, You can navigate to Portfolio -> Add New Portfolio.

Enter your portfolio title and body content.
Select the category of the portfolio.
Upload a featured image of the portfolio.
And last click on Edit with kingComposer to add the elements in the portfolio.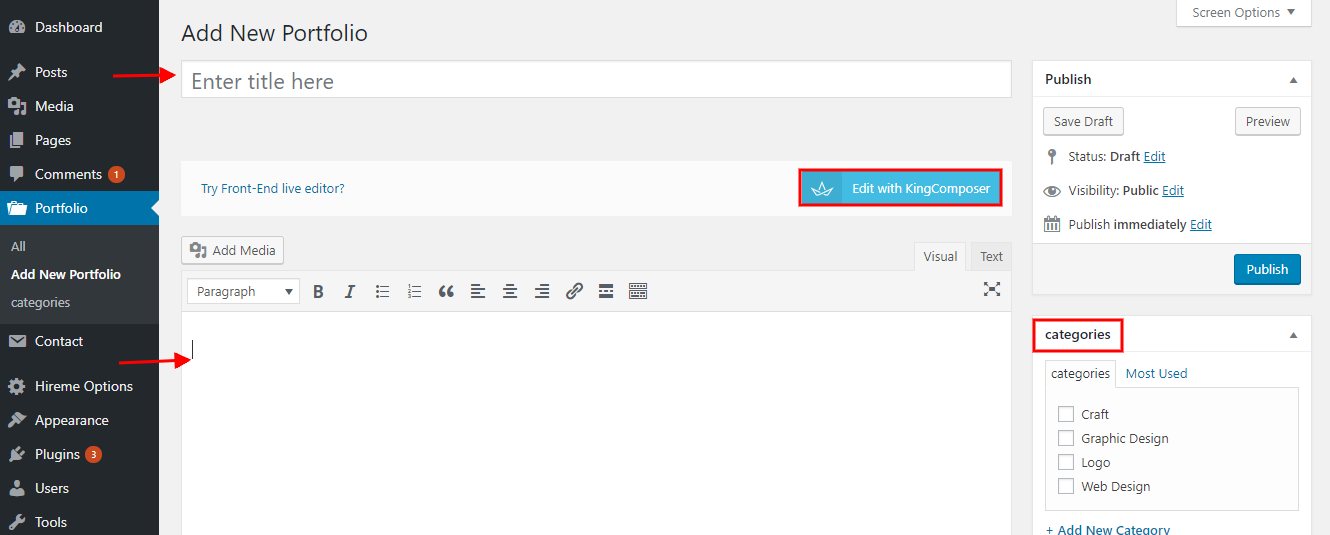 Here you can click on the Add Element, add select the element type.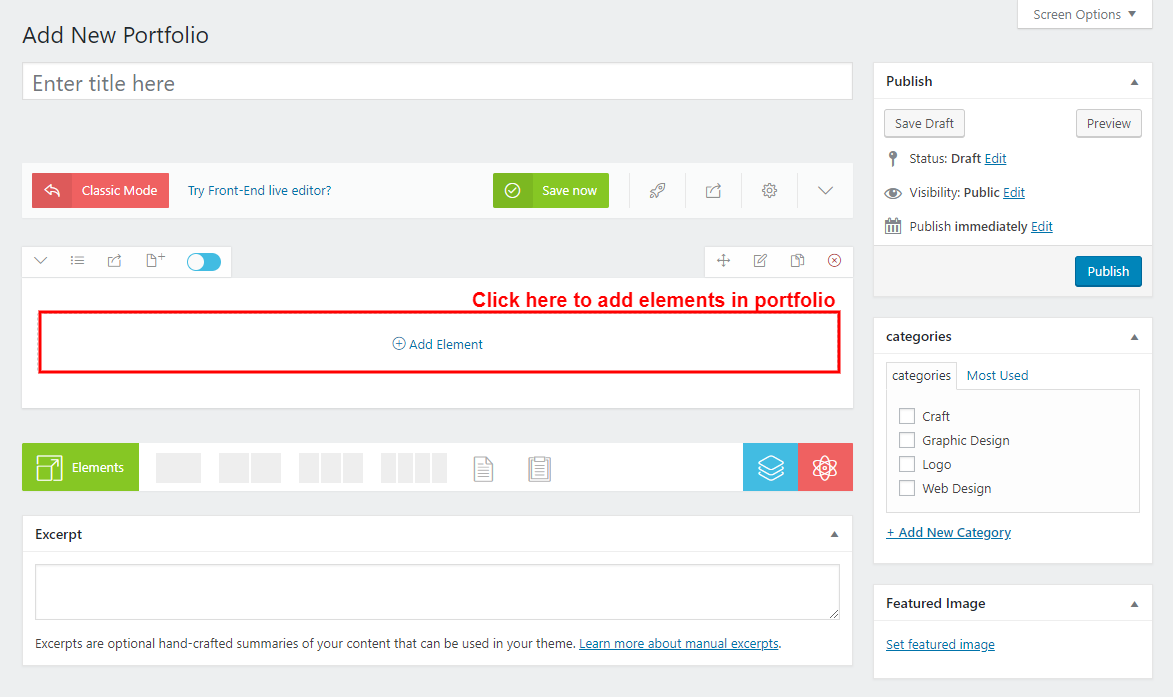 Here we have multiple categories to select the element type like content, Hireme, Social, Clipboard etc.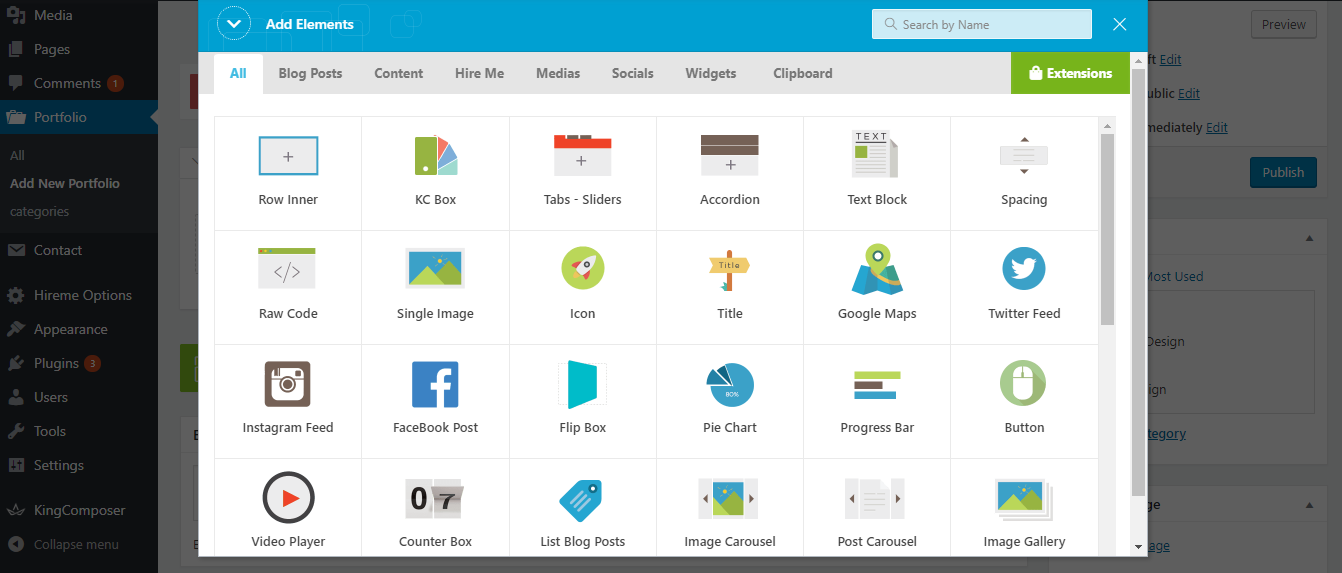 Hireme Category provides all type of resume elements.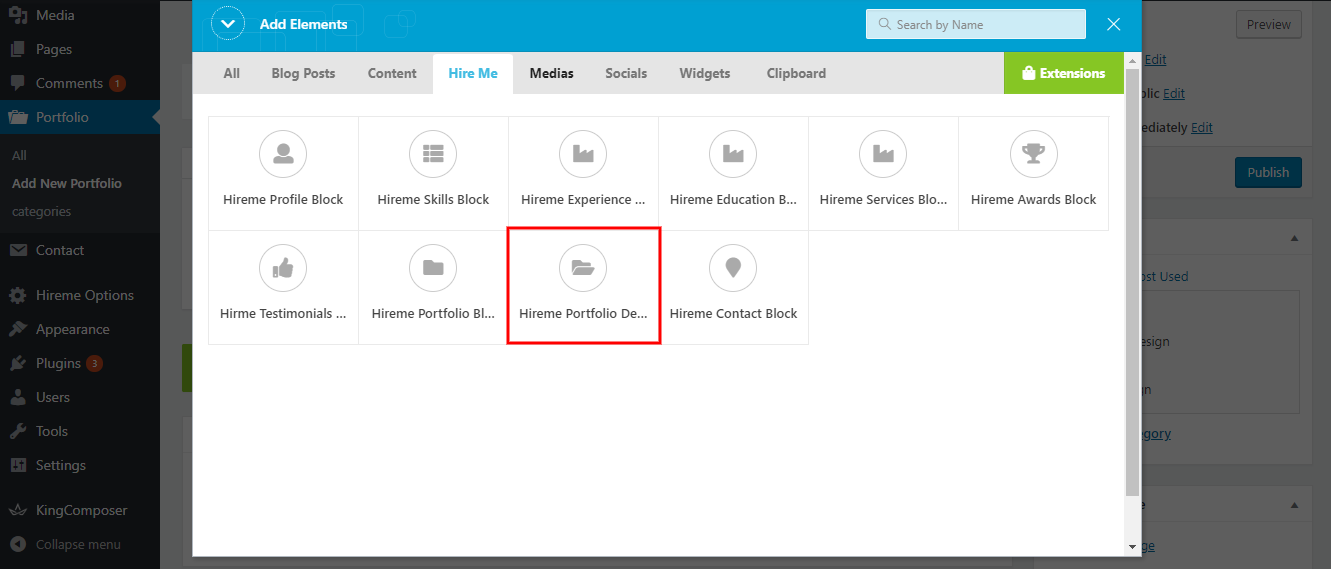 After selecting the element type, you have to enter all the detail of the portfolio. here you can also add the new sections, images, descriptions etc.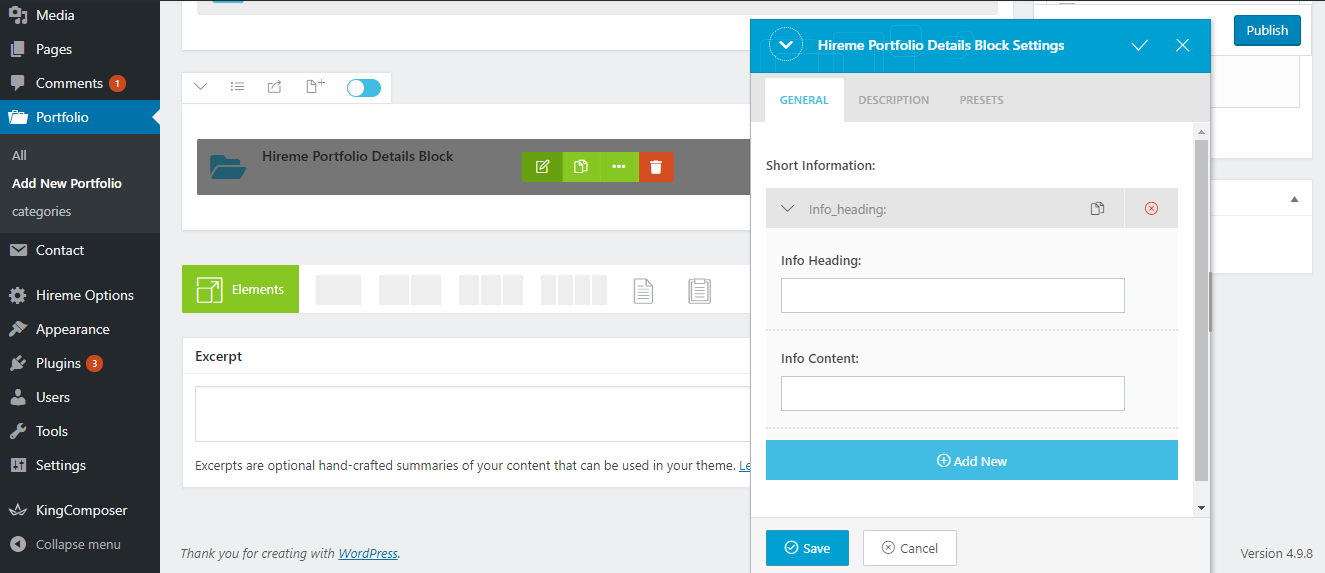 7.

Pages
To create a new portfolio page, You can navigate to dashboard ->Page -> Add New Page.
Give your page a name then click on the Edit withKingComposer.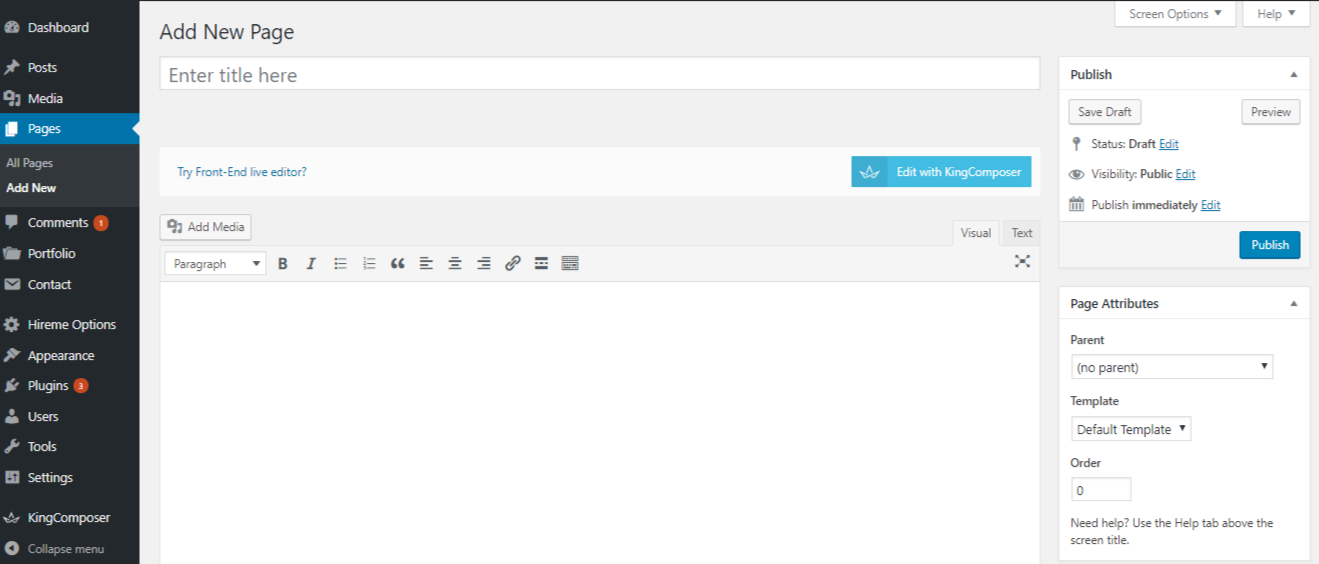 Click on the Edit KingComposer button, here you can design your portfolio page as:
Number of rows of the page.
Elements type of the page.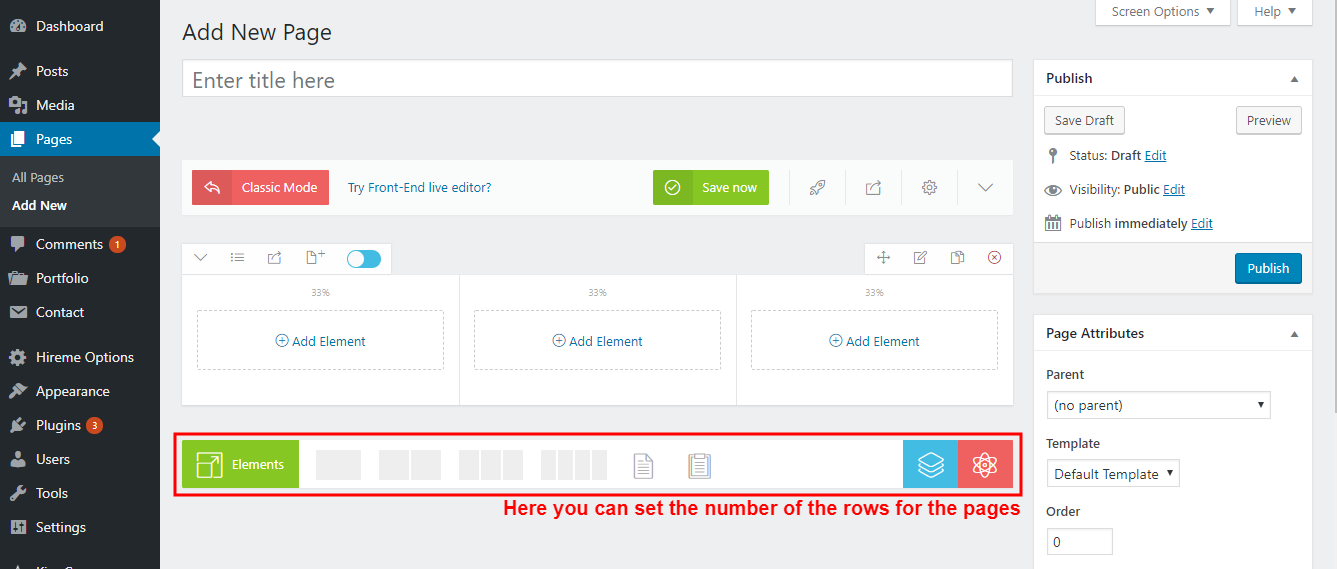 Select the Portfolio element.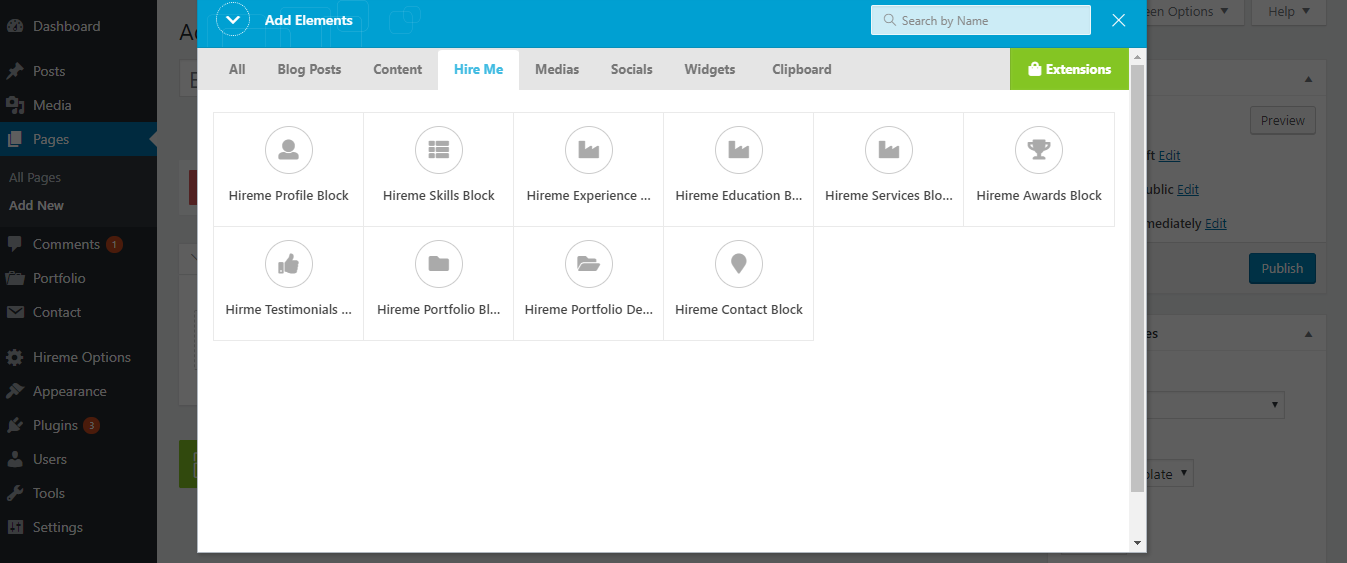 There are so many elements from where you can create a page according to your need but we provide some basic element which is needed for any Resume.
Hireme Profile Block: In this block, you can describe your profile.
Hireme Skill Block: In this block, you can show your skills.
Hireme Experience Block: In this block, you can describe your past experiences in different companies.
Hireme Education Block: In this block, you can describe your academic information.
Hireme Services Block: In this block, you can show what type of service you provide to your clients.
Hireme Awards Block: Show your achievement in this block.
Hireme Testimonial Block: Show your client opinion about you with this block.
Hireme Portfolio Block: You can show you all last work in the different layout.
Hireme Portfolio Detail Block: Describe your work in detail in this block.
Hireme Contact Block: Provide some information for the contact us.
Fill all the required details after selecting the element and last click on the update button.
8.

Updates

When there is a new update available for Hireme Theme, It automatically checks for updates and shows notification on the theme menu in the WordPress admin bar.

You can just click on the 'Update Now' link to install the theme.
9.

Support

Thank you for purchasing Hireme WordPress Theme. If you have any question that is beyond the scope of this documentation, Please feel free to email us ticket@makewebbetter.com

24/7 Support, Just mail us any issue we will be happy to help.