1.

OVERVIEW

HubSpot Abandoned cart Recovery will help you to develop your client base again, which got dismantled due to some low marketing tactics like offers, discounts or coupons and thus increase sales.Through this plugin, merchants can easily recover all the abandoned cart orders which were once dropped or may be forgotten by the customer to get it purchased from your brand.

Feature:
HubSpot Abandoned Cart Recovery will manage all the abandoned carts of your store customers with ease.

Checks and updates customers abandoned cart data automatically over HubSpot.

HubSpot contact properties can be used to recover abandoned cart with automated HubSpot email workflows.

This add-on enhances the store sales and the bond with the customer which was missing earlier.

Through this addon, automated e-mail sending can be easily established.
Note: To use the HubSpot Abandoned Cart Recovery, you need to install and activate HubSpot WooCommerce Integration PRO or HubSpot WooCommerce Integration by Makewebbetter (free version of wordpress.org).
2.

INSTALLATION

NOTE:-If you want to use HubSpot Abandoned Cart Recovery, firstly you need to install HubSpot WooCommerce Integration Pro or HubSpot WooCommerce Integration by Makewebbetter(free version over wordpress.org) before you can proceed to install this seamless new extension.
Methods of installation:-
AUTOMATIC INSTALLATION
Automatic installation is the easiest option as WordPress handles the file transfers itself and you don't need to leave your web browser.
Steps are as follows:
1) Download the zip folder of the plugin HubSpot Abandoned Cart Recovery.
2) Once downloaded install plugin through browsing and activate it.
MANUAL INSTALLATION
Manual installation of the plugin is another option to install the plugin to your WordPress-environment. The manual installation method involves downloading our HubSpot Abandoned Cart Recovery Extension and uploading it to your web server via your favorite FTP application.
Steps are as follows :
1) Upload the HubSpot Abandoned Cart Recovery folder to the /wp-content/plugins/ directory.
2) Activate the Addon through the 'Plugins' menu in WordPress.
3.

ADMIN SETTING

After successful installation of Addon using the admin settings.
In order to use the features of this add-on, admin has to enable it first and save the changes. Moreover admin can also set the cart timer for the customers.The minimum value of this timer is 5 minutes. In this case the customers abandoned cart data will be updated to HubSpot only if the specified cart timing set by admin has been elapsed.
4.

WORK FLOW

Admin can enable the add-on and can set the cart timer. And the last click is just for saving the settings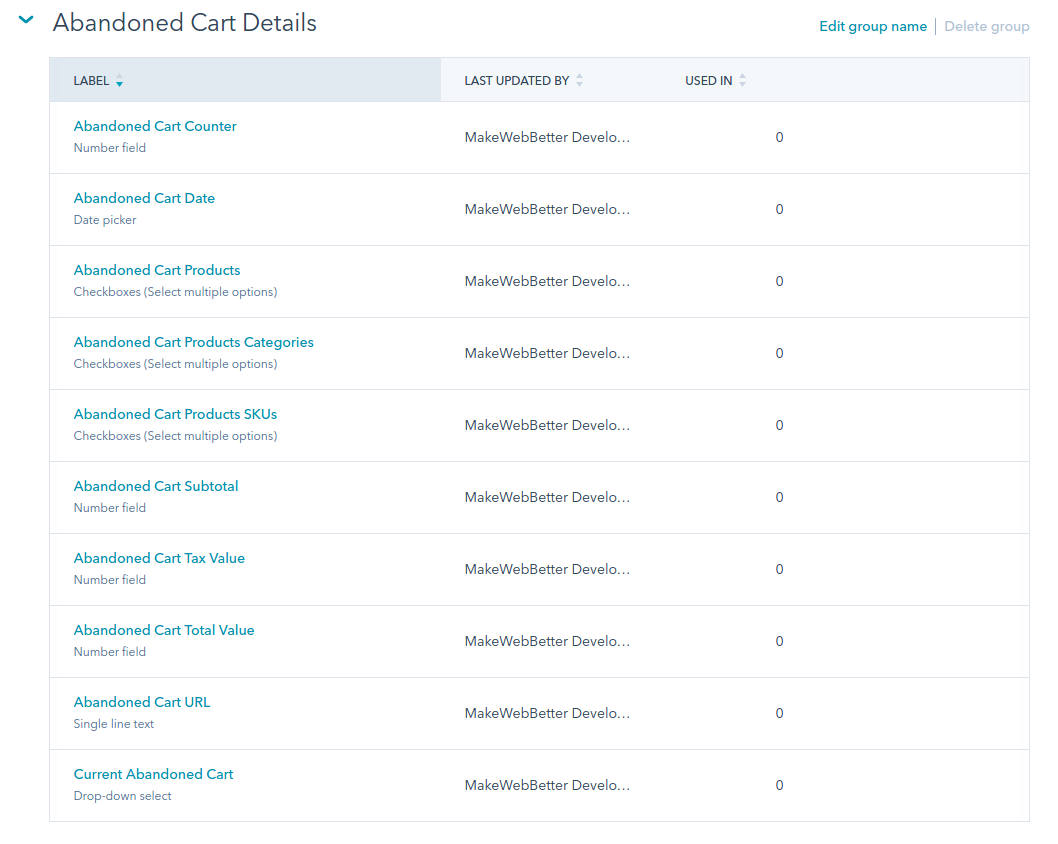 These are the group and contact properties which you will be able to see over your HubSpot account after enabling the extension.These best-practiced properties will hold all the information regarding the customers' abandoned cart.
For any Query please contact us on:
Email: support@makewebbetter.com
Skype: makewebbetter