1.

Setup Guide

Automated coupons with WooCommerce is the perfect solution for you to create and send discount coupons to your customers automatically. These discount coupons will persuade users to shop more which will ultimately give a hike to your revenue.

In this setup guide, you'll learn how to set up and get started with automated coupons with WooCommerce app.

So here it goes.
1.1.

Step-by-Step Setup
After signing up, login with your credentials.
After logging in, you will redirected to a window like this where you'll need to connect your HubSpot portal to the app,
                        1. Click on Connect New Portal button on top left.
                         2. You'll see the list of portals associated with your email address(if you have any).
                              3. Select the portal you want to connect and click on Choose Account button at the bottom.
Once you connect your portal, you will see it on the home window.
Now you need to click on Stores

 on top to sync your WooCommerce store and create coupons for it.

Click on the

Add a Store

 button to sync your online store with the app. You can currently sync your

WooCommerce store

with this app. You'll need to enter some credentials like WooCommerce Store URL, WooCommerce Consumer Key, WooCommerce Consumer Secret and submit it to connect your store.
After synchronizing the store, you'll see it listed with some other details.
And that's it. You've successfully connected this Automated Coupons app with your WooCommerce store. Now let's talk about how you can create coupons using this HubSpot coupon creation app
1.2.

Setup Coupon Creation Format

Creating coupons is quite simple with this app. Just follow these steps:

Click on Coupons on the top.

Now click on Add a coupon button on top right and a popup form will appear asking to enter these details:
Coupon Snippet Name:

A small snippet that will appear in the coupon name.
Coupon Code Format:

Here you can decide the format of your discount coupon to check how it will look. You can add prefix, suffix, name/email and many other things to your coupon to customize the coupon code format.
Coupon Value:

Here you can set the type of discount you want to offer. You can select

Flat

or

Percentage

discounts from here.
Applies To:

Here you can select what products this coupon will be applied to. You can either choose all products or select a list of products.
Active Dates:

You can set the expiration date of coupons from here. You can either set it to be always active or select a specific date for expiration.

Destination: This option allows you to select the destination HubSpot portal.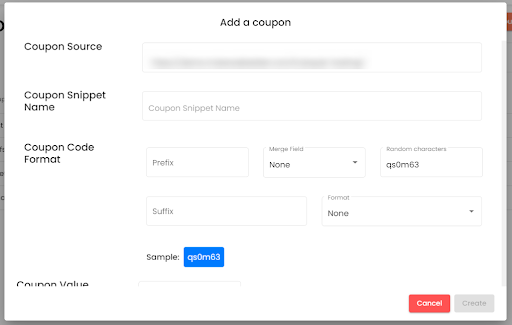 After adding all the details in the coupon, click on Create and your coupon will display on the coupon window.

1.3.

Properties and Workflow
1.3.1.

Properties

Once you connect the automated coupons app with your HubSpot portal, it will create some of these properties in your HubSpot portal:
Coupon Amount:

It will store the amount of coupon.

Coupon Code:

It will store the coupon code.

Coupon Expiry:

It will store the expiry date of the coupon.

Coupon Type:

It will store the coupon type like Percentage or Flat.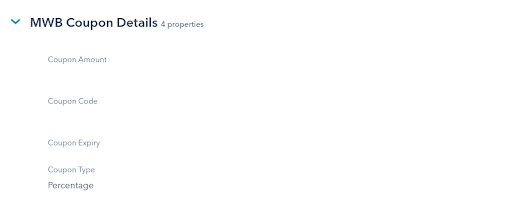 1.3.2.

Workflow

When you create coupons in the app, you can now start sending them automatically through HubSpot using HubSpot workflows. For this, you need to go to your HubSpot portal you've connected with the app. Navigate to Workflows and then create a workflow. Select the enrollment criteria you like and select Create Coupon as an action.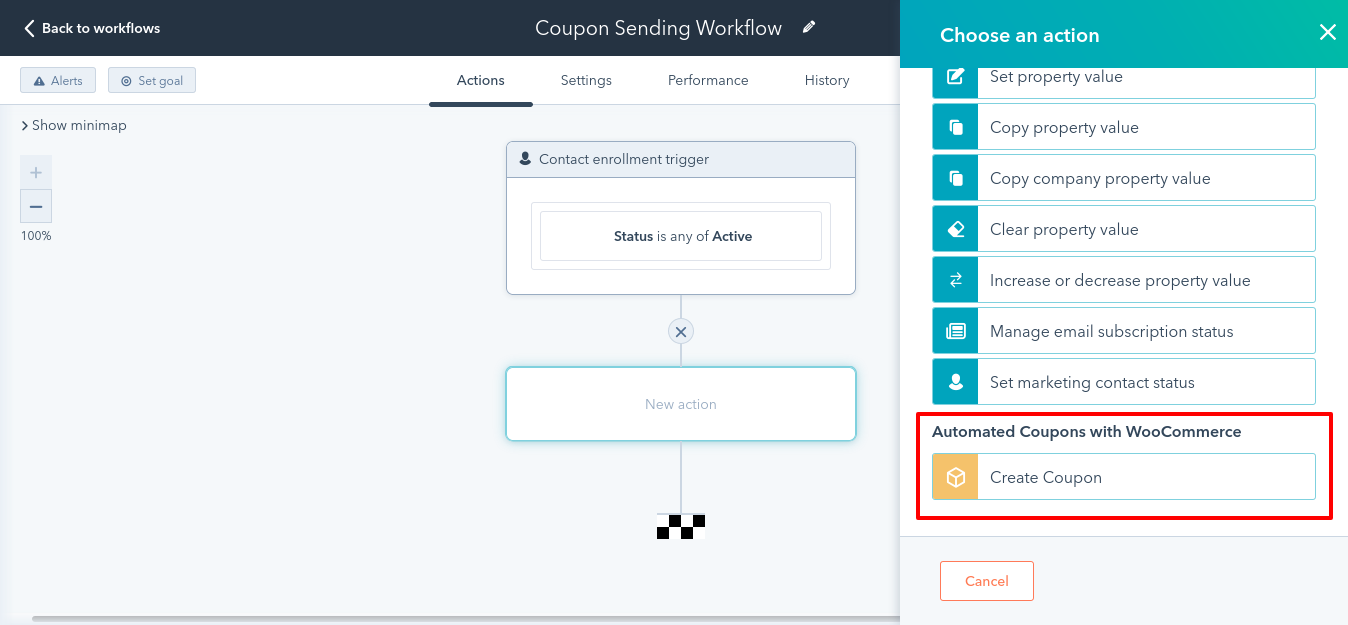 Any user who fulfills the enrollment criteria will receive your coupons automatically.
1.3.4.

Pricing
If you subscribe for 1000 coupons per month then he needs to pay $25. If you need to create more than 1000 coupons per month, then $15 per 1000 coupons. For example, if you subscribe for 2000 coupons, you'll need to pay $30.
Note: You get a free 15 days trial at the beginning and after the trial ends, you need to upgrade your plan.