1.

Overview

The Automated Coupons by MWB is a versatile HubSpot eCommerce App that lets you create coupon rules to generate coupons automatically when the targeted event is triggered from the defined HubSpot workflows.

Using this app, you can define multiple coupon rules targeting specific users or user groups for delivering a personalized experience to your users. Ultimately, it helps you build a better connection with your users and boost engagement, sales, and customer loyalty. 
1.1.

App Features

The Automated coupons app includes the following features:
Generate Targeted Coupons

Create Coupon Rules & Automate Send-outs

Use Coupon Properties with HubSpot Emails

Target Customers with Redemption Limits

Incentivize Coupons with Different Discount Types
2.

Setup
If you are downloading this automated dynamic coupon generator app from the HubSpot Marketplace, you can instantly click on the install button and the app will be installed and login with the same email id (current email id used on the HubSpot portal).
You can also log into the Automated coupons app, you need to signup to the MWB Apps portal, by clicking on this

link

.

– Complete the signup process by adding your email and creating a secure password to login to the app.

– Post successful login, connect to your HubSpot portal.

– Next, you'll be directed to the All Apps page. If you wish to connect the automated coupons app with any other portal of the HubSpot App, click on the Add New Portal button.

– Select the HubSpot portal you want to connect with the app.

– Repeat the above process to connect more HubSpot portals with the Automated Coupons app.
3.

Apps

Once you select the HubSpot portal post logging into this HubSpot eCommerce app, you'll be landed on the All Apps page. You can also consider this space as the homepage for our app. 

All the upcoming and existing HubSpot eCommerce apps for our MWBApp portal will be listed here along with the Support and Meeting link options to connect with our support team.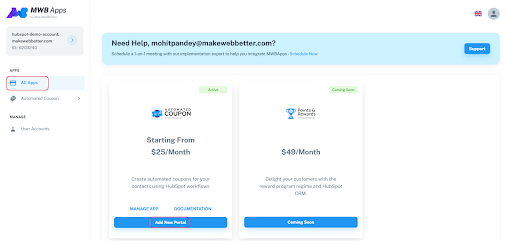 4.

Automated Coupons

The Automated Coupons section includes three major tabbed sections, namely, Stores, Coupon Rules, and Coupons.
4.1.1.

Create New Store

Herein, you also have the option to add more stores. Click on the Create New Store button to add another eCommerce store.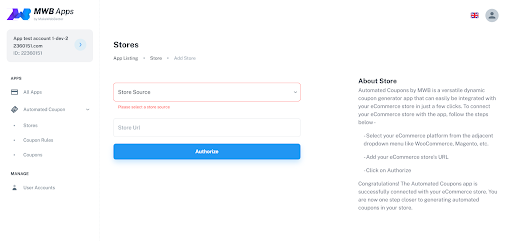 – Add the Store Source from the available options in the dropdown menu. (Available eCommerce platform option is WooCommerce. The automated Coupons app will soon be available for the Shopify & Magento eCommerce stores as well. You can connect with our tech team to get your eCommerce platform integrated with the app.)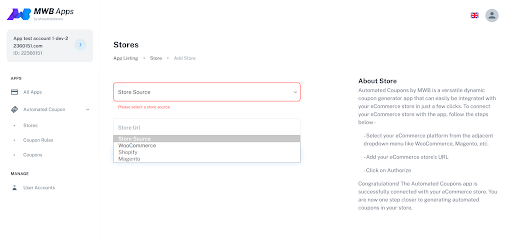 – Add your store URL.
– Click on the Authorize button.
4.1.2.

Edit Connected Store

With the Automated Coupons app, you can also edit the already connected eCommerce platform. 
4.1.2.1.

Create New Coupon Rule

You can create multiple coupon rules depending on your subscribed plan. To create a coupon rule, click on the Create New Coupon Rule button.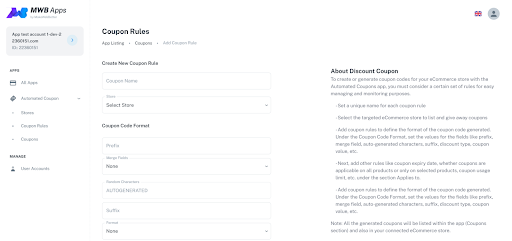 Add

coupon name

and

select store

Define

coupon code format

Prefix

Merge Fields

Random Characters

Suffix

Format

Discount Type

Discount Value

Select

Applies to

Entire Products

Selected Products

Select

Active Dates

Add

Coupon Usage

criteria

Unlimited 

Limited (Add coupon usage limit, if selecting this option)
Click Save.
5.1.1.

General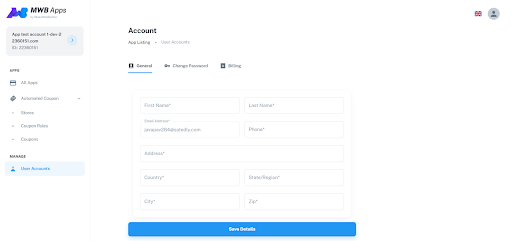 You can update or modify the basic details of your account from this section. The editable fields include –
First Name

Last Name

Phone

Address

Country

State/Region

City

Zip Code
Click on Save Details when done.