1.

Overview

The

Automated Coupons by MWB

is a versatile HubSpot eCommerce App that works as a WooCommerce coupon generator. It lets you create coupon rules to define coupon usage for your WooCommerce store customers. HubSpot workflows function as a coupon distribution medium, when the targeted event is triggered the coupon is sent.

Using this app, you can define multiple WooCommerce coupon rules targeting specific users or user groups for delivering a personalized experience to your users. Eventually, the app helps build targeted marketing campaigns, increase lead conversion, improve ROI, and promote brand advocacy.

 
1.1.

App Features

The Automated coupons app includes the following features:
Generate Targeted Coupons

Personalize Coupons with  Rules

Control Coupon Usage with Redemption Limits

Incentivize Coupons with Different Discount Types

Automate WooCommerce Coupons Send-outs

Create Coupon Properties in HubSpot

Target Marketing Campaigns through HubSpot

In-app Monitoring and through HubSpot Reporting & Analytics
2.

Setup
To download the

Automated Coupons app

from the HubSpot Marketplace, click on the install button and the app will be installed and login in with your HubSpot credentials (same email ID & password.
You can also access the Automated Coupons app for WooCommerce, using the

direct app link

. Signup using your HubSpot credentials (same email ID & password).

On the next page, connect the WooCommerce automated coupons app with any HubSpot portal of your choice. Moreover, for any other portal, you can authorize it from your HubSpot Super Admin account and it will be displayed here. Finally, click

Login

.

Repeat the above process to connect more HubSpot portals with the Automated WooCommerce Coupons app.
3.

Apps

With a successful signup into the HubSpot WooCommerce coupons app, you'll be landed on the All Apps page. You can also consider this space as the homepage for our app. 

All the upcoming and existing HubSpot eCommerce apps for our MWBApp portal will be listed here along with the Support and Meeting link options to connect with our support team.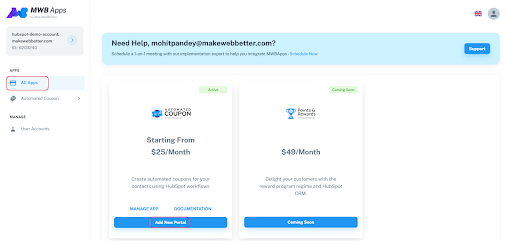 4.

Automated Coupons

The Automated Coupons section includes three major tabbed sections, namely, Stores, Coupon Rules, and Coupons.
4.1.2.

Edit Connected Store

With the Automated Coupons app, you can also edit the already connected WooCommerce platform. 
4.1.2.1.

Create New Coupon Rule

You can create multiple WooCommerce coupon rules once you gain access to the Automated Coupons app. To create a coupon rule, click on the Create New Coupon Rule button.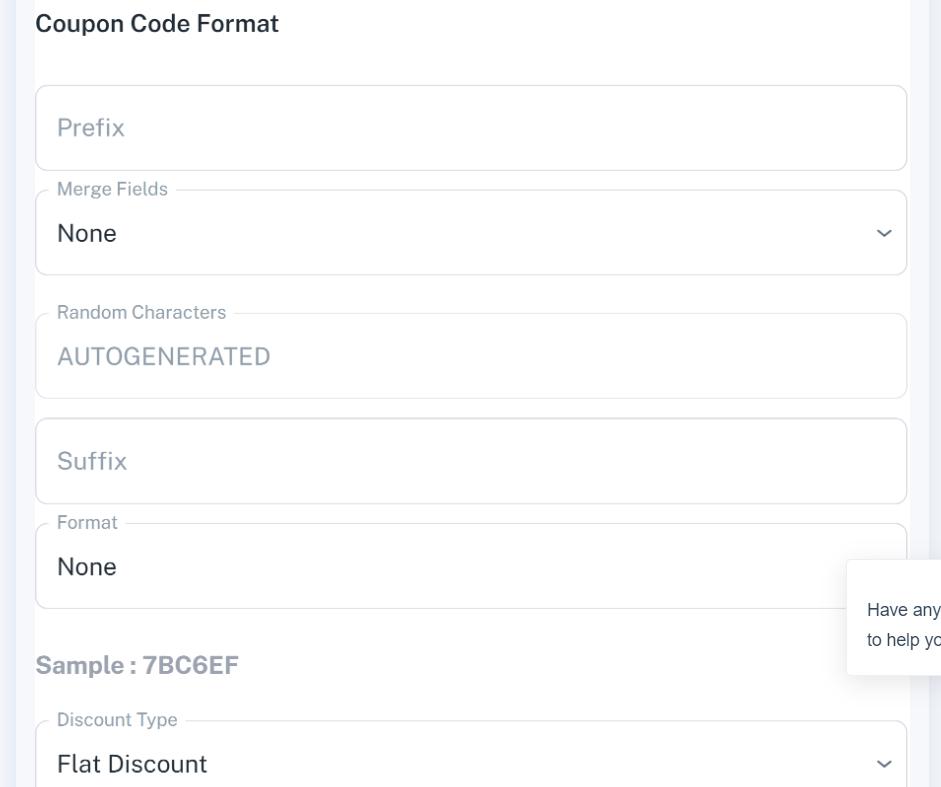 Add

coupon name

and

select store

Define

coupon code format

Prefix

– Preset defined characters of the coupon.

Merge Fields

– User First Name, Last Name or Email.

Random Characters

-Autogenerated text for uniqueness.

Suffix

– Preset defined characters of the coupon.

Format

– Sequence of above four.

Discount Type

– Percentage or Flat.

Discount Value

– Numerical value.

Select

Applies to

Entire Products (Sitewide)

Selected Products

Exclude Products

Select

Active Dates

 Always Active
Expires At

– Select Date of Expiry.

Relative

– Days in which coupon will expire.

Add

Coupon Usage

criteria

Unlimited 

Limited (Add coupon usage limit, if selecting this option)
Once, you have filled all the fields. Click Save. You'll be able to access this coupon rule in the respective Coupon Rules tab in the main menu.
6.

How to Generate & Automate Coupon Send-outs?

With Automated Coupons for WooCommerce  by the MakeWebBetter app, you can generate unique and personalized discount coupon codes for your WooCommerce store in minutes.
6.1.

Generate Automated Coupons with HubSpot Workflows
Once the app is connected with your WooCommerce  store and HubSpot portal and the coupon rules are set, the next step is to proceed with creating the Workflow in HubSpot.

Go to your HubSpot portal > Workflows > Create Workflow > From Scratch.

Reset Name for your

Workflow.

Select

Contact Enrolment Triggers

>

Contact Properties

>

First Name

. Select the "

is known

" filter and click on Apply Filter.

Next, choose the workflow action. In the list of actions, you'll spot the "MWB Create Coupon" action under Automated Coupons by MWB.

Select this action, then choose the WooCommerce coupon rule you created earlier from the drop-down list, and click Save.
Moreover, you can choose the following Contact Enrollment Triggers under Contact Properties while creating a HubSpot workflow that suits your purpose.
6.2.

Generate Coupons without HubSpot Workflows

With Automated Coupons' in-HubSpot feature i.e. CRM Card feature, all our user can now create coupons for their contacts from the CRM itself.  Follow the same old procedure to connect your HubSpot account & portal with the app, then connect your WooCommerce store with the app. And you'll be able to view the Automated Coupons' CRM Card feature in your contact (as shown in the picture below).

To create a coupon for your contacts using this feature, follow the steps below:
After connecting your app as mentioned above, go to your HubSpot account.

Then, navigate to

Contacts

.

Click on the desired contact you wish to create a coupon for.
In the right panel, you'll see the option to "

Create Coupon

". Click on it.
Select the Source and Store URL from the drop-down. (HubSpot will fetch your store URL automatically as you've connected your store to our app.)
Then, fill in these fields in the popup — a unique coupon code, discount type, discount amount, expiration (or always active), and usage limits. (This serves the same purpose as it does in the app).

Click on

Create New Coupon

. And, done!
And you're all done!
7.

Pending Coupons

The plan you purchase of the Automated Coupons app determines the number of coupons that can be created using the app. Following are the limits.
Free Trial Period – 100 Coupons.

Basic Plan – 200 Coupons.

Advanced Plan – 500 Coupons.

Ultimate – Unlimited Coupons.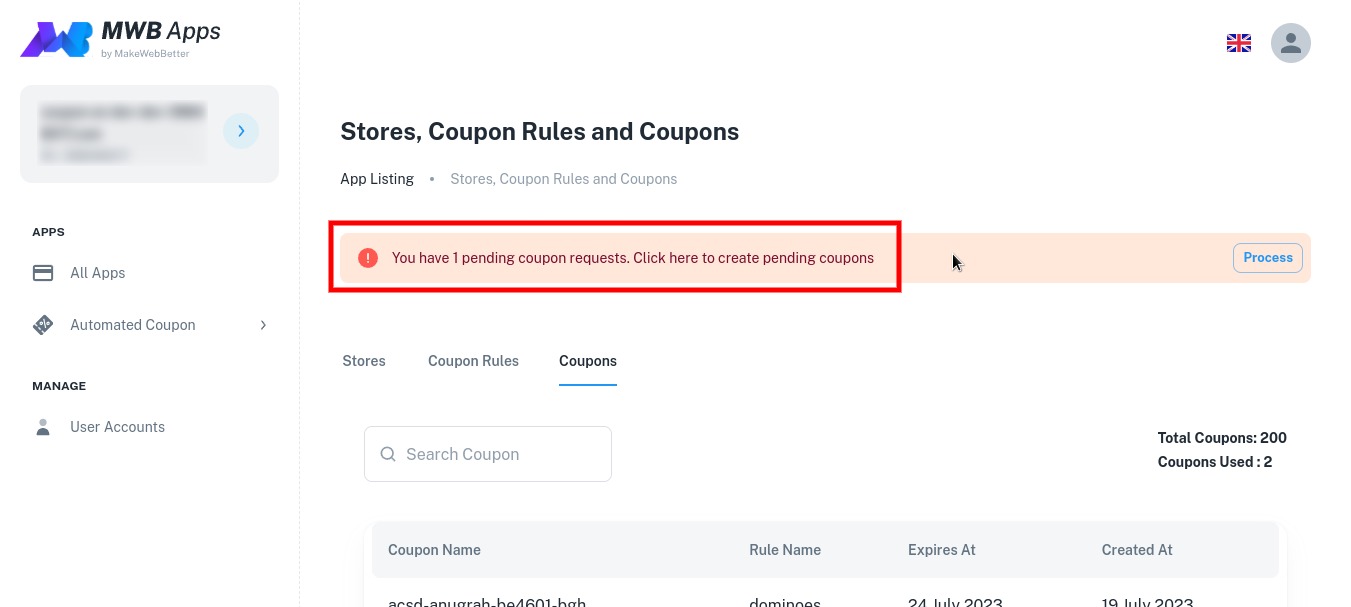 Although, even if you've exceeded the limit, then too coupons can be created, but no one will be able to use them. To use them you'll have to upgrade your plan accordingly. Suppose you're on Basic Plan and the 201st coupon has been created, then you'll have to upgrade your plan to Advanced to bring Coupon No.201 to use.