1.

Overview

HubSpot Deal Per Order allows you to convert the individual potential sale of your store to HubSpot Deal with lots of details regarding the deal. Its the easiest way to track your store's overall sales and revenue generated through out the month or a specified time period. The best thing regarding the deals that HubSpot allows is to track them individually with the attached contacts and associated revenue.

Main Features:

 HubSpot Deal Per Order setup and creates a new WooCommerce Sales Pipeline and custom Deal groups and properties.
 WooCommerce Sales Pipeline uses different deal stages for the orders with the winning probability assigned to all.
 HubSpot Deal Per Order converts each and every order of your e-commerce store to HubSpot Deal with appropriate deal-stage, amount and closing date.
HubSpot Deal Per Order auto-updates the deals on HubSpot whenever any order status is changed or updated.
Allows to export old orders of your store to HubSpot as deals just in a single click.
It assigns the well-defined stage to the deals according to their current status on the store as order.
Extra Details regarding the products involved in the deal can be easily tracked with the HubSpot Deal Per Order.
2.

Installation

NOTE: For using HubSpot Deal Per Order, firstly you need to install and activate HubSpot WooCommerce Integration Pro before you can proceed to install this add-on.
Methods of installation:-
AUTOMATIC INSTALLATION
Automatic installation is the easiest option as WordPress handles the file transfers itself and you don't need to leave your web browser.
Steps are as follows:
1) Download the zip folder of the plugin HubSpot Deal Per Order.
2) Once downloaded install plugin through browsing and activate it.
MANUAL INSTALLATION
Manual installation of the plugin is another option to install the plugin to your WordPress-environment. The manual installation method involves downloading our HubSpot Deal Per Order Extension and uploading it to your web server via your favorite FTP application.
Steps are as follows :
1) Upload the HubSpot Deal Per Order plugin folder to the /wp-content/plugins/ directory.
2) Activate the Add-on through the Plugins menu in WordPress.
3.

Admin Setting

After successful installation and activation of the add-on, enable the feature in order to function the plugin properly.
4.

Work Flow
Enabling the add-on and saving the settings will show up the options to set up new pipeline for HubSpot Deals.

2.  Setup new pipeline with the help of this extension. The new pipeline is "WooCommerce Sales Pipeline".

3. Now the last step is to set up custom group and properties for HubSpot Deals. This will be required to store additional details regarding the deals on HubSpot such as product names,categories,skus and much more.

4. The new pipeline for HubSpot Deals will be as displayed below. It will contain different deal stages which will be assigned to deals on new order creation.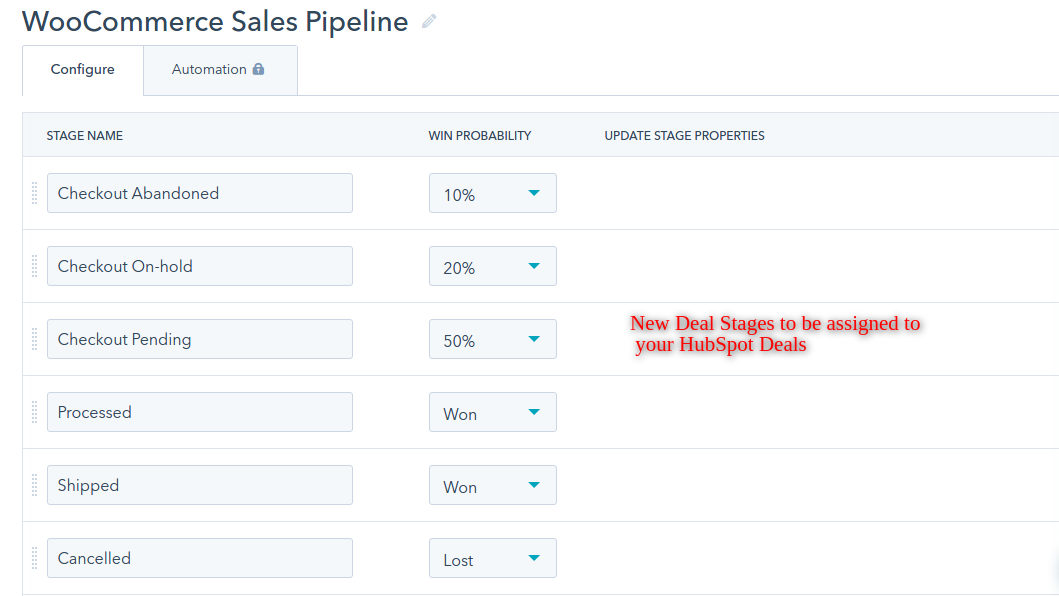 5. After the activation and full setup of add-on, whenever a new order will be placed on your store it will be converted to Deal on HubSpot. The deals can be easily managed through "Board View" of Deals in HubSpot.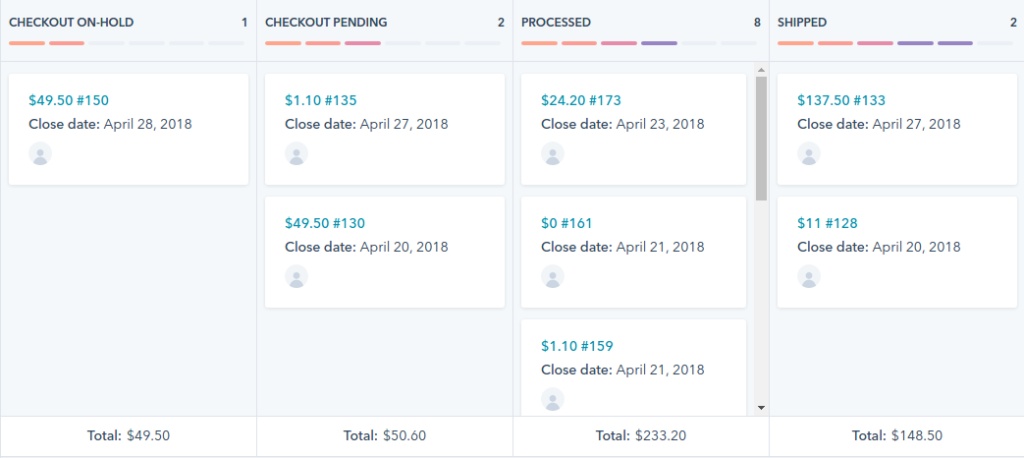 6. Each HubSpot deal will contain lots of information regarding the order on your store. The details will generally include the pipeline, deal-stage, amount, products purchased, products categories, product SKUs, deals savings, deal creation month, deal line items count etc.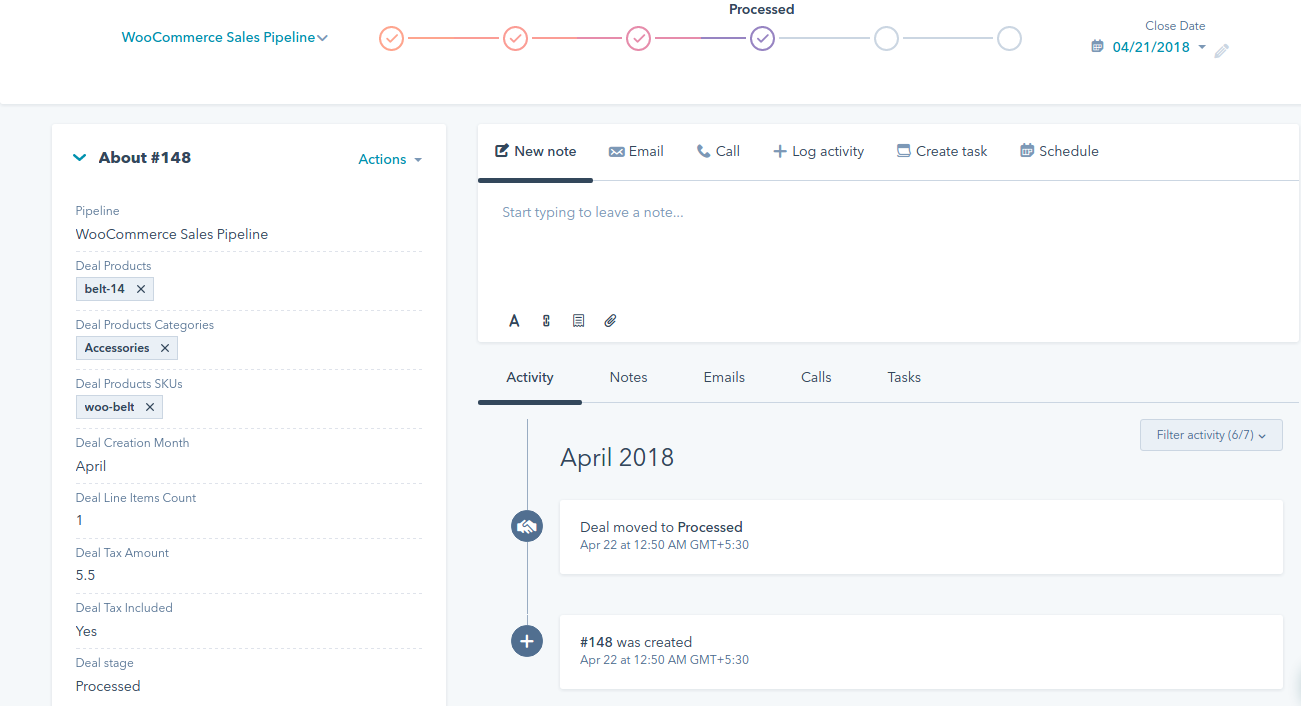 7. Here is the full list of the details that we assign to each HubSpot Deal:
->  Deal name: "#" with the prefix to order number.
-> Deal Closing Date: same date for orders with processing and completed status but for orders other than these statuses we add 7 days more to the closing date.
-> Amount: order total amount.
-> DealStage: any one of the following-
Deal Stages                          Winning Probability                               Order Status
1) Checkout Abandoned                 10%                                                Failed
2) Checkout On-hold                      20%                                                On-Hold
3) Checkout Pending                      50%                                                Pending
4) Processed                                   Won                                                Processing
5) Shipped                                      Won                                                Completed
6) Cancelled                                    Lost                                                Cancelled
-> Pipeline: WooCommerce Sales Pipeline
-> Deal Products Purchased: details of all the products purchased for the order
-> Deal Products SKUs: details of product SKUs
-> Deal Product Categories: details of categories for products purchased.
-> Deal Creation Month: the current month when the deal is created.
-> Deal Subtotal Amount: subtotal of order
-> Deal Savings Amount: discounted amount such as by applying coupon.
-> Deal Tax included: indicates whether the tax was included in the current deal or not. It will be "Yes" or "No".
-> Deal Tax Amount: tax amount of the order
-> Deal Line Items Count: order items count for purchased products.
8.You can easily update the deals custom properties on HubSpot just by clicking on update button.

9. Enable the one-click sync feature to export all your previous/old orders to HubSpot as deal. Set the date and select the preferred order status. All orders since the selected date and selected status will be fetched for exporting process.

10. You can also see the total count for orders according to setting you have saved for one-click sync feature. Now just click the "Sync Now" button and you will see the one by one exporting of orders on HubSpot as deals.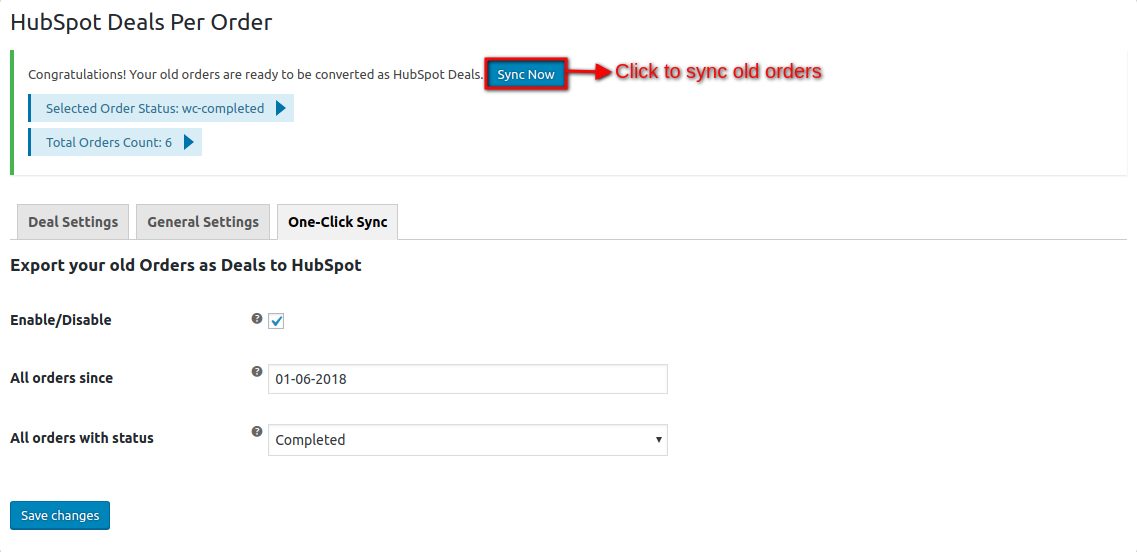 11. Here is how your orders will be syncing to HubSpot in deals section.