1.

Overview

HubSpot Deals for WooCommerce Memberships enables you to organize your site members as Hubspot deals. It also allows you to create and keep track of appropriate deal stages, plans and the opening and closing dates at every stage of the memberships. Easy to install and easier to use, the incredible automation plugin allows you to gain greater control over members and manage everything related to them from a single place.
Setup and creates a new WooCommerce Membership Pipeline and custom Groups and Properties.
Allows sync previous membership of your store to HubSpot as deals just in a single click.
WooCommerce Membership Pipeline uses different deal stages for the membership with the winning probability.
Converts each membership of your e-commerce store to HubSpot Deal with appropriate deal-stage, amount and closing date.
3
of
3
users found this section helpful
2.

Installation
NOTE: For using HubSpot Deals for WooCommerce Memberships, firstly you need to install and activate parent plugin HubSpot WooCommerce Integration Pro.
Methods of installation:-
Automatic Installation
Automatic installation is the easiest option as WordPress handles the file transfers itself and you don't need to leave your web browser.
Steps are as follows:
1) Download the zip folder of the plugin HubSpot Deals for WooCommerce Memberships.
2) Once downloaded install plugin through browsing and activate it.
Manual Installation
Manual installation of the plugin is another option to install the plugin to your WordPress-environment. The manual installation method involves downloading our HubSpot Deals for WooCommerce Memberships Extension and uploading it to your web server via your favorite FTP application.
Steps are as follows :
1) Upload the HubSpot Deals for WooCommerce Memberships plugin folder to the /wp-content/plugins/ directory.
2) Activate the Add-on through the Plugins menu in WordPress.
2
of
2
users found this section helpful
3.

Map Deal Stages

You can categorize and track the progress of the deals by using Map Deal Stages. Each Deal Stage has their probability.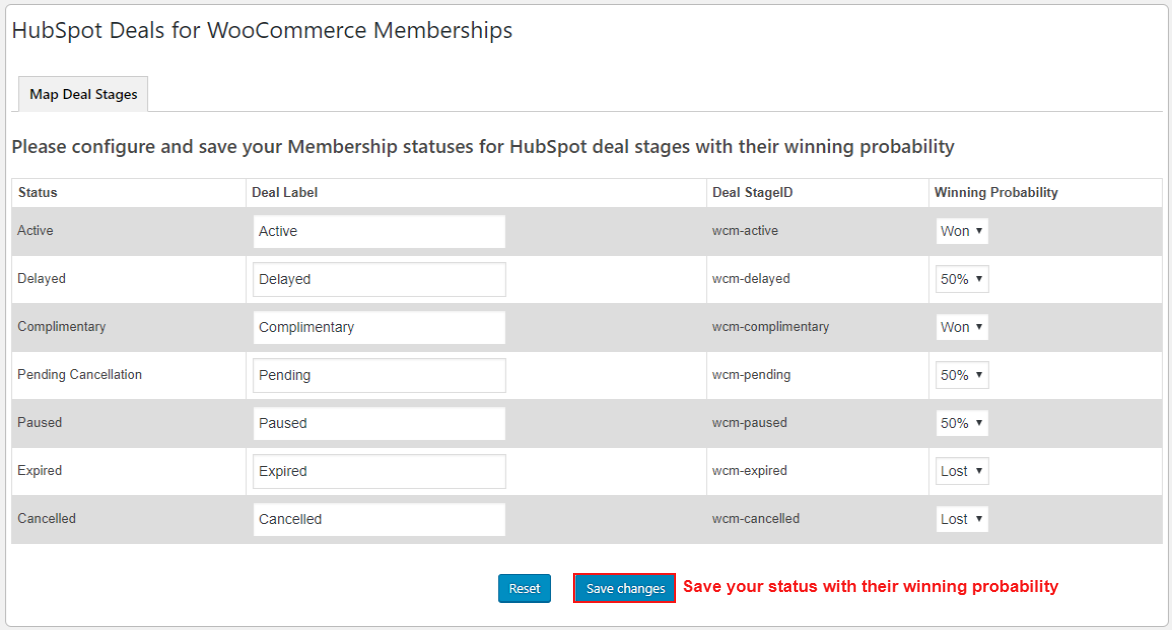 2
of
2
users found this section helpful
4.

Pipeline Management

Enabling Pipeline Management setting and click on "Save Changes". That will show the options to set up the new pipeline for HubSpot Deals.

Click on "Setup Pipeline" to create a new pipeline for WooCommerce Membership.

And last click on the "Run Setup" to set up the custom group and properties for WooCommerce Membership.

The pipeline for HubSpot Deals will contain different deal stages which will be assigned to deals on new membership creation. The deals can be easily managed through "Board View" of Deals in HubSpot.

Each HubSpot deal will contain detail information about the membership. It generally includes Membership Plans, Membership Type, Membership Status, Expires On, Membership Since,  Membership Canceled on etc.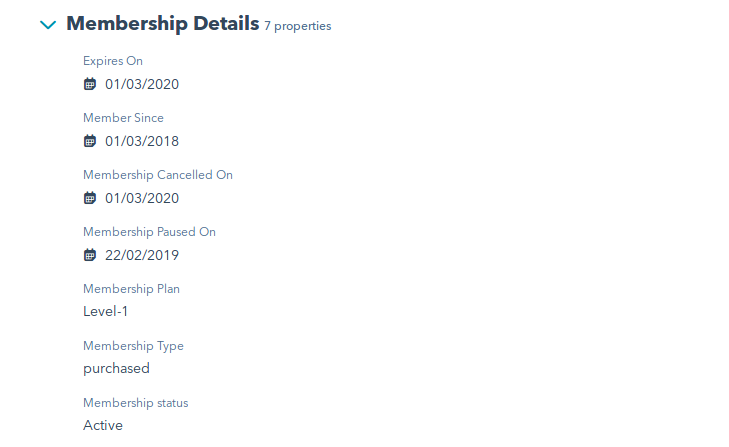 2
of
2
users found this section helpful
5.

One Click Sync

Enable One-Click Sync feature to export all your previous membership to HubSpot.
Set the date and membership status. All membership since the selected date and selected status will be fetched for the exporting process.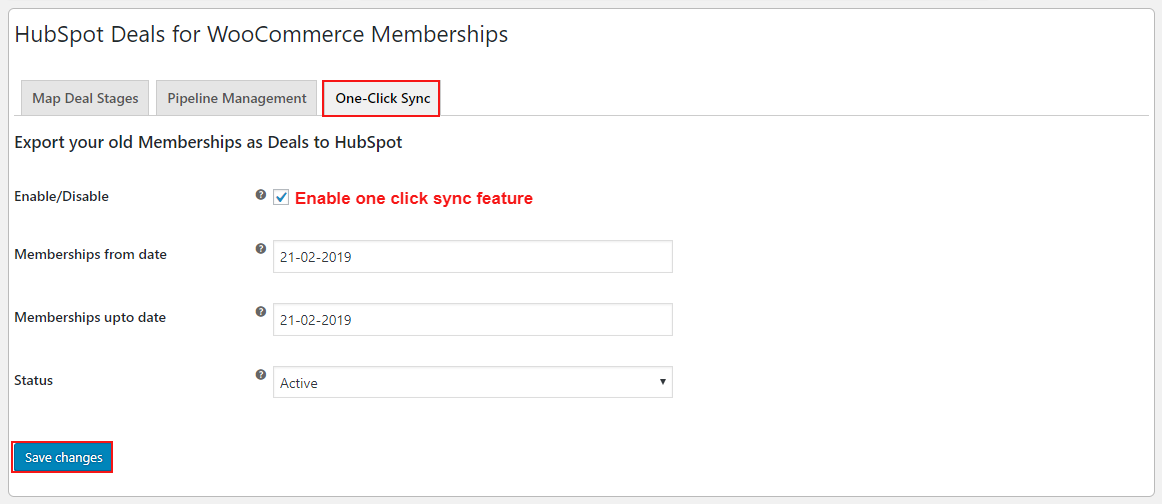 Here you can see the total count for membership according to set you have saved for one-click sync feature. Now just click the "Sync Now" button to sync membership on HubSpot as deals.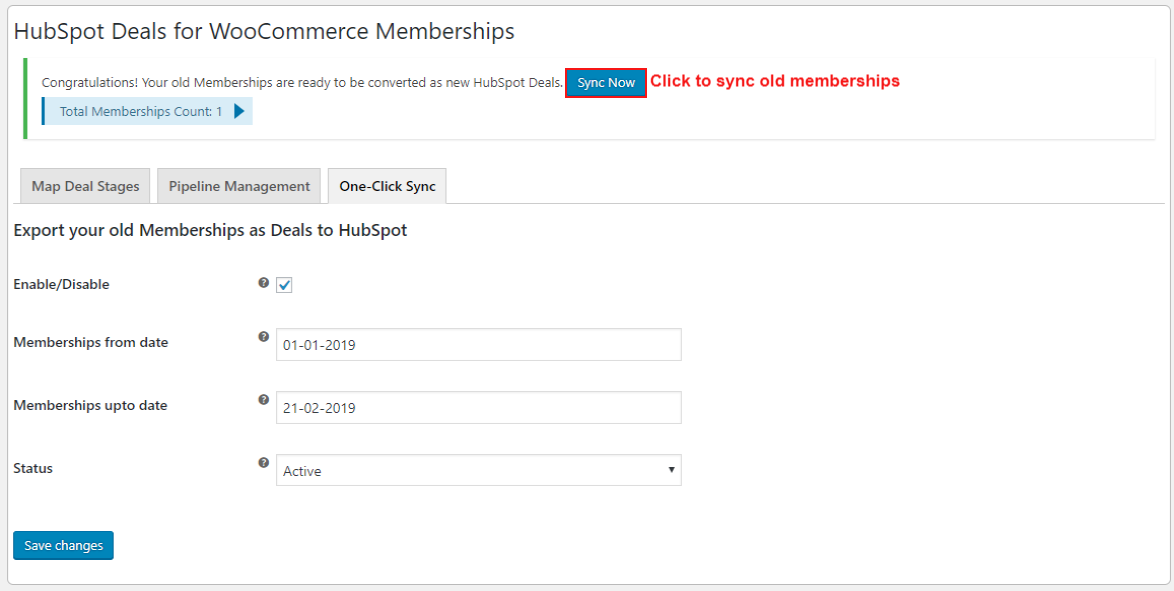 Now your membership syncs your HubSpot deals.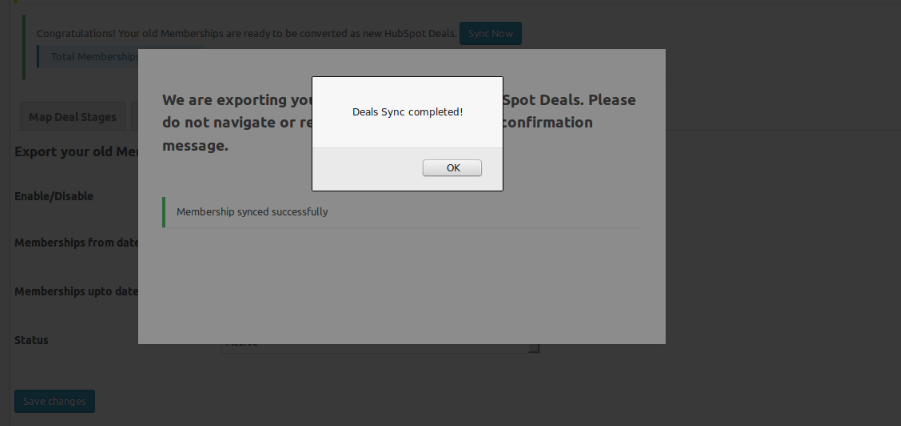 2
of
2
users found this section helpful
6.

FAQs

1

of

1

users found this section helpful