1.

Setup guide: HubSpot SMS Integration

All in One HubSpot SMS Integration is an app that helps you connect SMS providers to your HubSpot portal so you can start texting your HubSpot contacts from within the platform.

Sending SMSs directly from your HubSpot portal makes it seamless to contact your users and eliminates the need to switch between different platforms.

This setup guide will teach you how to get started with this app and how you can send automated SMS. So here it goes.
1.1.

Step-by-Step Setup

Sign up to create a new account. Once you sign up, you will receive a confirmation email and then you can login to the app.
Login to your account using the credentials.
After logging in, you will need to connect your HubSpot portal you want to send SMSs from. For this,

Click on

Connect New Portal

button on top left.
You'll see the list of portals associated with your email address(if you have any).

Select the one you want to connect and click on

Choose Account

.
Once you connect your portal, select it and you'll see the window displaying all the available SMS providers.
You will need to add the API credentials for the provider you want to send SMS through. Just click on the

Add API Credentials

button and enter the required credentials.
Once you add them, that SMS provider's service will be enabled.
Now go to your HubSpot portal and open any contact.

In the right sidebar, you'll see a card named All in One HubSpot SMS Integration. Click to expand it and click on SMS button in it and a popup will appear asking you to enter the message you want to send in the SMS.
Apart from the contacts, you can send SMSs to the contacts that are associated with the deals. If there are multiple contacts associated with one deal, you can send SMS to all of them at once.
To send SMS, just click on the SMS button under that card and the dialog box will appear asking you to enter the message.

After writing your message, select the provider and hit the Send button and your contact will receive the SMS successfully.
Note: If you've enabled multiple SMS providers, you'll be asked to select one of them before you send the SMS.
To track the number of SMSs you've sent, click on the

Dashboard

button on top and you'll see a reporting dashboard. You can select the portal and a date range to see the number of messages you sent through that portal in that time period.
On this dashboard, you can see the Name of the Receiver, Contact Number, Message, SMS Provider Name, Sent Time.
1.2.

Sending Automated Workflows

Follow these steps to send automated SMSs through All in One HubSpot SMS integration:
Log in to your HubSpot portal.

Go to Workflows in your portal, create a new workflow or edit an existing one.

Set an enrollment trigger for the workflow and then choose an action.

In the Choose an action tab, scroll down and select Send SMS

.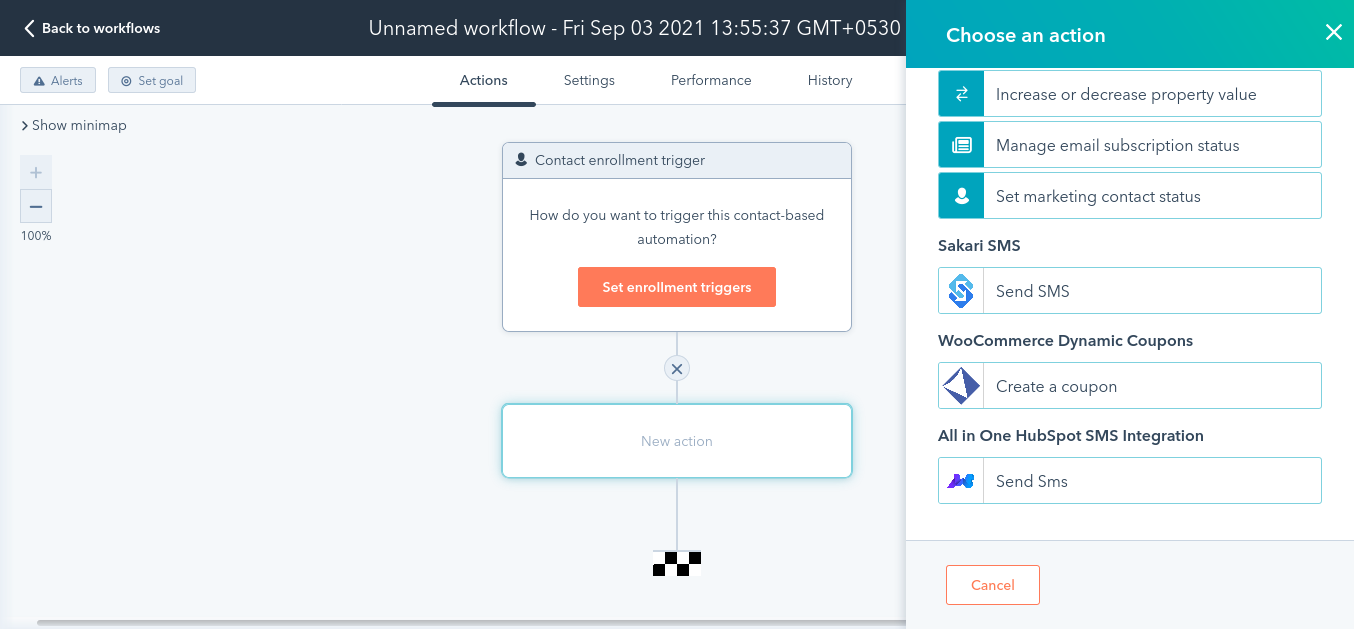 Then select the property that stores the mobile number of a contact, craft your message and enter the template ID and save the action.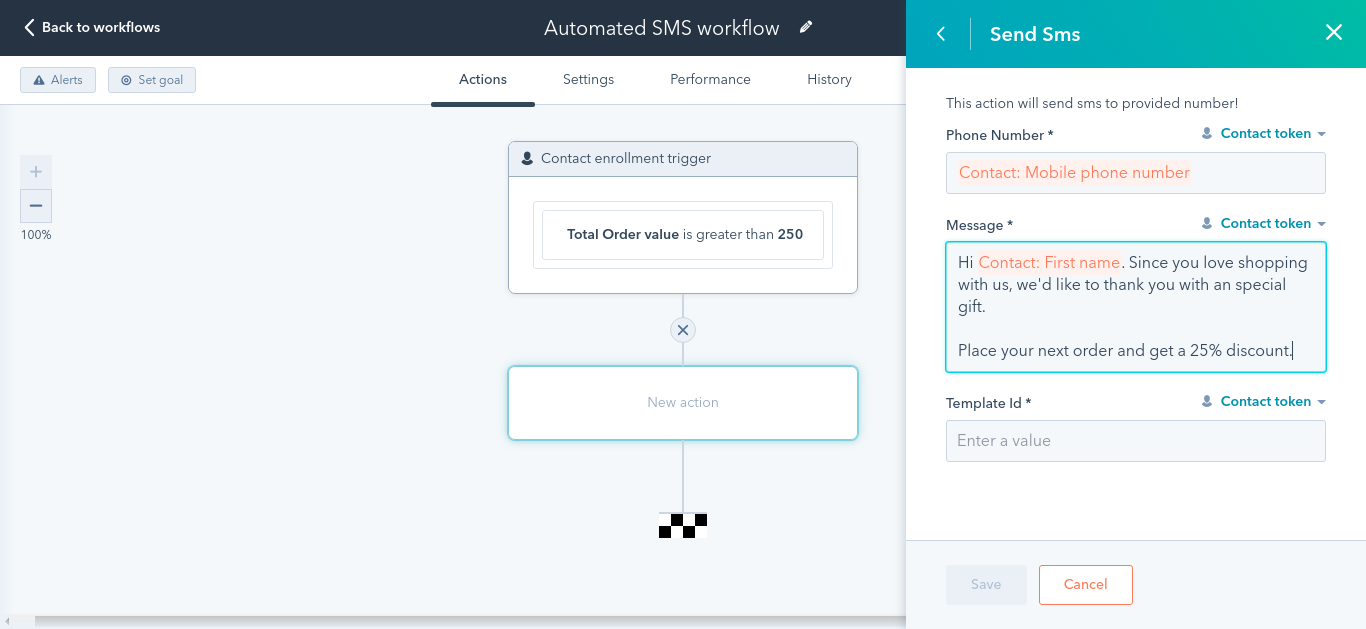 Now, whenever a contact enrolls in this workflow, it will automatically send an SMS to them based on the workflow actions.
1.3.

Pricing

This HubSpot SMS integration comes with 3 pricing models: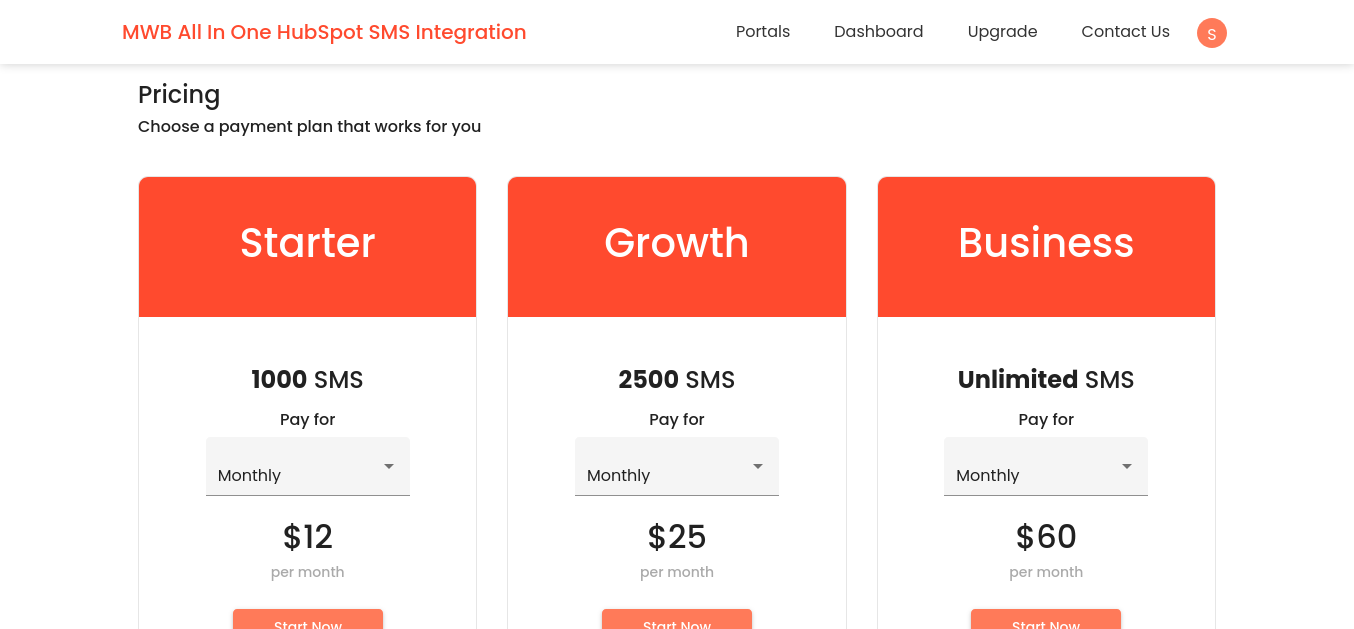 1.3.1.

Basic

This plan is billed at $12 per month , i.e. $120 per year.
1.3.2.

Pro

This plan is billed at $25 per month , i.e. $240 per year.
1.3.3.

Business

This plan is billed at $60 per month , i.e. $600 per year.

You get a free 15 days trial at the beginning so you can decide whether to go with the app or not.