1.

OVERVIEW

HubSpot is a powerful marketing and sales software that converts website leads into customers. So there should be a software solution that can integrate WooCommerce (leading e-commerce platform in the market covering 30% of all websites) with HubSpot as well. So we have created a WooCommerce extension HubWoo, which allows you to integrate WooCommerce and HubSpot. This plugin sync user-related data from WooCommerce to HubSpot, which is needed by various tools for further analysis and marketing research in HubSpot.

It creates several groups and their respective properties filled with live WooCommerce user data.

Groups and their Properties:

1- Customer Group


a- Customer Group/User role

b- Accepts Marketing

c- Shopping Cart Customer ID

2- Shopping Cart Fields

a- Shipping address line 1

b- Shipping address line 2

c- Shipping city

d- Shipping state

e- Shipping postal code

f- Shipping country

g- Billing address line 1

h- Billing address line 2

i- Billing city

j- Billing state

k- Billing postal code

l- Billing country

3- Last products Bought


a- Last Product Bought

b- Last Product Types Bought

c- Last Products Bought

d- Last Products Bought HTML

e- Last Total Number Of Products Bought

f- Product Types Bought

g- Products Bought

h- Total Number of Products Bought

i- Last Products Bought Product 1 Image URL

j- Last Products Bought Product 1 Name

k- Last Products Bought Product 1 Price

l- Last Products Bought Product 1 Url

m- Last Products Bought Product 2 Image URL

n- Last Products Bought Product 2 Name

o- Last Products Bought Product 2 Price

p- Last Products Bought Product 2 Url

q- Last Products Bought Product 3 Image URL

r- Last Products Bought Product 3 Name

s- Last Products Bought Product 3 Price

t- Last Products Bought Product 3 Url

4- Order

a- Last Order Status

b- Last Order Fulfillment Status

c- Last Order Tracking Number

d- Last Order Tracking URL

e- Last Order Shipment Date

f- Last Order Number

g- Total Number of Current Orders

5- RFM Information


a- Total Value of Orders

b- Average Order Value

c- Total Number of Orders

d- First Order Value

e- First Order Date

f- Last Order Value

g- Last Order Date

h- Average Days Between Orders

i- Account Creation Date

j- Monetary Rating

k- Order Frequency Rating

l- Order Recency Rating

6) Categories Bought

a- Last Categories Bought

b- Categories Bought

7) SKUs Bought

a- Last SKUs Bought

b- SKUs Bought

New:

(Note:-Only For WooCommerce Subscription Users)

8) Subscription Details  

a- Last Subscription Billing Interval

b- Last Subscription Billing Period

c- Last Subscription Next Payment Date

d- Last Subscription Order Completed Date

e- Last Subscription Order Creation Date

f- Last Subscription Order Number

g- Last Subscription Order Paid Date

h- Last Subscription Order Status

i- Last Subscription Parent Order Number

j- Last Subscription Products

k- Last Subscription Trial End Date

l- Related Order Completed Date

m- Related Last Order Creation Date

n- Related Last Order Paid Order

After setting up the plugin all the groups and properties associated with each WooCommerce metadata is being created at HubSpot.

Contact properties Scheduling: After creating the groups and properties, the next task would be to update contact properties and fill them with appropriate customer data. So as soon as any customer is created, any customer places an order or even customer information is updated we store all those customers and soon after post all the updated customer data every 5 minutes. We have posted only 50 users at a time for reducing server time.

Requests Logging: You can view all the logs related to each API request, it is done for debugging purpose such that we can identify the errors.

RFM Segmentation: The auto RFM segmentation feature will be based on the rating of 5 to 1.(rating 5 is considered as best and rating 1 is considered as worst). There is a setting in an extension from where you can customize the segmentation range for Recency, Frequency, and Monetary. For your ease, there have been defaulted range values(best practiced) for RFM segmentation.

SKU Updation: If you have changed your SKU of some product then it will automatically push that updated SKU and replace with the previous one.

Categories Update: Your WooCommerce store categories will get updated as soon as you will add or edit any category.

Product Update: Your WooCommerce store products will be auto-updated over HubSpot as soon as you will add or edit them.

For "bbPress or BuddyPress" users: Our extension supports users groups created by the above plugins such as participant, Moderator, Keymasters, etc

Old Subscription Data(Only For WooCommerce Subscription User): Automatically pushes the customer's data over HubSpot whenever their order is renewed, they re-subscribe or change them.

Exporting old users/customers to HubSpot: You can easily export your existing customers to HubSpot via one-click feature. The users can be selected by different roles to be updated.

Reflecting Changes in Orders: Whenever or customer order either subscription or simple is updated, we sync those details as well.
2.

INSTALLATION
AUTOMATIC INSTALLATION
Automatic installation is the easiest option as WordPress handles the file transfers itself and you don't need to leave your web browser.
Steps are as follows :
1) Download the zip folder of the plugin HubSpot WooCommerce Integration PRO.
2) Once downloaded install plugin through browsing and activate it.
MANUAL INSTALLATION
Manual installation of the plugin is another option to install the plugin to your WordPress-environment. The manual installation method involves downloading our HubSpot WooCommerce Integration PRO Extension and uploading it to your web server via your favorite FTP application.
Steps are as follows :
1) Upload the HubSpot WooCommerce Integration PRO folder to the /wp-content/plugins/ directory.
2) Activate the plugin through the 'Plugins' menu in WordPress.
3.

ADMIN SETTING
CONNECTION & AUTHORIZATION SETTING:

CONTRIBUTION TO DEVELOPMENT:

RUN THE SETUP:

GROUP & PROPERTY SETUP ON HUBSPOT: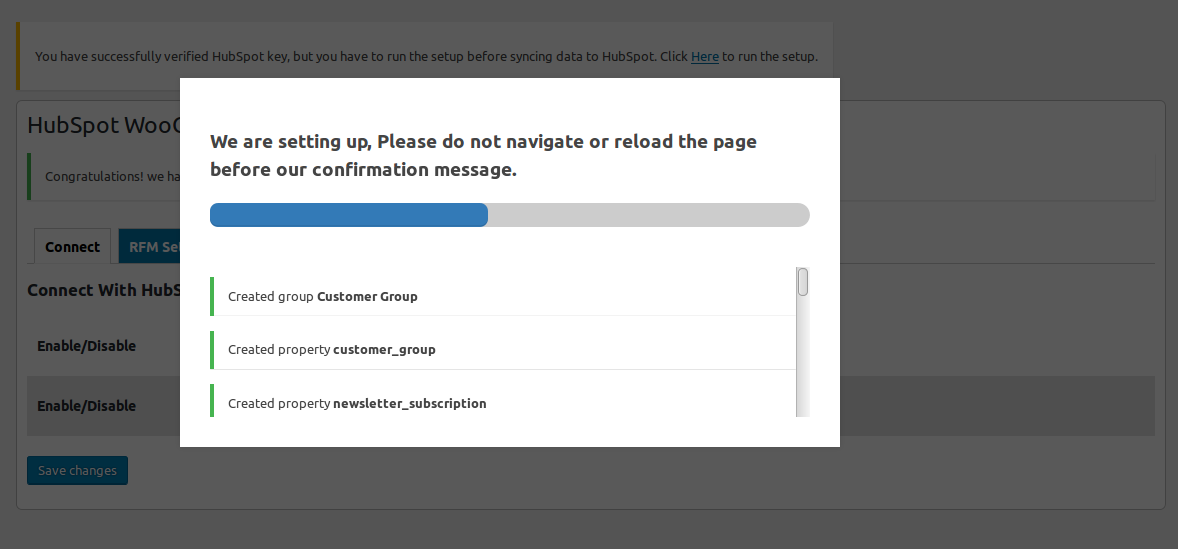 ROLLBACK THE WHOLE SETUP:

UPDATE THE PROPERTIES ANYTIME:

RFM SETTING:
WOOCOMMERCE SUBSCRIPTIONS OVER HUBSPOT:

EXPORTING  OLD USERS TO HUBSPOT:

GENERAL SETTINGS:

4.

WORK FLOW

After successful HubWoo plugin activation admin reaches to the HubWoo admin setting page under WooCommerce menu.

1- Initially, the first step would be to enable the plugin and then after authorizing the extension with HubSpot account.

2- As soon as our keys will be validated correctly, a Run Setup button will appear on the page by which all the groups and their respective properties will be created over HubSpot.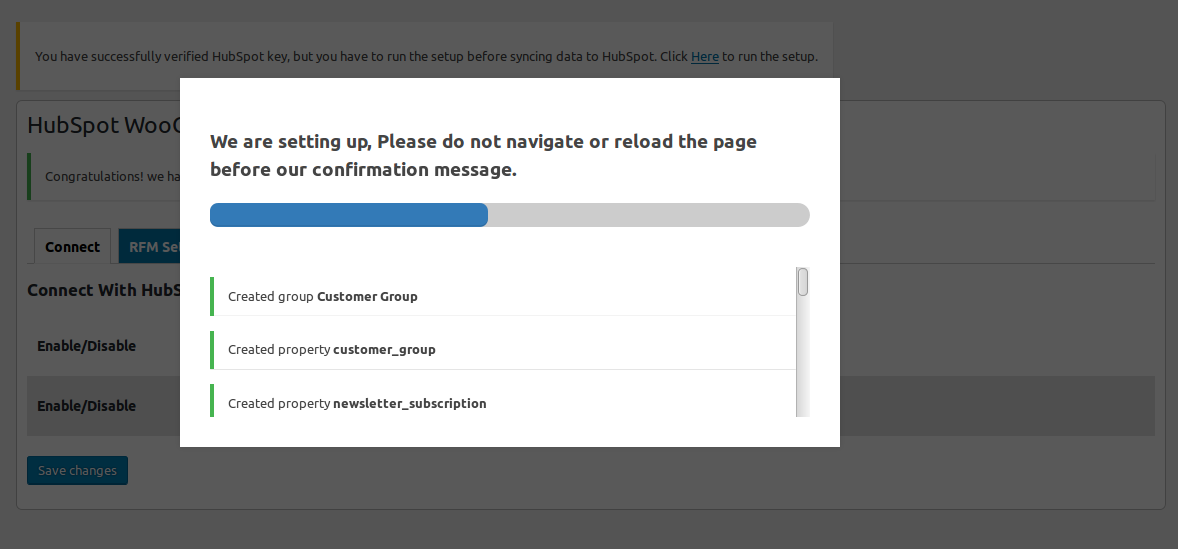 3- Please support us in tracking us the overall performance of the integration on your end by sending us the HubSpot portal ID and email id.

4- For RFM segmentation, you can set your own values and your customers will be categorized accordingly. For your ease, the extension uses some best-practiced RFM ranges.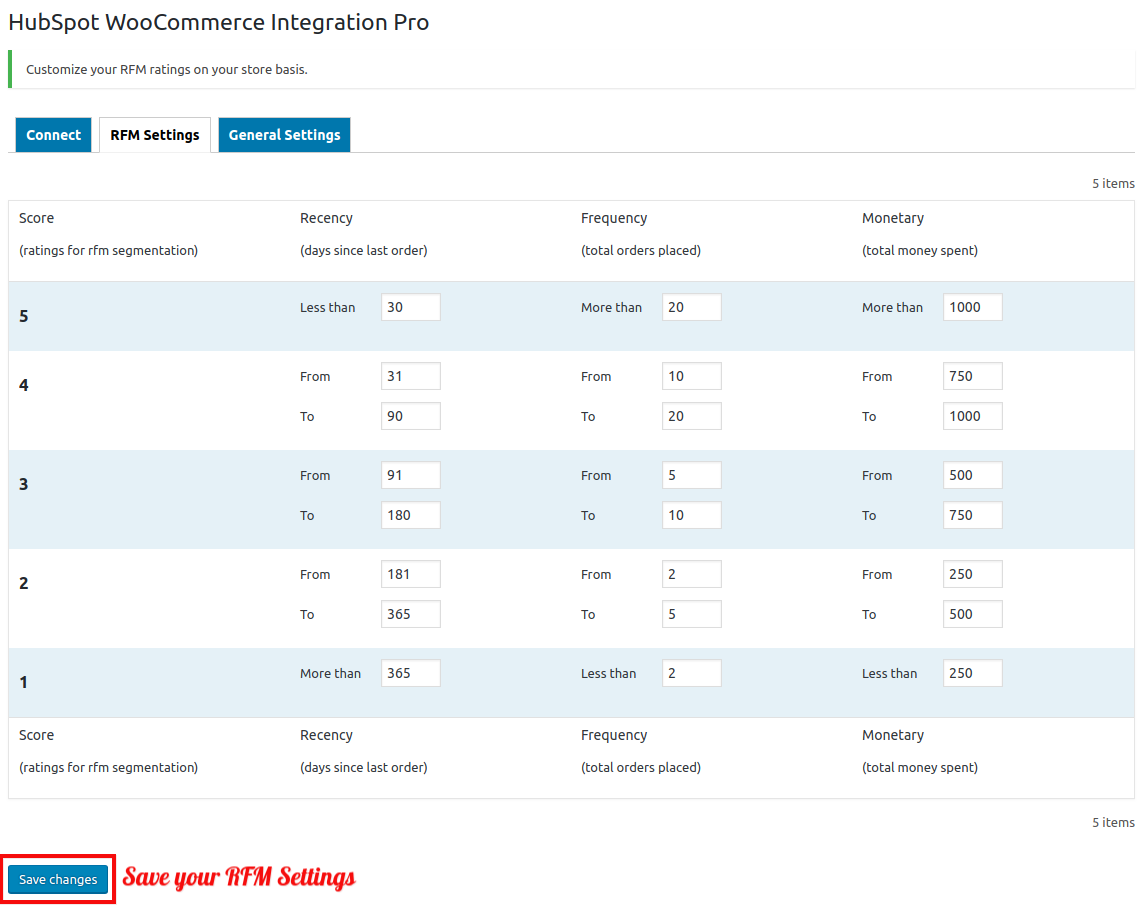 5- You can rollback the settings saved during the setup process and can run the whole setup process again. The left group or property if any, will be created out on HubSpot through this procedure.

6- You can update the HubSpot properties options anytime by clicking on "Update". Through this, all the enumeration properties on HubSpot will be updated.

7-(Only For "WooCommerce Subscription" Users)- A new feature is available by which they can update their customer's subscription order data over HubSpot.

Setting up new groups and properties for WooCommerce Subscriptions on HubSpot.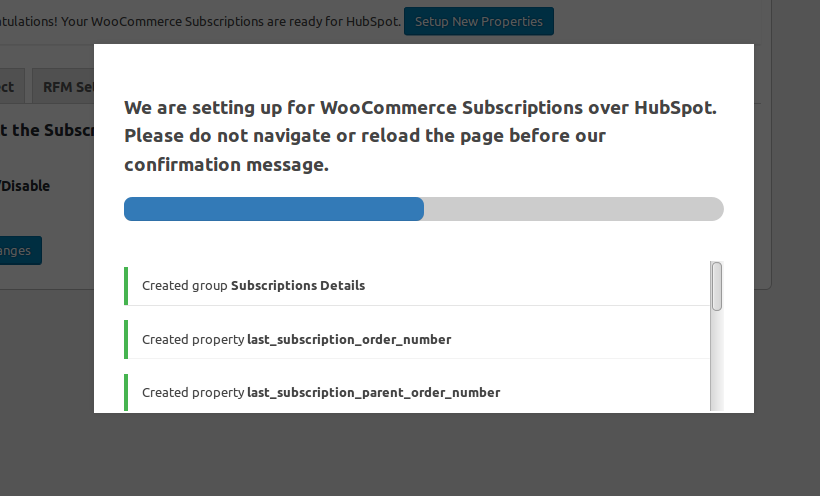 8- you can export your old users or customers to HubSpot by using this one-click sync feature.For this you just have to enable the feature.

syncing of users can be done by selecting different user roles at a time.

9-Updating to a new license Key and switching to new HubSpot account can be done from here.
In order to upgrade your license click the same button as shown below.Please mention that continuing this will delete your old license and you will be redirected to license activation panel.

You can switch to a new HubSpot account anytime. For this, you will be asked to reauthorize the extension and doing the whole setup again for the newer account.

For any Query please contact us on:
Email: support@makewebbetter.com
Skype: makewebbetter