1.

Overview

Your WooCommerce and Retail stores may be able to work together with

MWB Point of Sale (POS). The page doesn't need to be refreshed or navigated between tabs all the time, which saves you time! And maybe most crucially. The plugin has complete control over both online-only and offline-only sales, as well as customer orders. Simple inventory control, barcode generation, contactless invoicing of orders and counter billings, fast product search/filter, changeable discounts, are just a few of the features offered by this WooCommerce Point of Sale plugin.
2.1.

Automatic Installation

WordPress understands how to handle automatic installation in the most user-friendly manner. To do so, all you have to do is-
Log in to your

WordPress Dashboard

using your username and password.

Then, under the left panel of your dashboard, go to

Plugins > Add New

.

Click the

Upload Plugin

button at the top of the page.

From the

Choose File

option, select the

.zip

file, then click

Install

Now.
Once the plugin has been successfully installed, Activate it.
2.2.

Manual Installation

Manual installation is another option for installing the plugin in your WordPress system. Using their chosen FTP client, the manual installation process entails downloading and uploading your MWB Point of Sale (POS) for the WooCommerce plugin to the webserver.
In the

/WP-content/plugins/directory

, upload the MWB Point of Sale (POS) for the WooCommerce folder.

Activate

the plugin in WordPress by navigating to the

'Plugins'

menu.

That's it.
3.

POS Backend

To begin with the POS Backend settings, you must first understand the details of the options listed below-
3.1.

General Setting

You can quickly set up controls for your WooCommerce POS dashboard basic settings using this General Settings tab. 

This tab allows you to update your POS Header Text, POS Header Color, POS Header Logo, POS Footer Text Color, and the POS Footer Background Color with all ease.

For more reference or a clearer understanding of the setting with respect to the tabs, kindly refer to the screenshot below-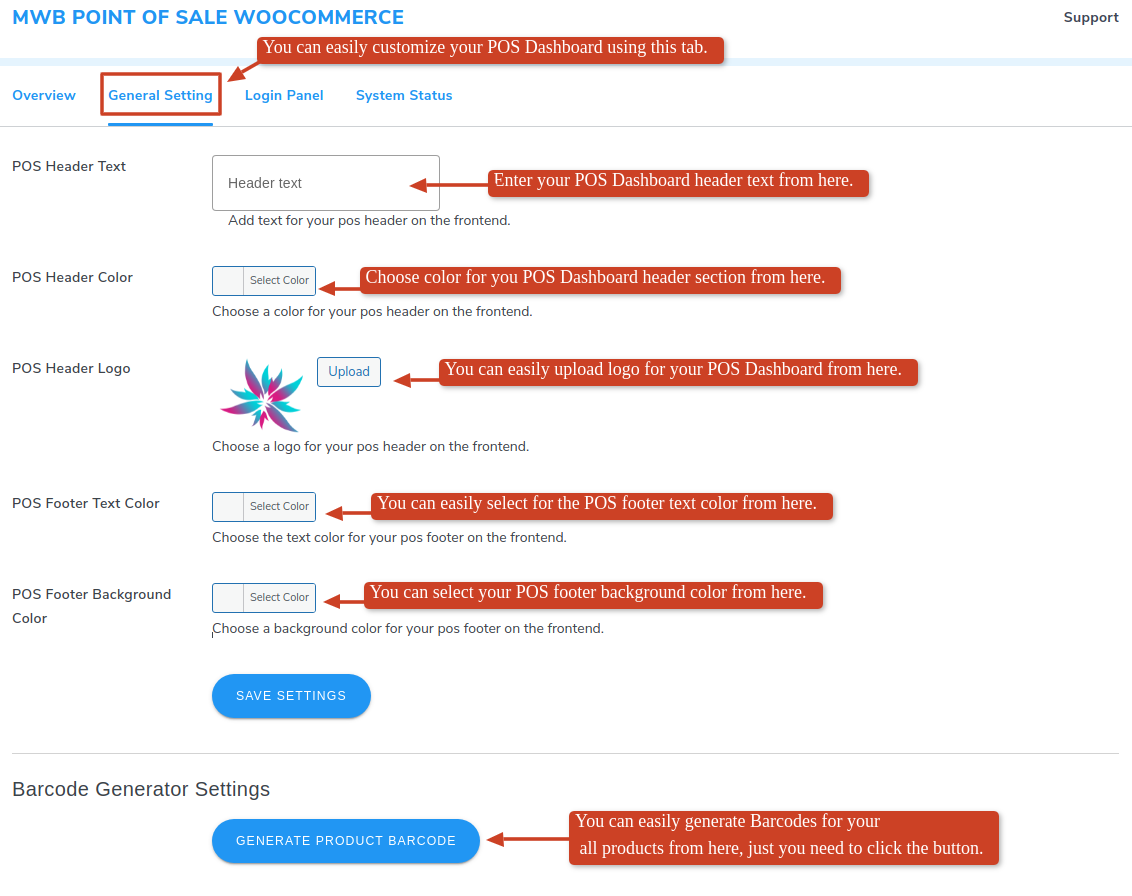 You can look at the frontend display that was generated based on the general parameters you made.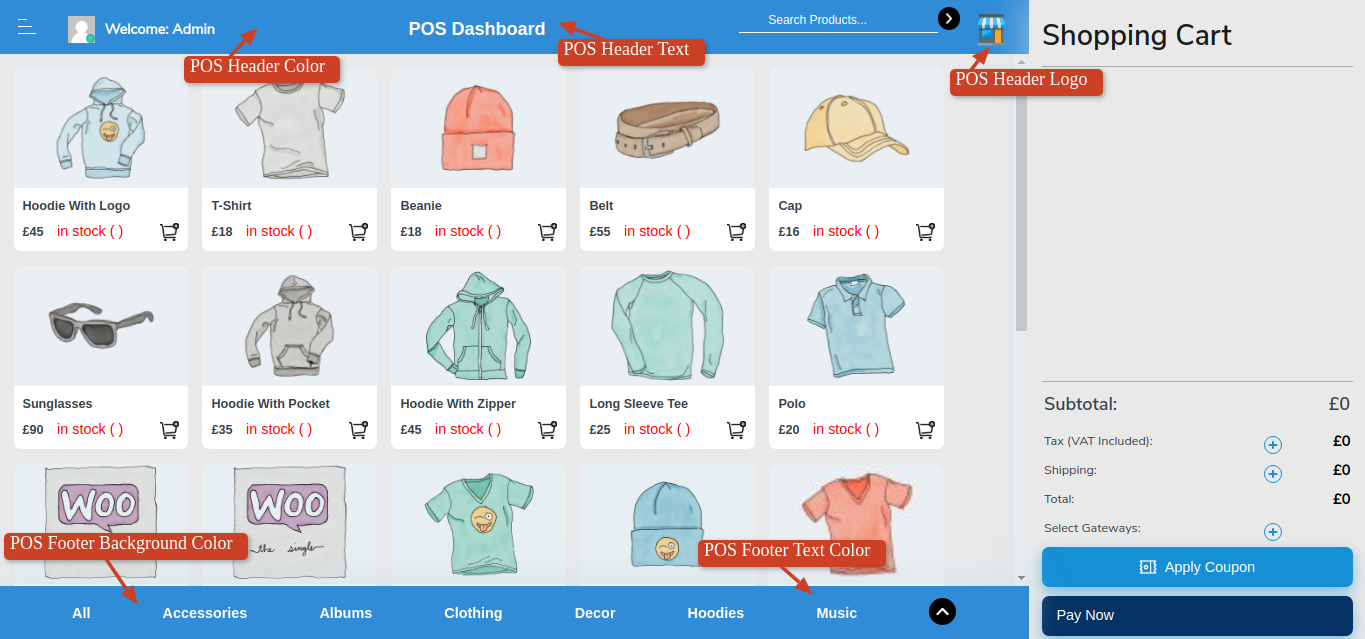 Barcode Generator Setting, You can easily produce barcodes for all of your store products utilizing this configuration tab's single generator button.

Simply press the Generate Product Barcode button once to generate barcodes for all of your store's products.
Check out the screenshot below for a better grasp of the list of produced barcodes for your products.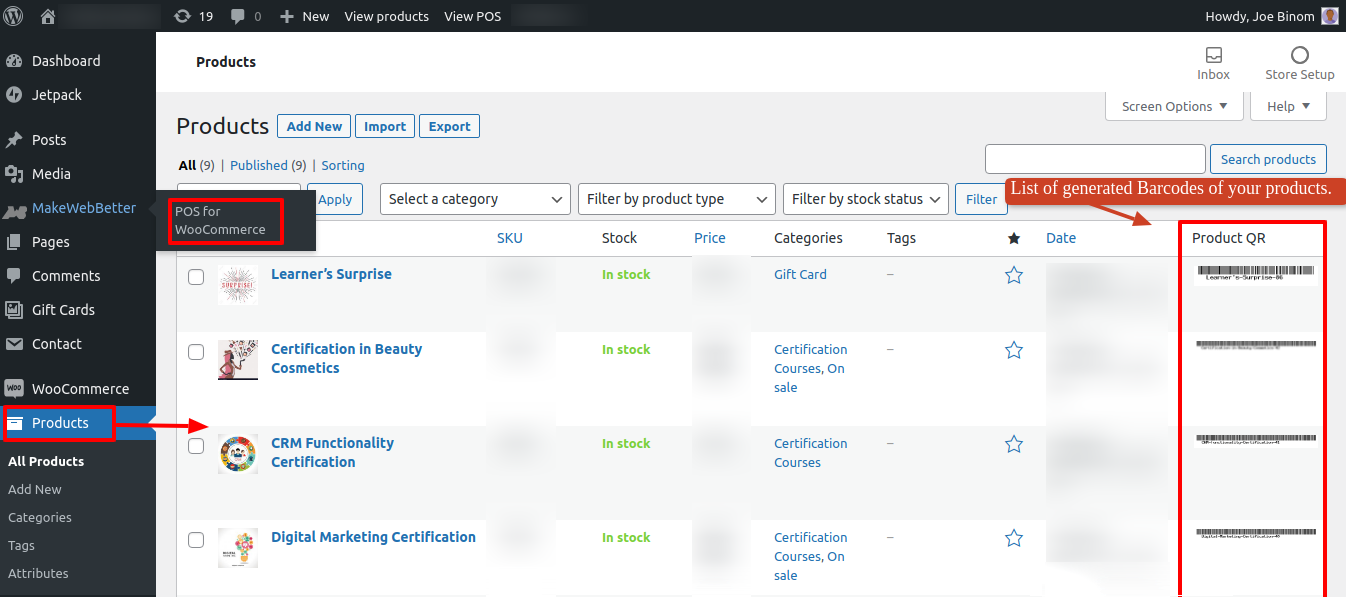 3.2.

Login Panel

The Login Panel tab, similar to the General Settings tab, allows you to quickly personalize your POS Login Page. 

You can easily update your POS Login Page Title, POS Login Panel Sub Title, POS Login Panel Description, Background Color, Button Color, Button Text Color, and the POS Login Image.

For a clearer understanding regarding the settings please refer to the screenshot given below-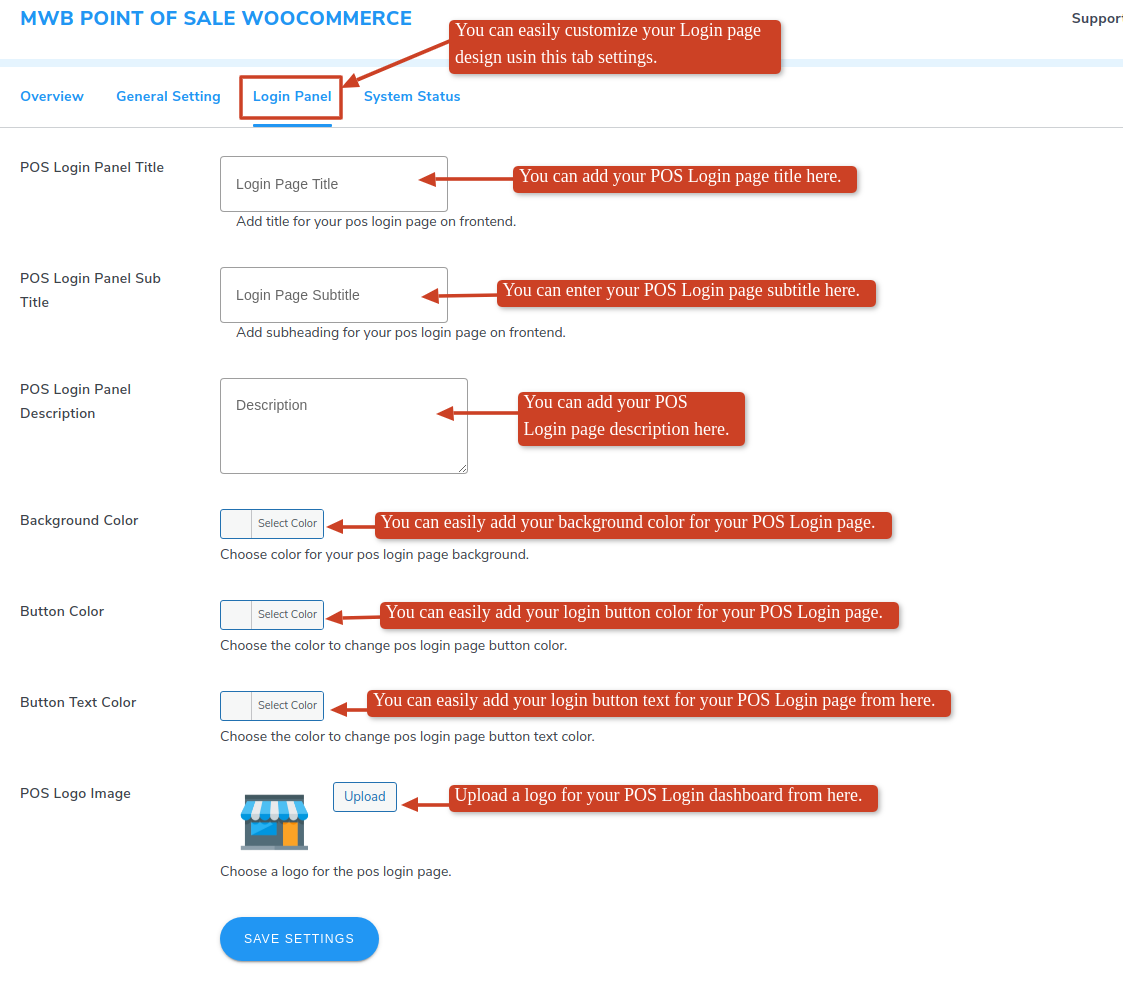 4.

POS Frontend

The POS plugin creates a frontend dashboard area for your physical store counters' POS billing purposes. There are all of the necessary controls and settings readily available.

The best aspect is that the WordPress POS integration solution is developed with React JS and is very user-friendly, thus it allows for automatic background refreshing in a single-page web interface. You don't need to switch between different tabs or refresh your page on a regular basis. All this consecutively makes your POS system faster to operate and immensely outstanding at processing speed.
4.1.

POS Dashboard Area

This is the actual dashboard of your WooCommerce POS. After logging in you're automatically transferred to this page.

The POS Dashboard area consists of multiple controls within that you need to be aware of in order to effortlessly process orders there. We have put down an effort to somehow aware you about the controls there, using a screenshot.
Do refer to the screenshot, I'm sure that the screenshot would help you out with streamlined and effortless processes of your Woocommerce POS orders
4.2.

POS Category Filter Option

You can easily make use of the plugin's outstanding category-based filter and process WooCommerce Point of Sale integration billing effortlessly. This feature automatically lists out all the categories and their products similar to your online store.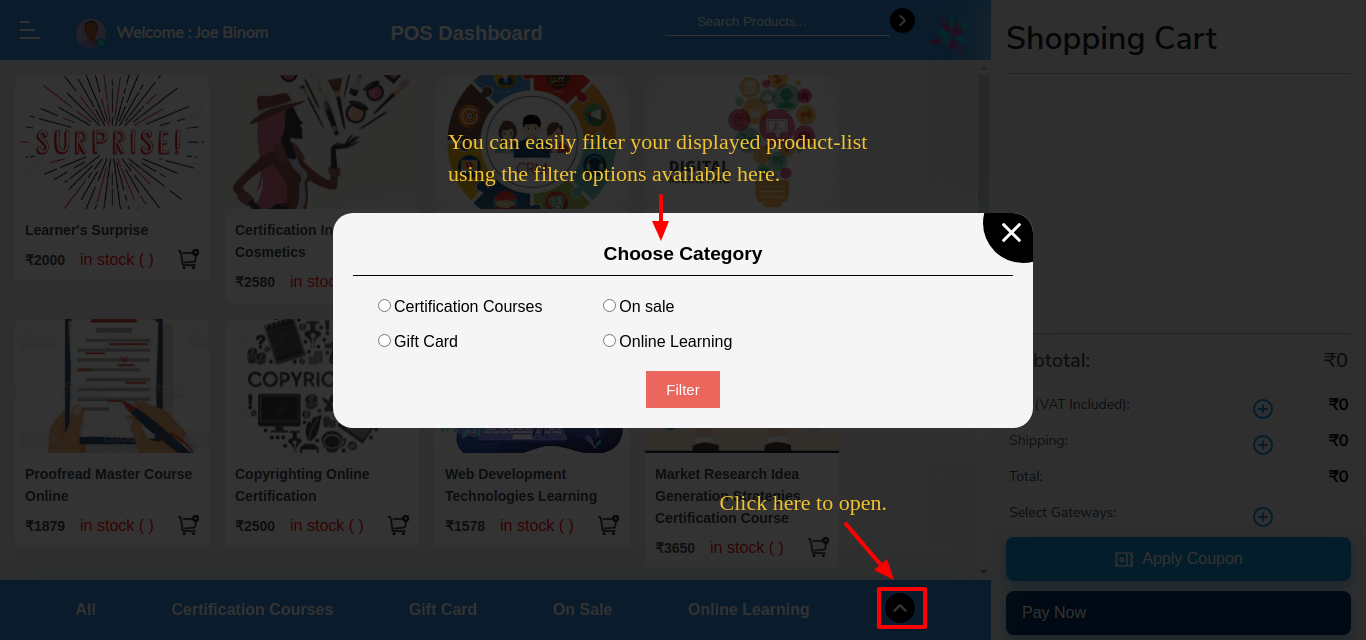 Either filter from the category given over the footer, or, switch to the category filter option available accessing the button on the bottom right corner. For instance, check out the screenshot given.
4.3.

POS Dashboard Notifications

SMART notifications are always targeted by POS dashboard-based events in order to acknowledge you about the procedure. We've tried to condense a few of the notifications to give you a better understanding of what's going on.

Invalid Data Notification

You would receive this notification if you were supposed to enter any sort of invalid data within the WooCommerce Point of Sale integration system frontend while placing an order.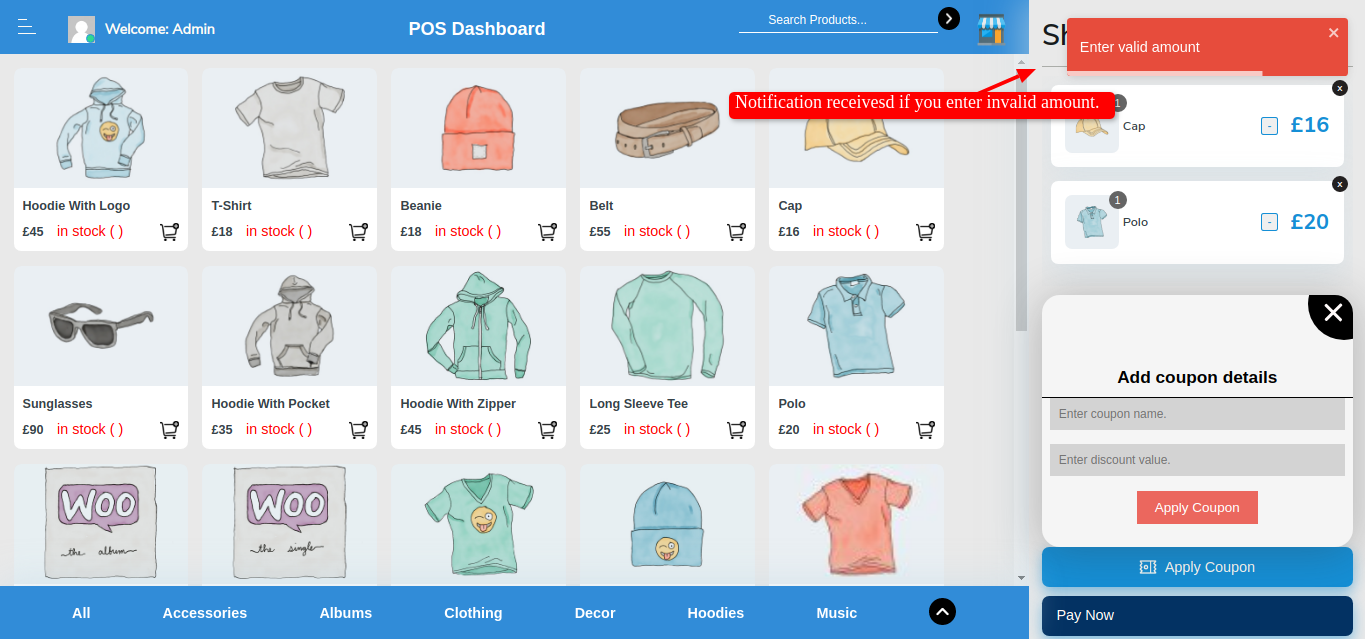 Product Removed from Cart Notification: 
You might receive this notification within your WooCommerce POS dashboard if you are supposed to remove any of the products from your cart section
Product Added to Cart Notification
Whenever you add a product into your cart section, you're supposed to receive this notification. This notification acknowledges you about your cart product added.
Order Placed Notification
You are supposed to receive a notification when your POS order is to be successfully placed.
Empty Cart Notification
You might receive this notification, if you unintentionally hit the Pay Now button, while your cart is empty. This notification bounds irregular or irrelevant orders from accidental activities performed if ever.
4.4.

POS Billing Functionalities

POS plugins come with a variety of billing options. Make sure you're all aware of this so you can handle your orders quickly-

Add Vat Cost
This functionality allows you to quickly enter additional tax or VAT information when processing orders. Simply click the + icon next to Tax (VAT included), fill in your tax information in the popup window, then click the +Add button.

Select Payment Method

This option allows you to choose your chosen payment/transaction method with ease. A popup box opens whenever you click the + button next to Select Gateways, presenting the payment possibilities.

Simply select your preferred option and click the Choose Payment button.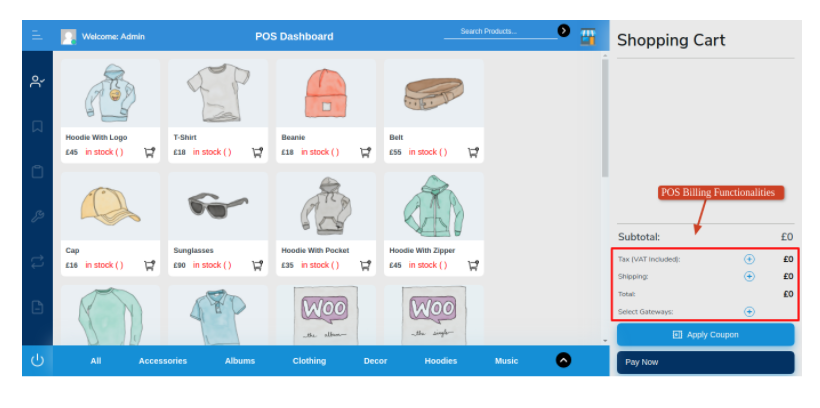 Add Shipping Cost
If your WooCommerce POS order requires shipping, then you can easily enter your shipping cost in the popup box displayed after hitting the + icon in front of Shipping. Enter your preferred shipping costs and proceed further by clicking the +Add button.
Add Coupon Details
If you are supposed to offer any sort of discount coupon or an additional discount over your POS WordPress order, then do click the Apply Coupon button. 
After hitting the button, enter your coupon name manually along with the effective discount rate within and tap the Apply Coupon button in the popup. There you go, in this way you can easily add coupons to your WooCommerce POS orders.
4.5.

POS Seller Information Update Option

As you very well know that POS WordPress is a seller platform, if any seller wishes to update his/her profile details then he/she can easily perform. You just need to hit the top left corner-based hamburger menu icon ≡ that drags the sidebar. 

In that sidebar, just choose the very second icon, which thereby opens a popup box displaying the seller's information.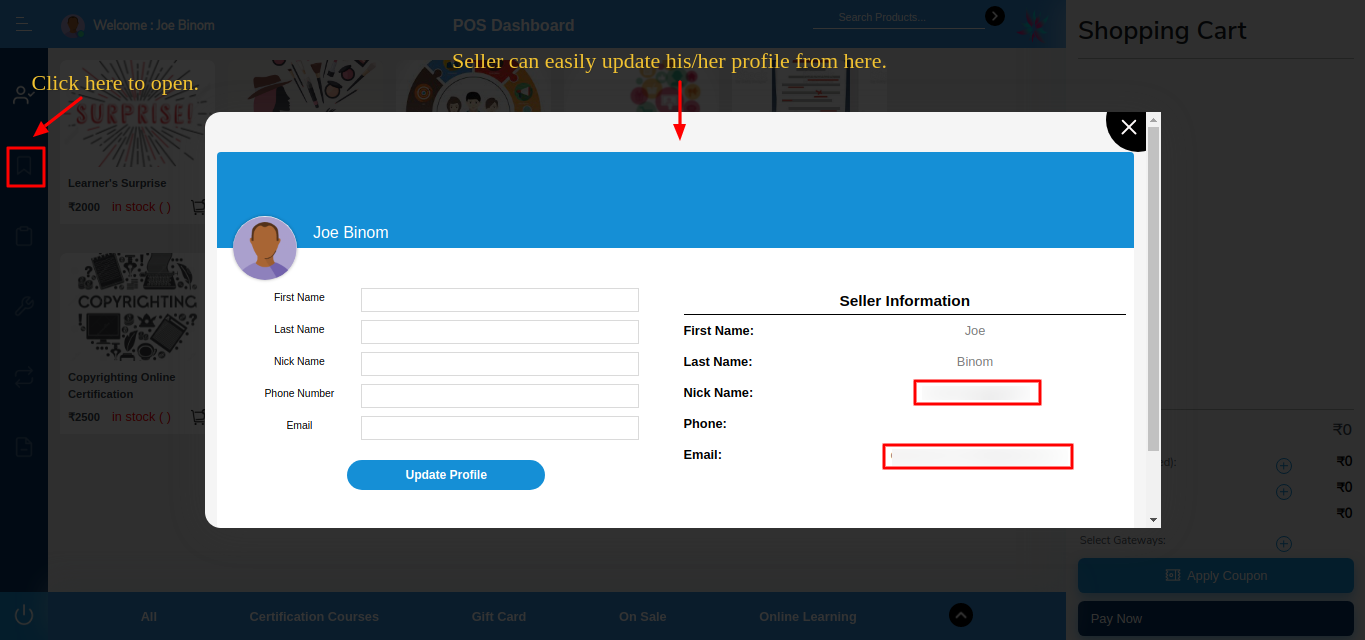 There you go, enter your updated information in the boxes beside and hit the Update Profile button. You have now successfully updated your information. For a better understanding of the process do refer to the screenshot above.
4.6.

POS Search Feature

You can conduct a product-specific search (entering the search key term in the search bar). You may quickly search any of your online store-based products by typing a search word into the top right corner's search box and pressing the search button.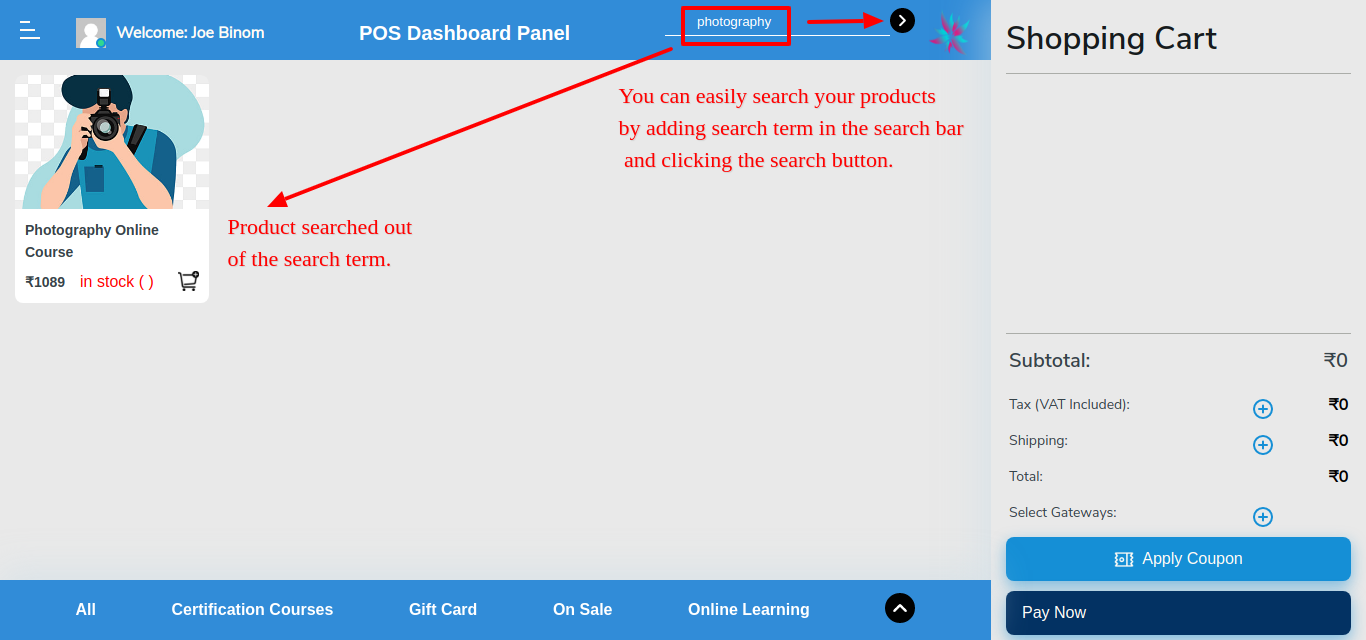 If you're having trouble finding your chosen product on the panel while processing store orders, you can use the search feature to find it quickly.
5.

Backend Display of POS Orders

If you're wondering about the details of your orders, click here. Return to your WordPress Dashboard > WooCommerce > POS Orders to check them out.

The list of orders placed using the POS WooCommerce connection Dashboard may be readily found there. Take a look at the screenshots below, for example
That's all for the features and set up for an outstanding POS system for WooCommerce, try and enjoy the hassle-free multi-counter billing and order processing for your store i.e. WooCommerce & Retail at the same time.