This setup guide will help you with steps to connect, authorize and carry out the initial setup for this Nimble Integration for WooCommerce Plugin.
Note:
Plugin
Installation
and
Activation
are required before you can initiate setting up the plugin. if you've not already performed so, follow the installation steps mentioned in the
Documentation
before you continue further.
Once you install and activate the Nimble Integration for the WooCommerce plugin, you'll see this screen asking you to connect your Nimble account with the plugin.

2. Click on the "Login With Nimble" button and you will be redirected to the nimble sign-up page.

3. It will redirect you to the Nimble signup page where you need to enter the email address used in the Nimble account and the corresponding password.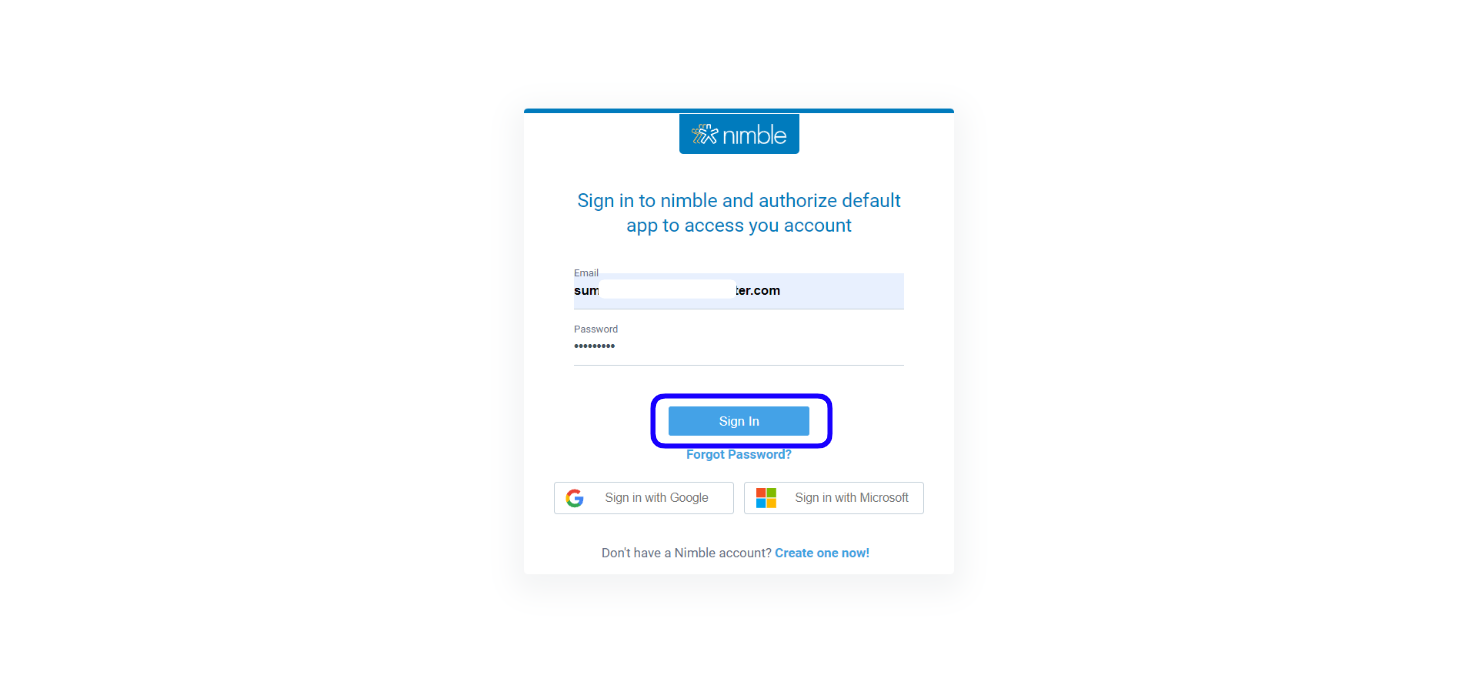 4. After signing in to your account, a popup for authorization will appear asking you to "Authorize" the plugin to access your Nimble CRM account.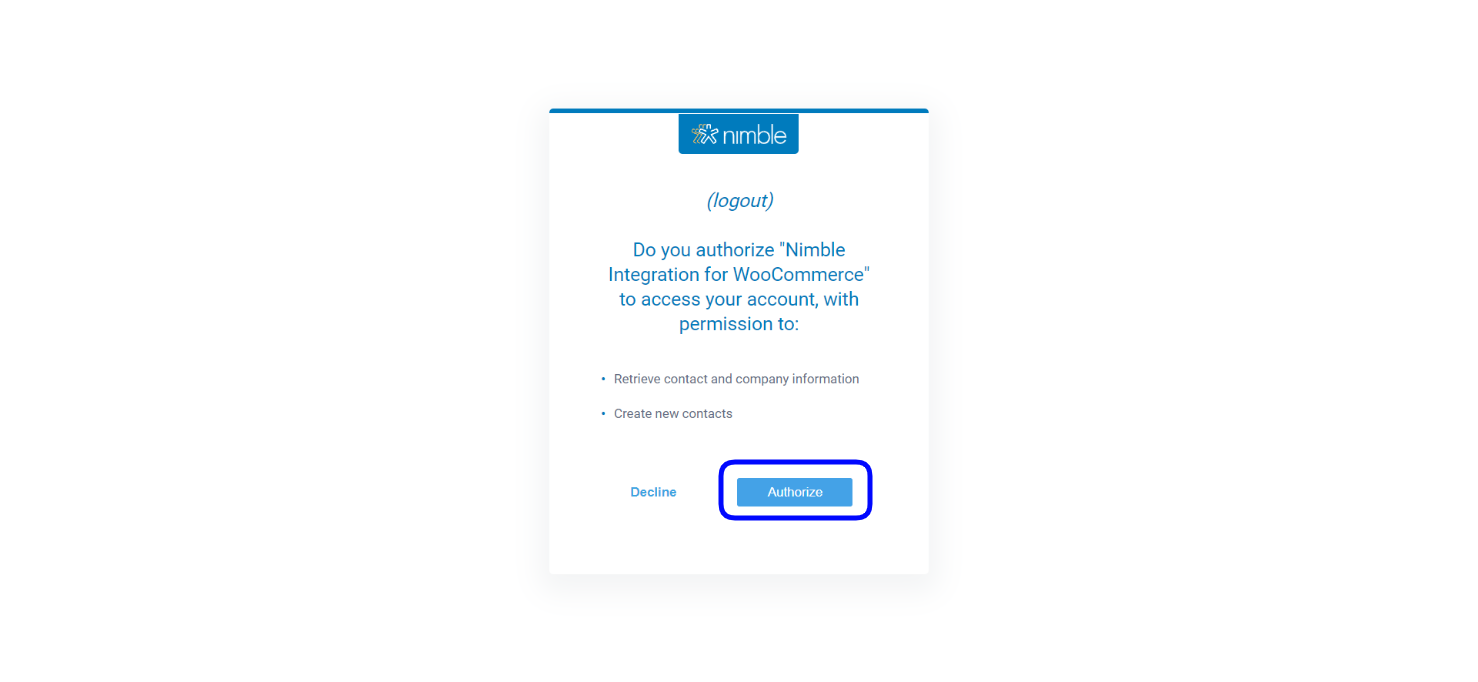 5. After successfully authorizing the plugin with permission, you will be back to the setup stages. To move to the next step click on "Move to Next Step".

6. In this step, you need to create the custom tabs that you are supposed to use to arrange your WooCommerce store data in your Nimble CRM. Simply click on "Create Fields" to create new custom fields in your Nimble for WooCommerce data.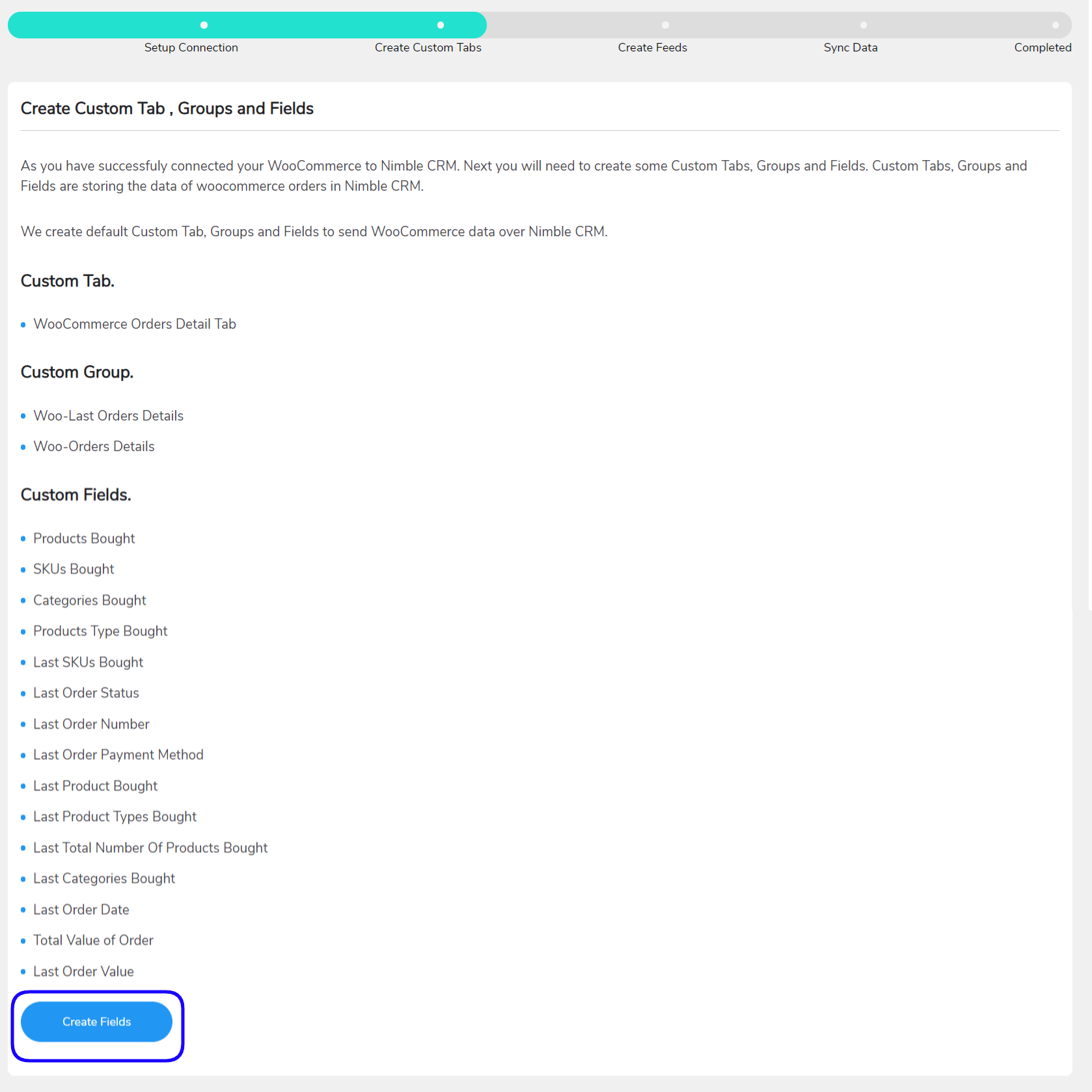 7. Next is to create feeds. Feeds help to optimize the data you wish to sync from WooCommerce to Nimble.

8. After creating fields and feeds, you have to click Move to the Next Step.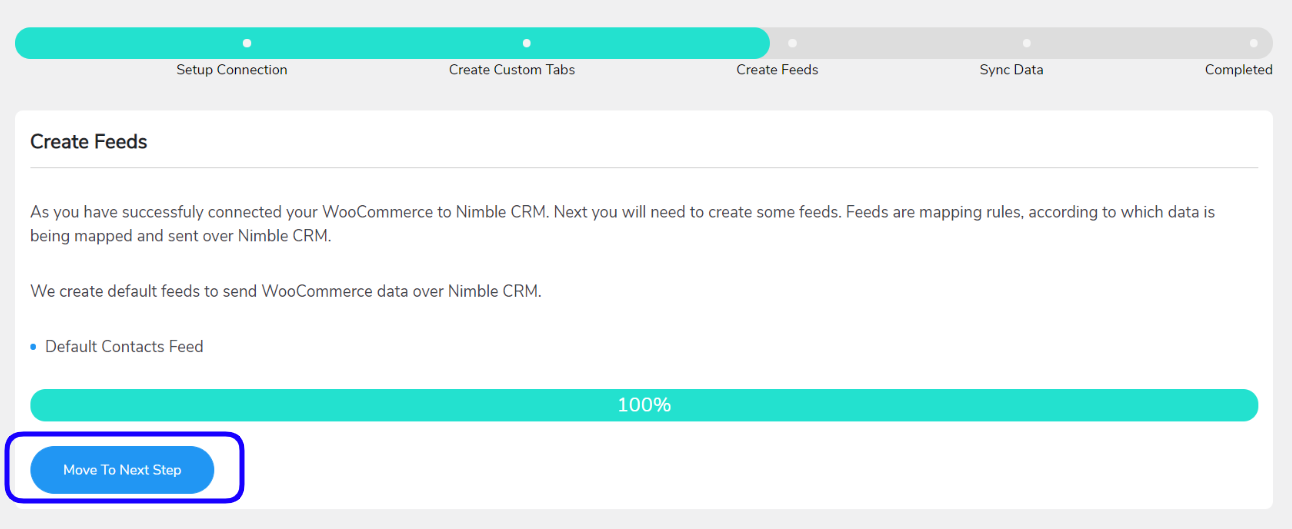 9. Click on Start Sync to sync your existing contacts, data using the respective feeds. However, if you have a large number of Contacts. the sync may take time. In that case, click on the Skip For Now button.

When you click on the Start Sync button you will be prompted with a dialog box seeking permission to either Initiate Sync or Skip sync. As data sync over Nimble is a time taking process, we recommend you to click on the Skip button.

Initiate Now: In Initiate Now, syncing will start and during synchronization, if you want to skip you have to click on Skip For Now button. And if you want to continue the process, wait until it completes 100%. Once the setup is complete, you need to click on "Next".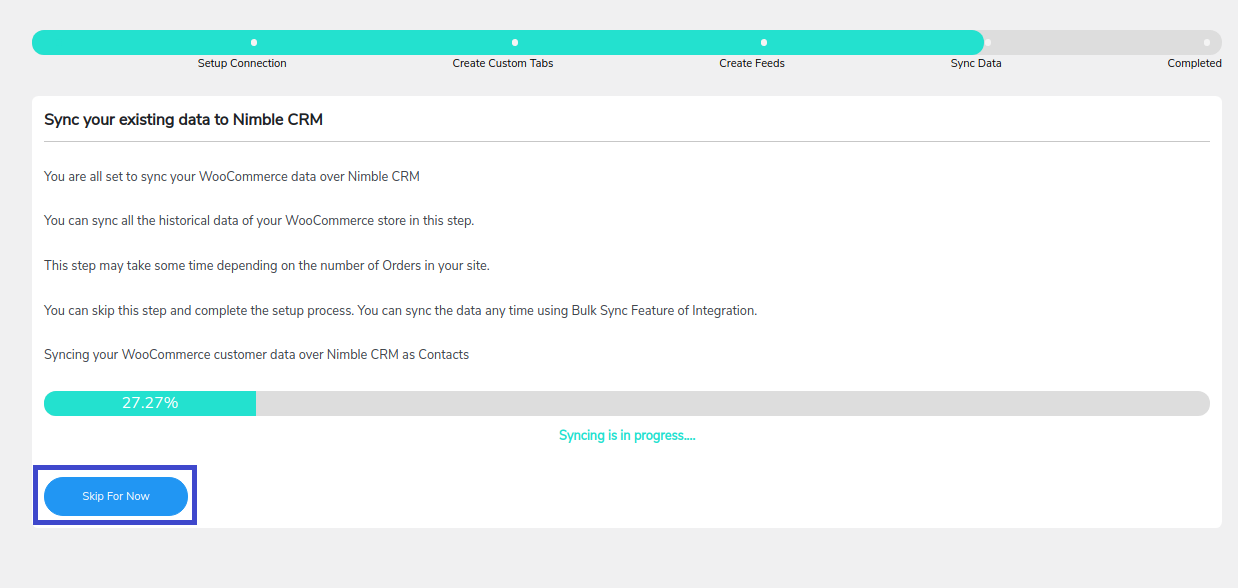 10. The initial setup of the Nimble Integration for the WooCommerce plugin is successfully done. You will see a successful confirmation as shown below.

11. Just click on the View Dashboard button and continue with the Plugin's actual dashboard which is similar to the page given below.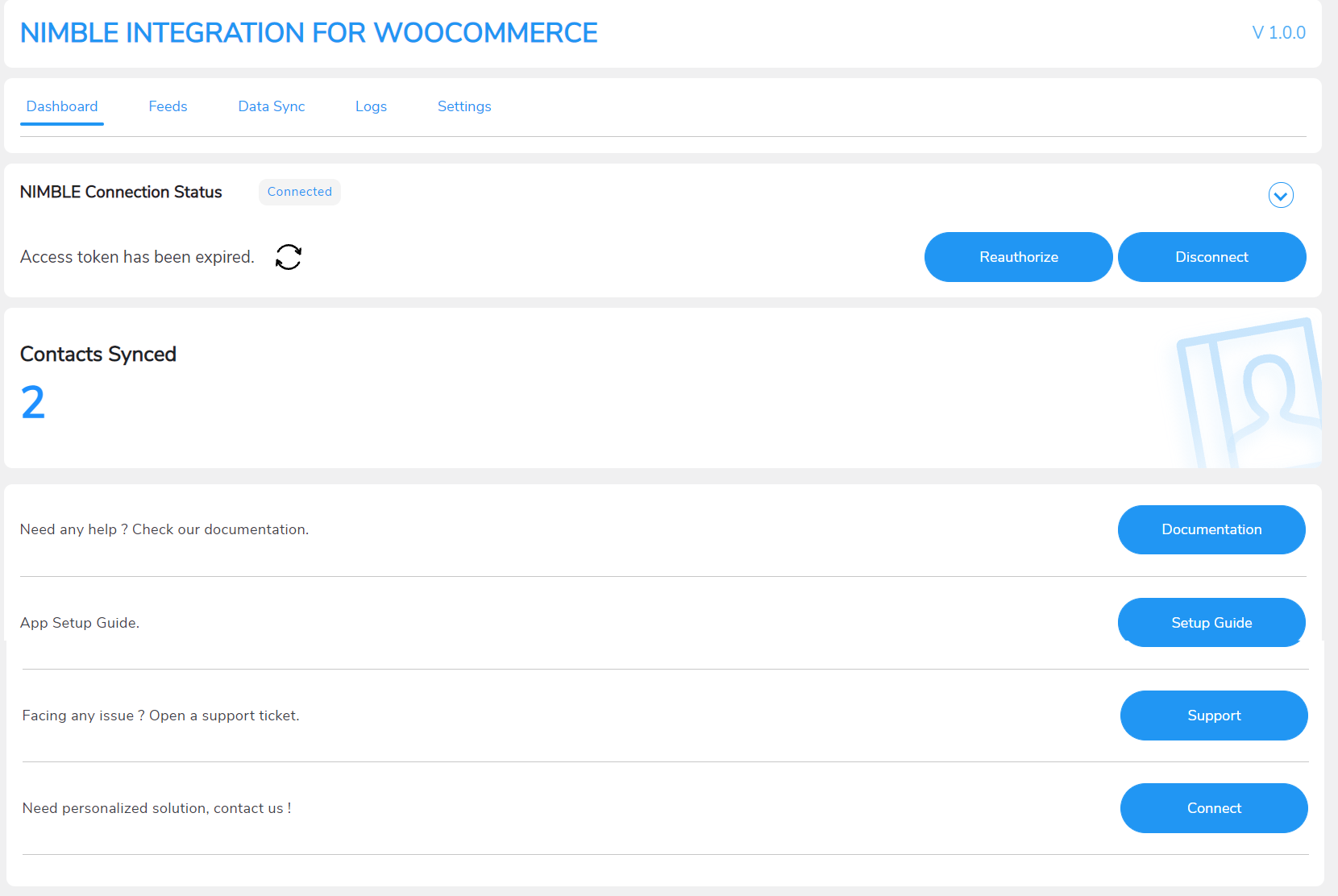 This was all for the plugin initial setup, in order to know more about the plugin features, start using your plugin and explore.
If you need any help or assistance, please contact us.
Submit a query [if any].
We are here to help 24×7.