1.

STARTING OFF!

Going through documentation of any kind may be exhausting, thus for Weebio, we tried to explain the templates and modules in the best and simplest way possible. Starting with this theme will give you a fresh perspective on developing bespoke web pages.

In a nutshell, Weebio is a technical HubSpot theme designed to bring out the creativity in you. We attempted to apply all of our expertise in bringing the best features to your website. 

We will assist you if you become stuck at any moment. You may always rely on us as a backup plan because we provide the highest and best quality customer service. You are also welcome to contribute your thoughts and criticism, as well as questions about the theme.

So, let us get started. First and foremost, purchase the theme directly from this page, and then you will have access to all of our templates. You now have the power to construct pages by picking templates, or you can utilize the drag and drop function to change our modules. All of this is covered in our documentation.

 You might check out the demo

here

.

     
2.

Understanding The Concept

Introducing the basic inputs:

Modules

: The independent and interchangeable elements that add functionality to your page are called modules. You can couple them easily to work out perfectly for your UI/UX. The Weebio Technical Theme allows you to drag and drop a module wherever you want.

Templates:

The specimen layout is already available in the theme. Use these templates as it is or create a fresh template for your website. Construct a template suiting your services and replacing the demo content with your content. 
For more information regarding HubSpot Themes: Use themes

3.

Theme Installation

For installing the Weebio Technical Theme:
Purchase the theme from Themeforest  

Open your HubSpot

Dashboard > Appearance > Theme > Add New

Upload the theme zip file > Install

Activate theme after complete installation

Now you can start compiling your pages using available modules.
How To Create a Page Using The Weebio Technical Theme?
After you log in, start creating a new page:
Go to Marketing > Website > Website Pages.

You can directly choose from Website pages, Landing pages, and Blog at the top. These are the templates on which you can perform modifications.      

Click Create > Page Type (Website Page/ Landing Page/Blog Post)
Give a name (whatever you want to name it) to this internal page and click on

Create Page

. After this, you will be directed to a page to select the templates from the available option.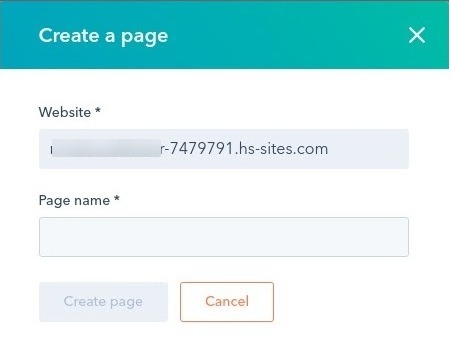 Search and select the template to use the page template or modify from the Weebio Technical Theme templates.

Add or remove modules according to your needs and replace the template content. Publish the page after you add the title details and necessary information.
You will find the Weebio theme modules & templates in your HubSpot portal. You can directly clone the theme and move ahead with changes. 
By going to Marketing> files and templates> Design Tools, you can edit the codes of any page of your choice.
While working with the Weebio theme, you will realize that it is intended for everyone. However, if you are still hesitant, we can help you customize your website in just one click.
4.

Editing Global Content

Any modifications you make to the global settings will completely alter the appearance of all your assets. You can always check the appearance before publishing. 
From your HubSpot Dashboard, go to

Marketing > Website Pages >

Create Page > Select Template > Edit Page > Content

Select

header / footer  >

Click

Open in Global Content Editor > Navigation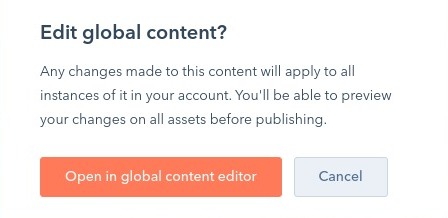 You can edit the

Content

and

Styles

of the header and footer.

 
5.

Editing a Website Page

Select the page you want to edit. On the page, select the theme modules that you want to use. Simply drag the module from the left panel and drop it wherever you want to place it. On the edit page, you can make changes under Add, Contents, and Design.

Under the add section, you can pick theme modules you want to use, while under the content section, you can edit the content of those modules. Under the design section, you can continue with editing the theme settings.    
5.1.

Working With Weebio Theme Modules

While editing a website page, you can select the modules you want to place on that particular page. From the Edit page, go to Add > Theme Modules. There are 48 modules available. With every module there is a list of settings where you can carry out modifications on the module.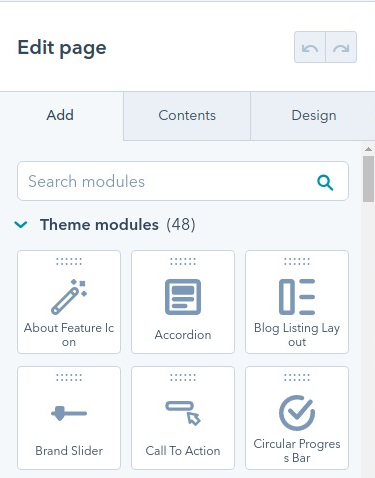 About Feature Icon module

for adding a feature update on your page.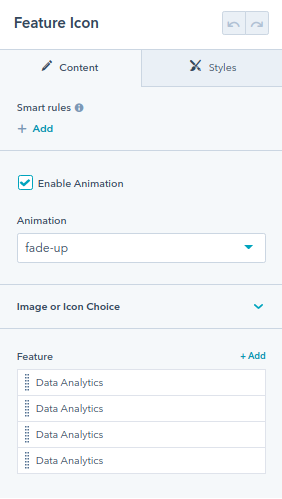 The

Accordion module

is a graphical control element consisting of a list of items stacked vertically.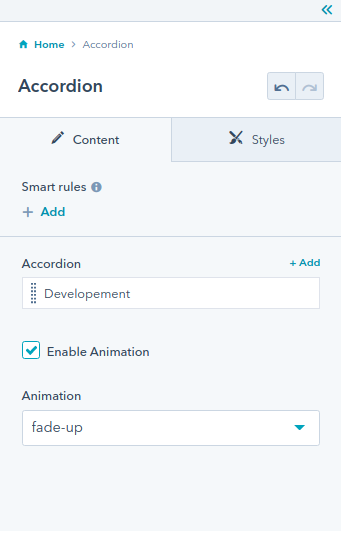 Blog Listing Layout module

for listing all your latest or featured blogs.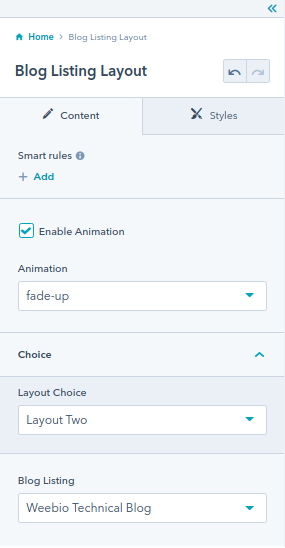 Brand Slider module

to show your logo image or title or anything you want to show on your homepage or any CMS page.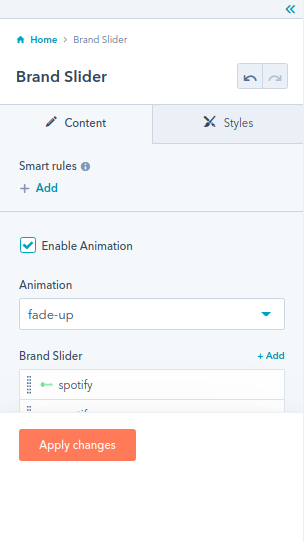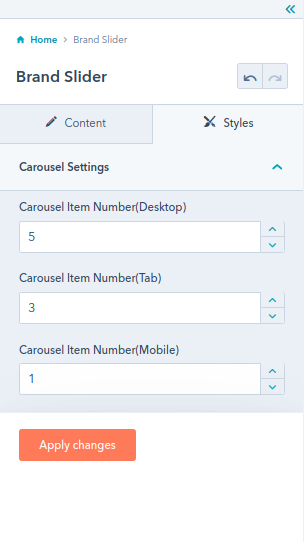 Call To Action modul

e to guide the users and get the clicks you need effortlessly with an attractive design.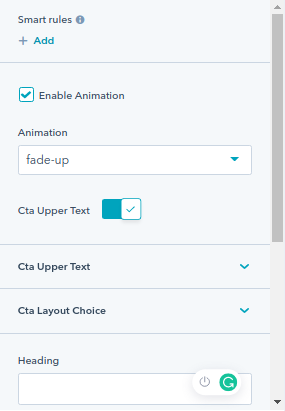 The Circular Progress Bar module

is an animated indication of the task progress around a circular path.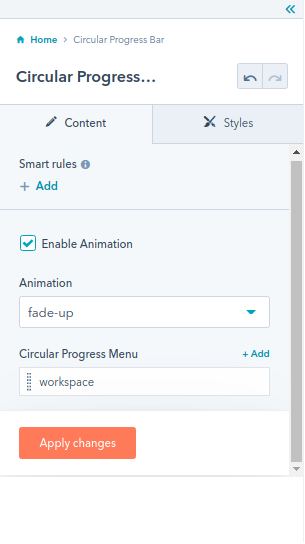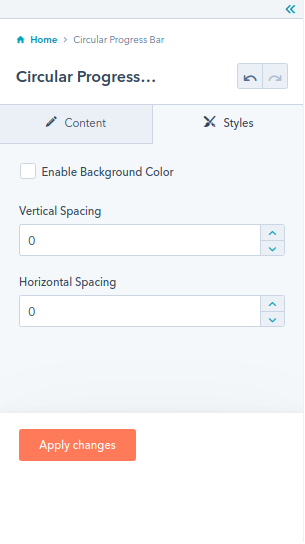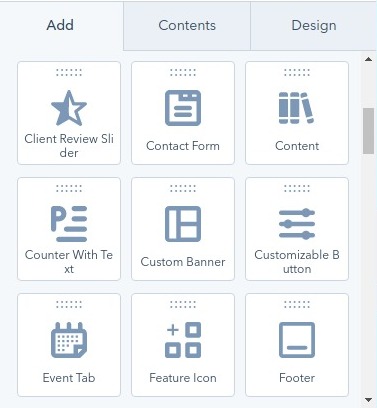 Client Review Slider module

for a sliding view of your client's review with intuitive UI.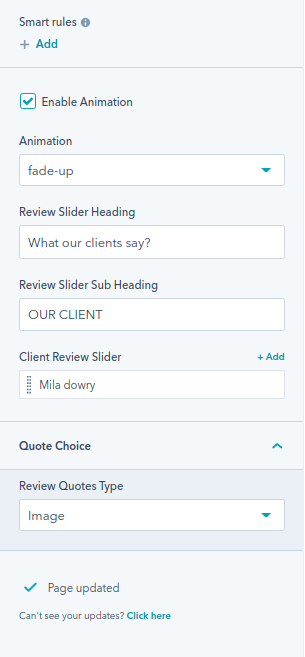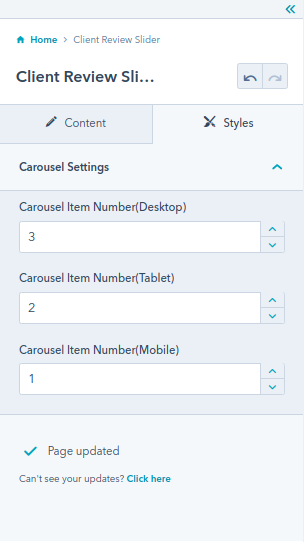 Contact Form module

for connecting your audience to you in no time. Just a form away.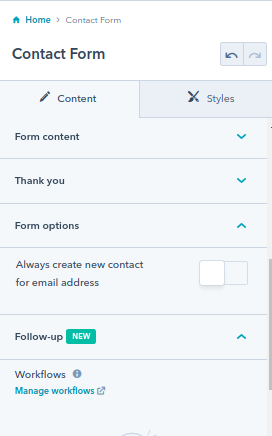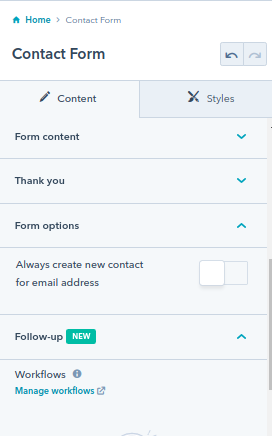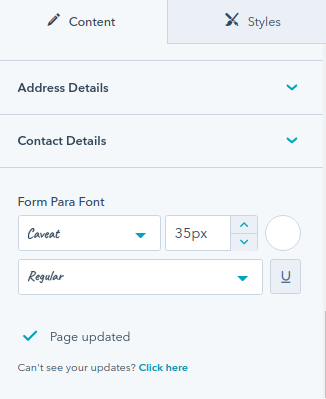 Content module

for adding a short or long piece anywhere on the main section. Easily add a new content type with this module.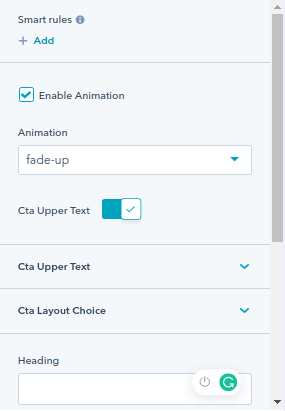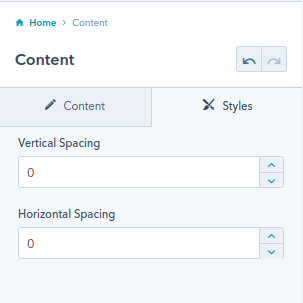 The Counter With Text module

gives an engaging and fun way to display numbers with text.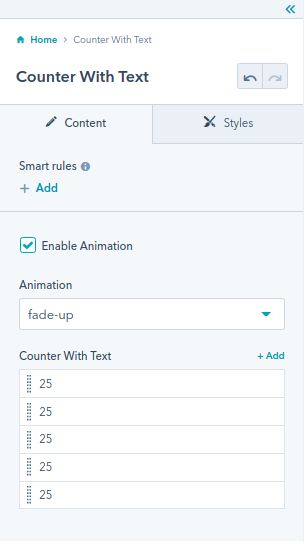 Customer Banner module

to update banners without touching the backend code. Mention the details you want to display.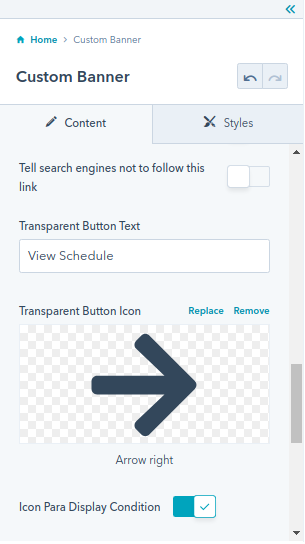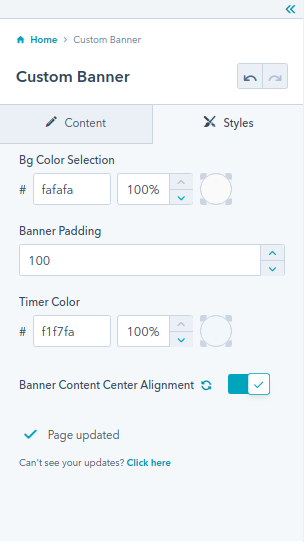 Customizable Button module

that you can modify depending on your needs.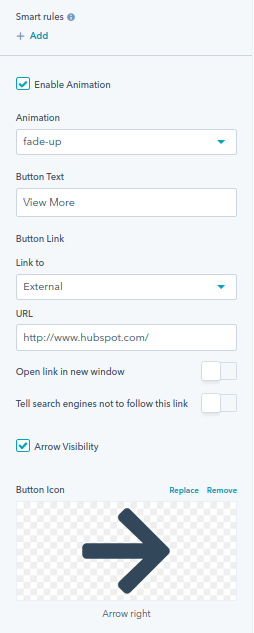 Event Tab module

for any upcoming event details.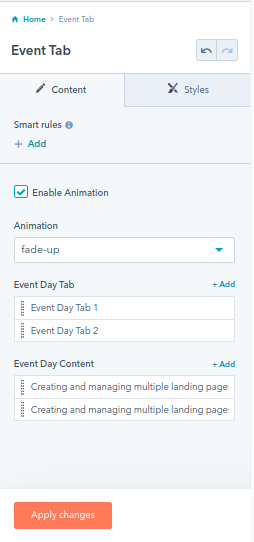 Feature Icon module
to mention features on the website page.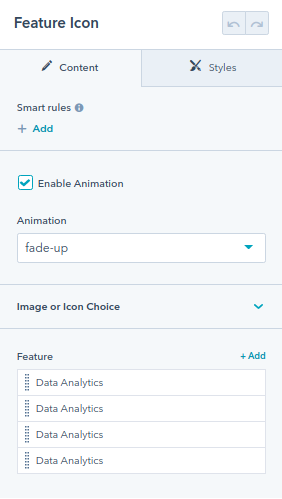 Footer module

for important links to be placed at the page end.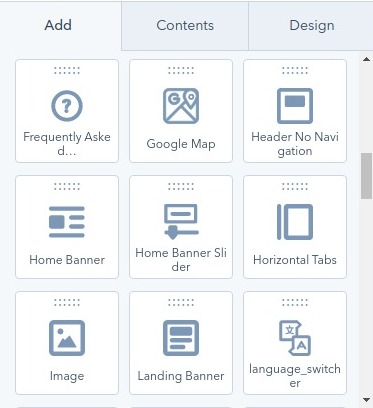 Frequently Asked module

to add popular questions asked about your service or products.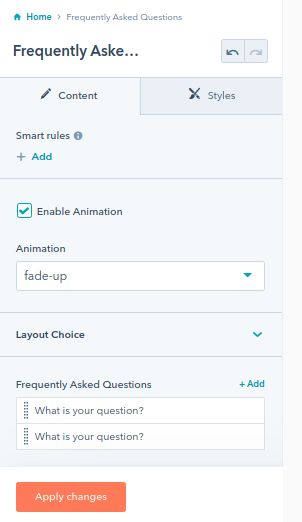 Google Map module

allows map embedding options for directions to your physical organization based on your API key.

Header No Navigation module

for a header without navigation option.

Home Banner module

for adding a banner on your homepages.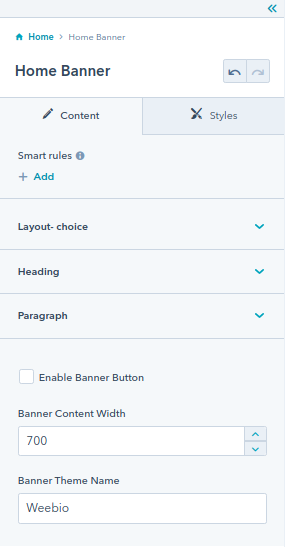 Home Banner Slider module

to enhance the visual effect of your home banner with a slider option.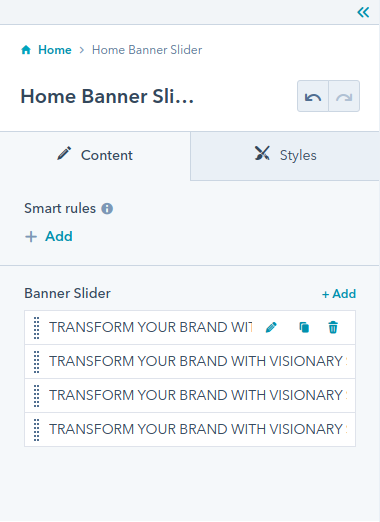 Horizontal Tabs

to control the horizontal positioning of the elements you want to highlight.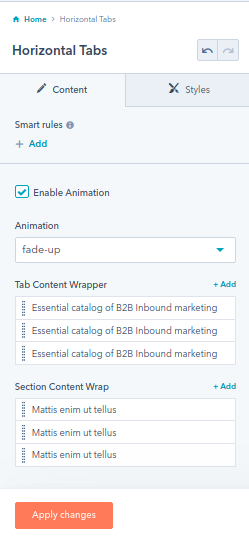 Image module

to add quality images on your website page.

Landing Banner module

to create a custom-made landing banner that converts users to leads.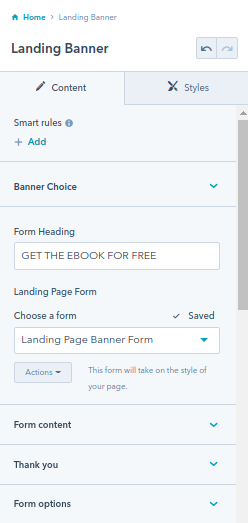 Language Switcher module

to allow visitors to change the language. Add the languages you want your readers to be able to read in.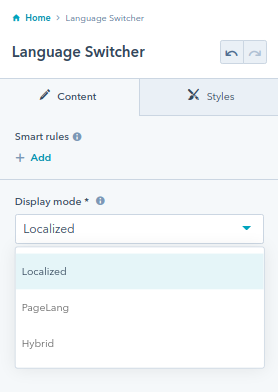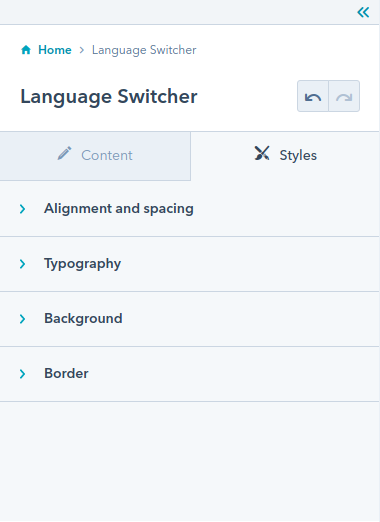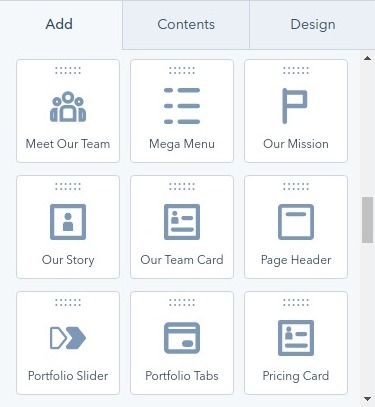 Meet Our Team module

to display your team members' details and images.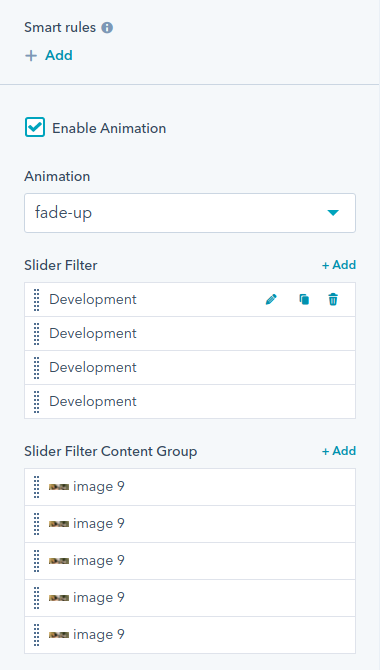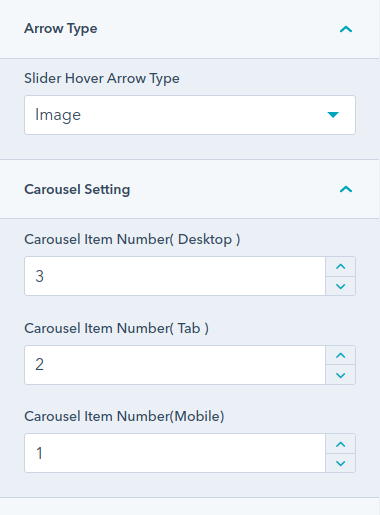 Mega Menu module
for collective dropdown options.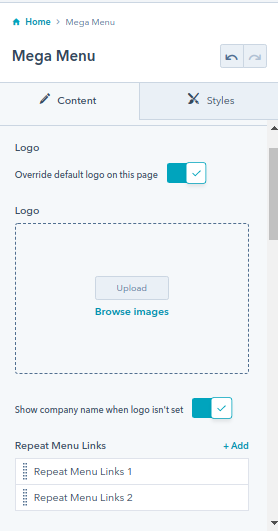 Our Mission module

for your mission content.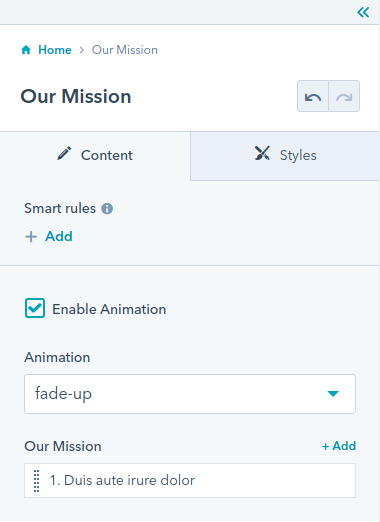 Our Story module

for the story behind your organization.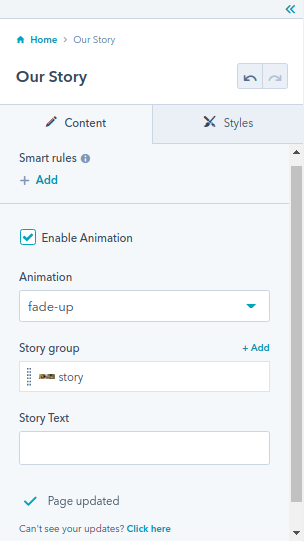 Our Team Card module

to show the teammates in card form for your business website.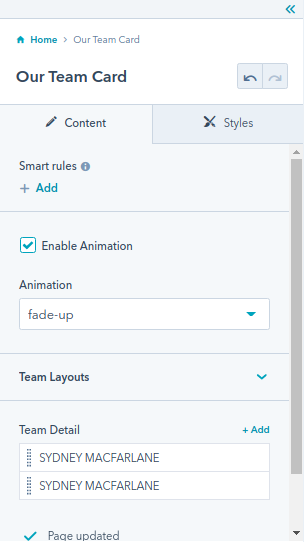 Page Header module for an attractive header on your website page.


Portfolio Slider module

for showing your portfolio in a slider format.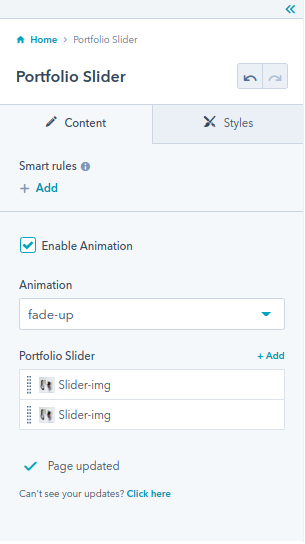 Portfolio Tabs module

for showing multiple portfolio tabs. 

Pricing Card module

to show prices of your services.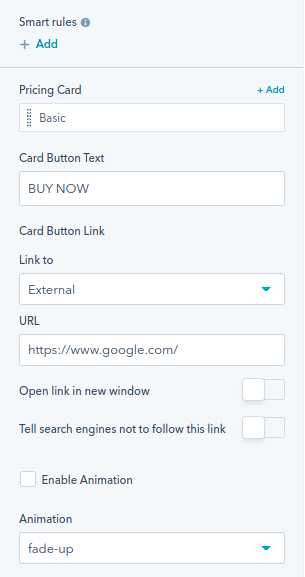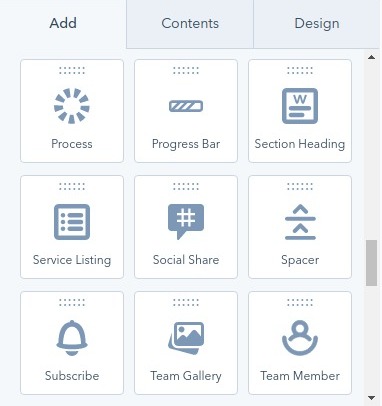 Process module

to show steps involved in your production or steps of achieving your services.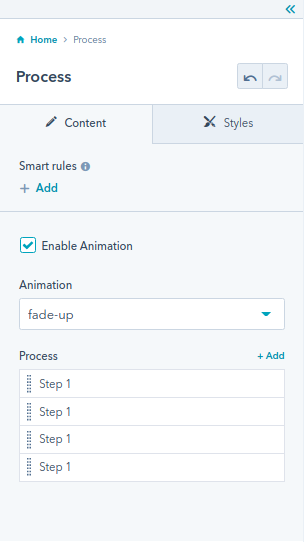 Progress Bar module

to visualize your progress for users.

Section Heading modul

e to organize the content of your website pages.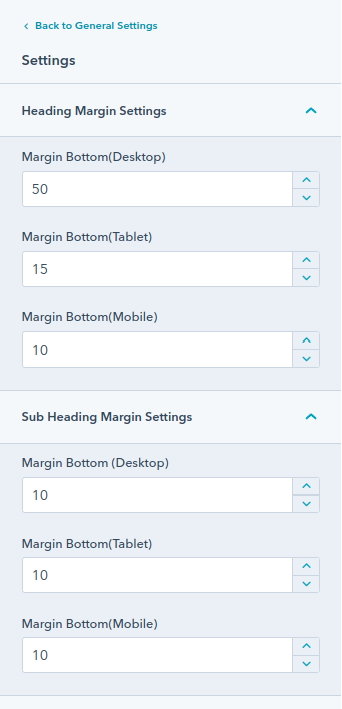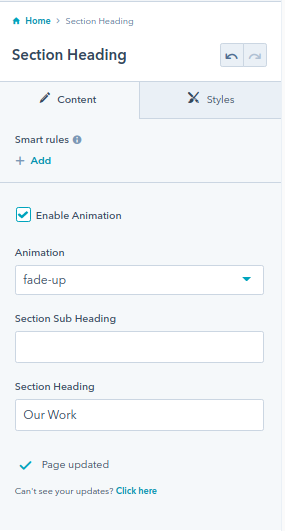 Service Listing module

for listing your services on the page.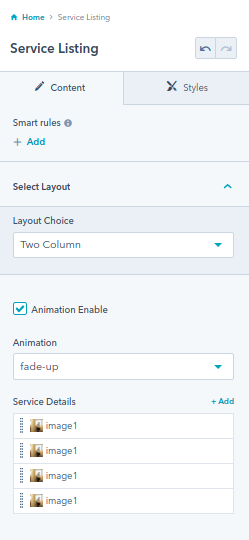 Social Share module

to input links for your social media accounts for direct connection of your users with you.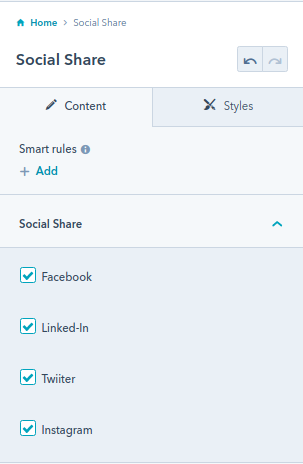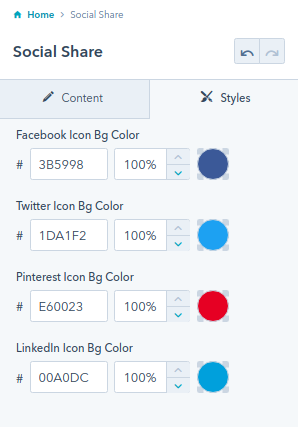 Spacer module

for any space you want to create on your website pages.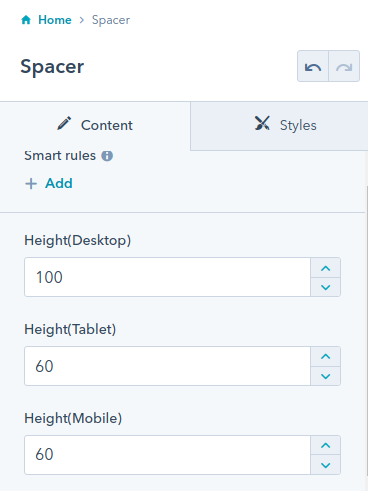 Subscribe module

for capturing leads for an email subscription of your newsletter maybe.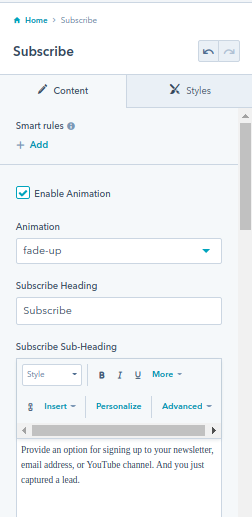 Team Gallery module

for mentioning all members of your team in a gallery.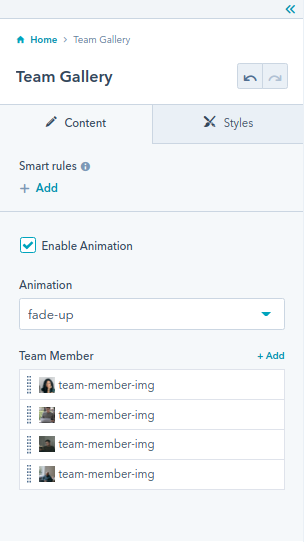 Team Member module

for adding details and images of your team members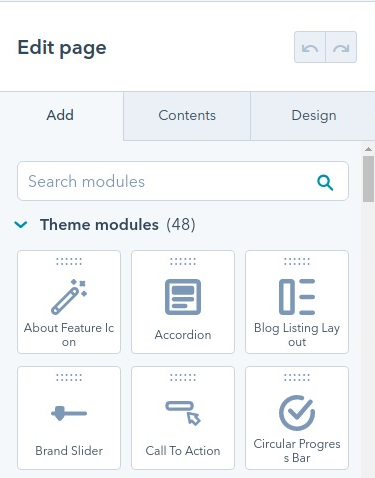 Testimonial Layout module

for displaying your clients' testimonials.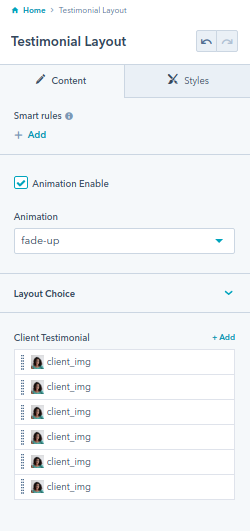 Testimonial Slider module

for a slider view of the testimonials sent by your clients.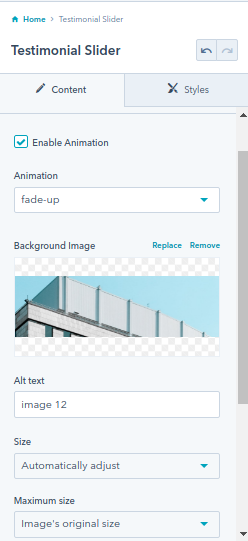 Title Content module

for mentioning titles with content on your website pages.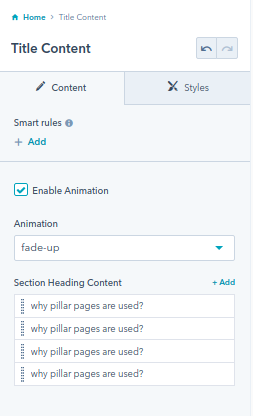 Two Column Image Text modul

e for image and content in columns for information on the page.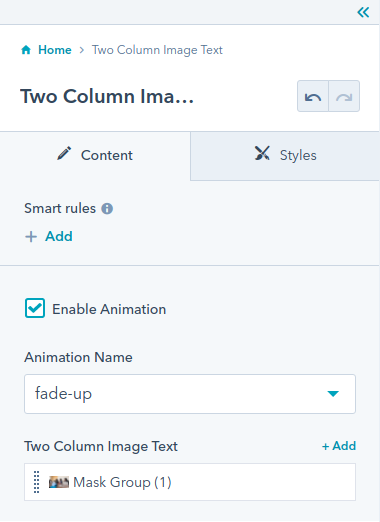 Vertical Tabs module

for making your blog pages extra stylish.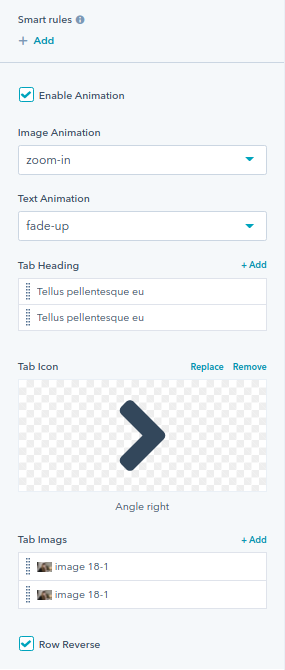 Video Popup module

for adjusting videos on your website pages.

5.1.1.

Editing Header

You can also edit the contents of the website page. Starting with editing the header. It is the same as when you edit global content. Here let's see the options you can edit in detail. 
Start editing header from

header.html

option or go to the

header.html

icon on the top right corner.

From

Header.html, go to Navigation and

edit the navigation section. You have 2 header layout options.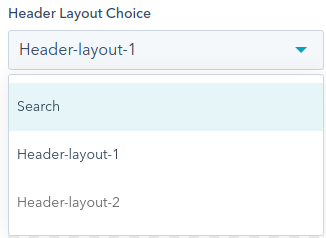 Here is what else you can do:

Remove or replace the logo.

Override the default logo on this page.

Remove or replace Logo Image.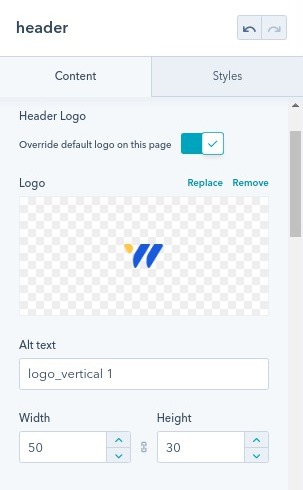 Size and maximum size.

Select Display Condition.

Button Display Condition.

Edit button text and search icon.

Edit search icon. 

Adjust image width and maximum size, alt text.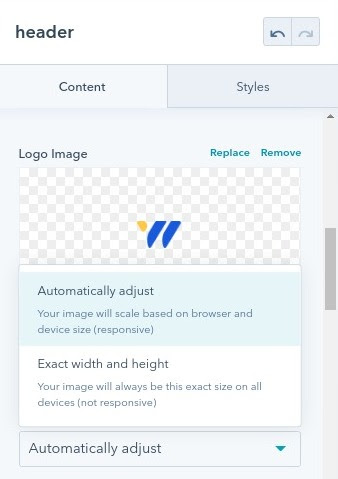 Button group related settings (links to buttons)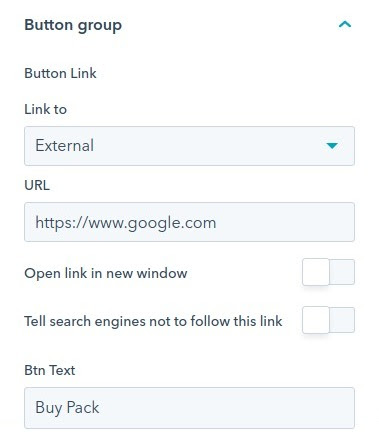 Press "Apply Changes" after you are done with your desired settings.
6.

Edit Theme Settings

To make edits in the theme settings, go Marketing > Website Pages > Create Page > Select Template > Edit Page > Design > Edit Theme Settings. The admin can make the following changes :
Maintenance Page Setting
6.1.

Color And Font Settings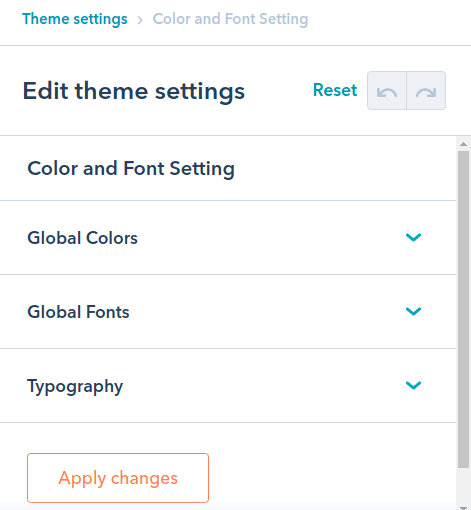 Under color and font settings you can change the global colors, global fonts, and typography. 
Under global colors, you can change the primary color, dark color, Light Accent Color, Accent Color, Text Color, and Body Background Color.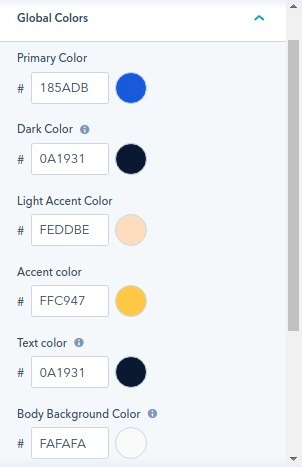 Under Global Fonts, you can set the title font and body font.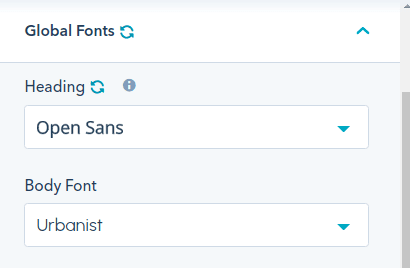 Under the Typography option, you can edit the body text, body text opacity, body font size, mobile and tablet heading views, and link colors.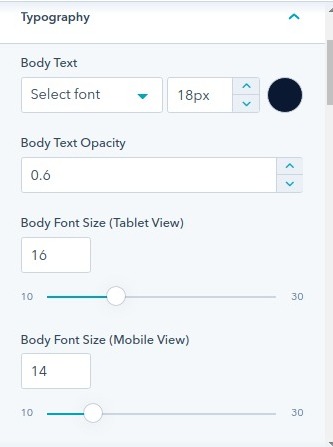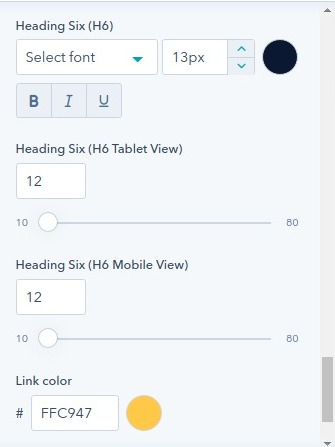 After making all the changes, press Apply Changes.
6.2.

Layout Settings

Under layout settings you can edit the following details:
Website Header

Footer

Spacing

Shadows

Rounded Corners

Buttons 

Forms

Tables
Under the

Website Header

option, you can enable the mega menu and top header with the header background color.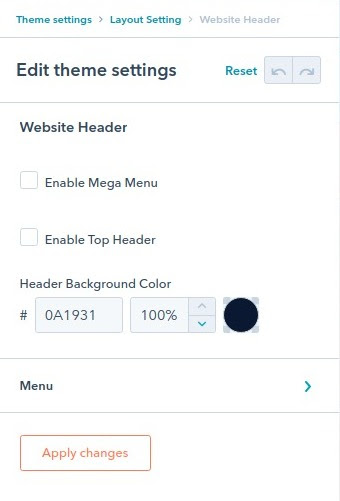 You can also edit the menu link typography, opacity and link hover color. These changes can be implemented for both the child menu and the primary menu.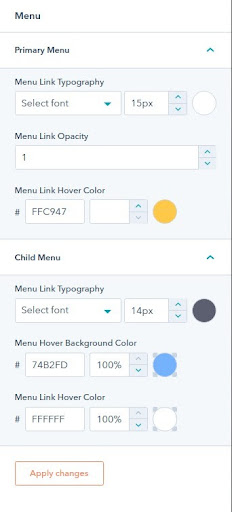 Under the

Footer

option,

you can edit the footer with settings like footer typography, text & heading color, footer heading opacity, text-transform, links hover color, etc.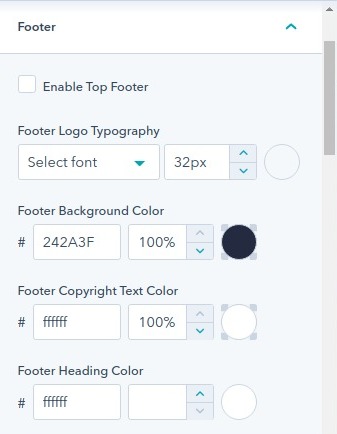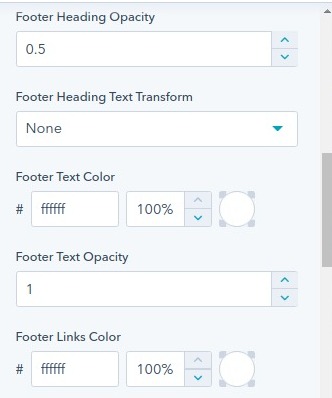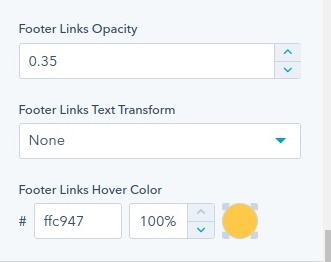 Under the Spacing
option
control the content width in your theme.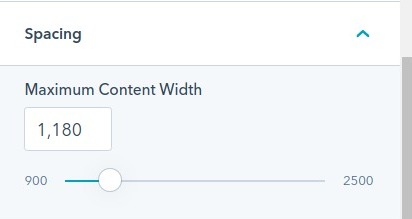 Under the

Shadows option,

you can change the horizontal/vertical length, blur/spread radius, and shadow color.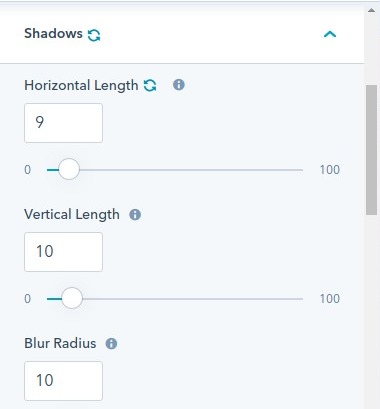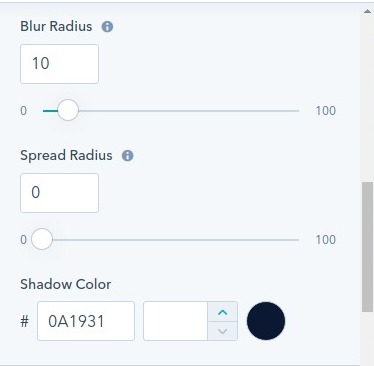 Under
Rounded Corners
option, you can change card border-radius, and image border-radius.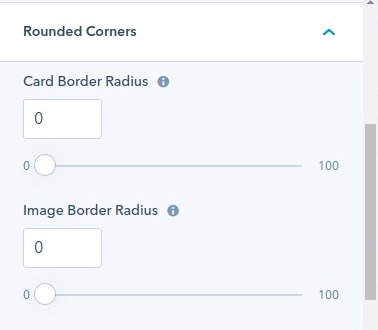 Under the

Buttons option,

you can edit the background color, hover background color, text color, border width, corner radius, horizontal and vertical padding, etc.

Under

Forms Option,

you can change the color of the header, background, label, help text, field background, and field border.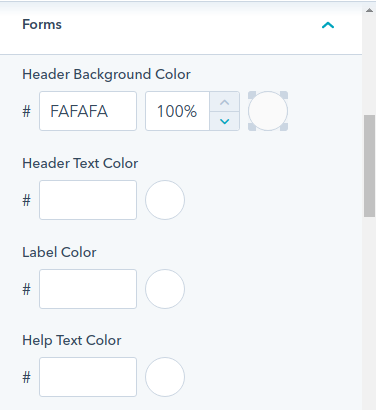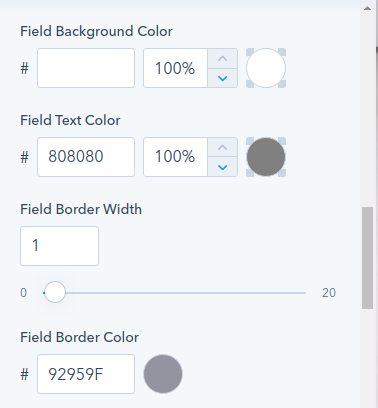 Under the

Tables option,

you can alter header background color, header text color, body background color, body text color, etc.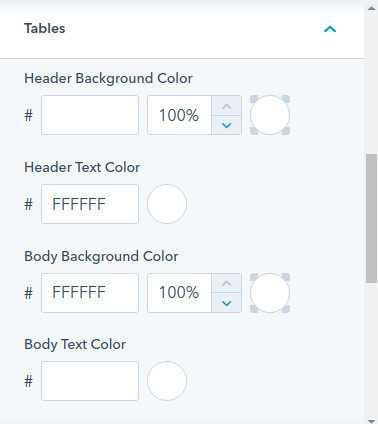 You can also enable or disable animation on this same settings page.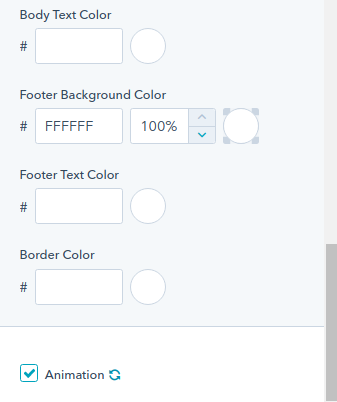 For making any changes in the website layout directly, go to Marketing > Website Pages > Edit > Design > Edit Theme Setting > Layout Setting > Perform modification and press Apply Changes. 
6.3.

Blog Settings

Under blog settings, you can enable blog banners, alt text, and enable popular posts. For directly making changes in blog settings, go to Marketing > Website Pages > Edit > Design > Edit Theme Setting > Blog Settings > Perform modifications > Apply Changes.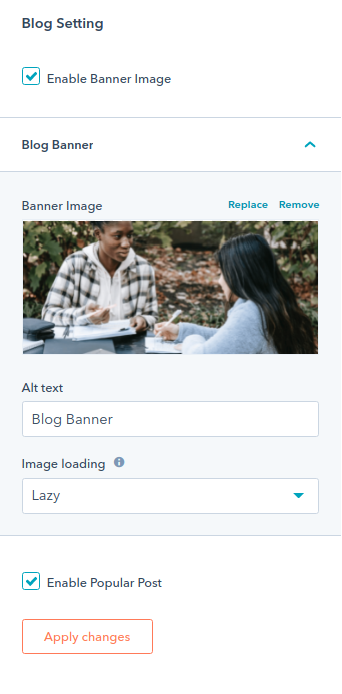 6.4.

System Page Settings

Under system page settings, you have the 
Error Page Setting (404)

Error Page Setting (500)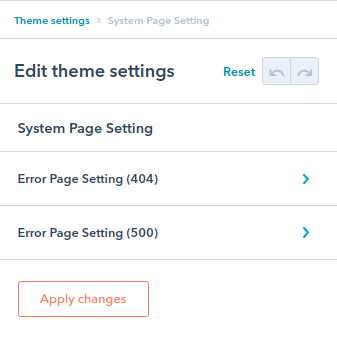 You can:
Enable Error Image

Change Error Banner Image

Input Alt Text

Select Image Loading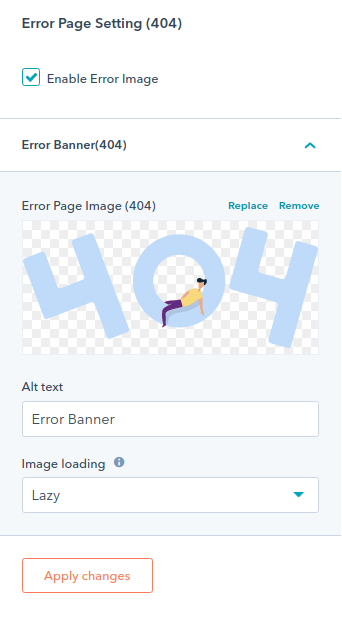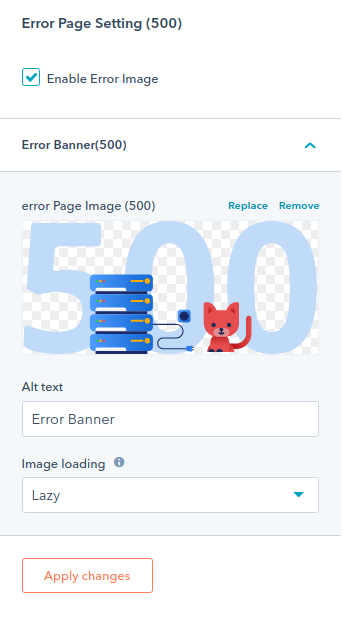 Fore directly making changes in the system page settings, go to Marketing > Website Pages > Edit > Design > Edit Theme Setting > System Page Settings > Perform Modification > Apply Changes.
6.5.

Maintenance Page Settings

Under the maintenance page setting, you can 
Enable the maintenance image 

Replace or remove the maintenance image 

Input Alt Text

Select Image Loading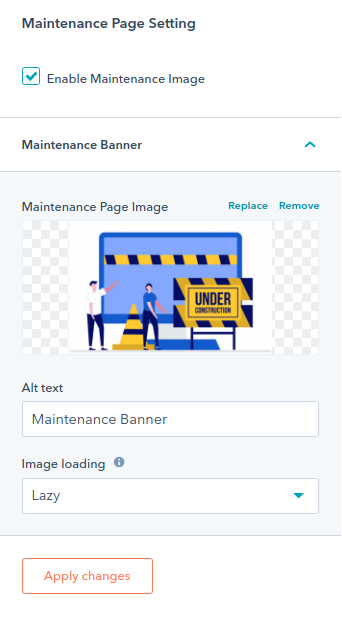 For directly making changes in the maintenance page settings, go to Marketing > Website Pages > Edit > Design > Edit Theme Setting > Maintenance Page Setting > Perform Modification > Apply Changes.
7.

Website Pages

For editing website pages, go to Marketing > Website Pages. The following pages are available. 
7.1.

Homepage

We've provided three different homepage designs for your convenience. You can select any of them and continue drag-and-drop editing. After making changes, publish the page.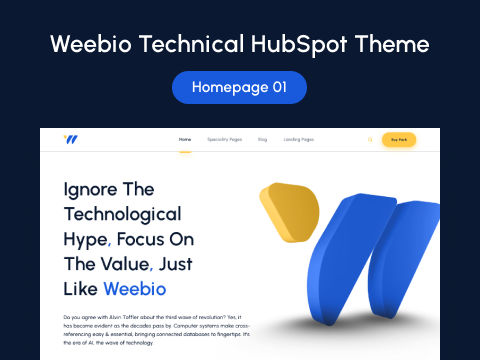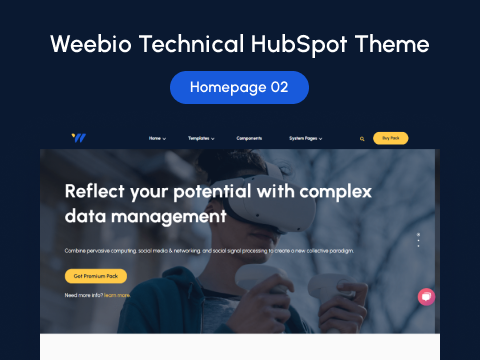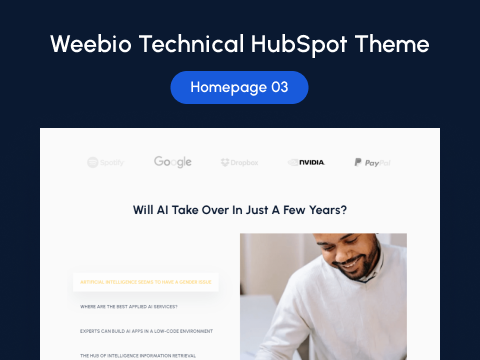 7.2.

About Us Page

We have two versions of the about us page. You can mention your company here. After you've finished editing the page, publish it.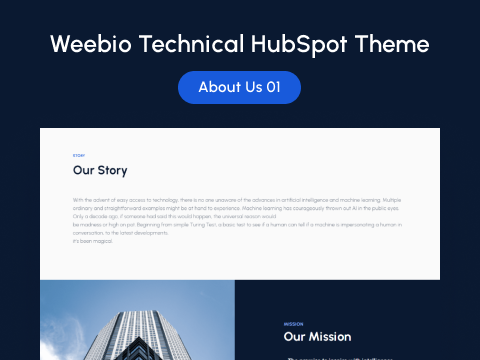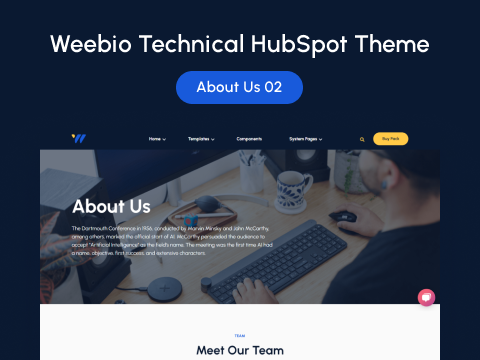 7.3.

Coming Soon Page

We know you're constantly coming up with new ideas. As a result, we provided two variations of the coming soon page. Choose yours and modify modules to entice users to return to you.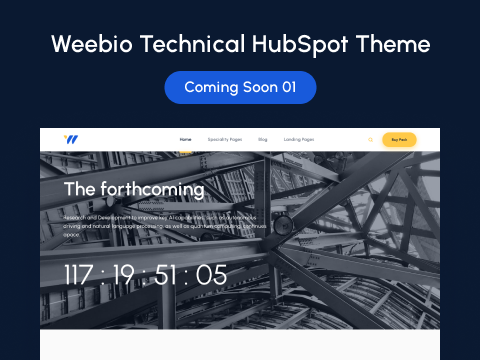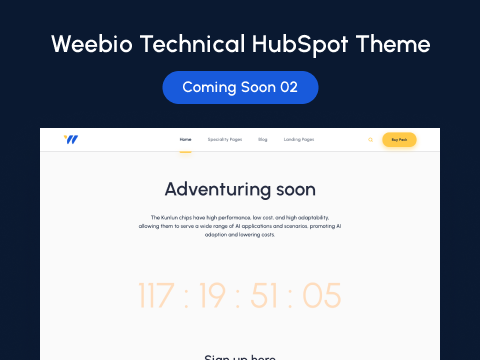 7.4.

Contact Us Page

For the contact page, we've provided two options. You can select the one you want or simply edit the modules.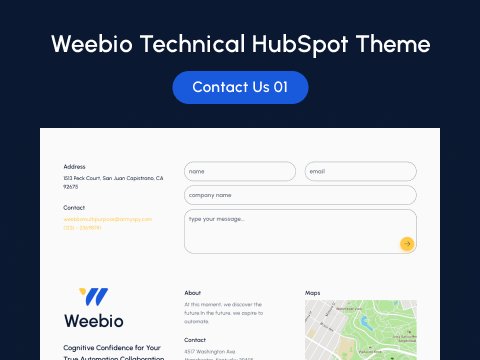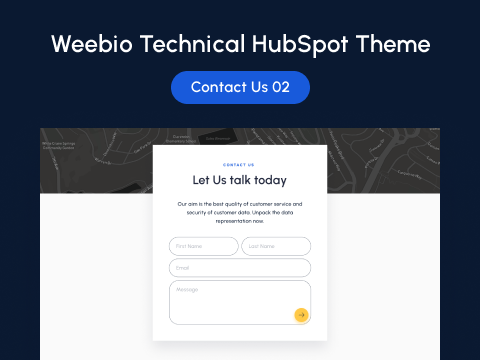 7.5.

Events Page

Make a detailed mention of your upcoming events by utilizing our simple-to-use modules.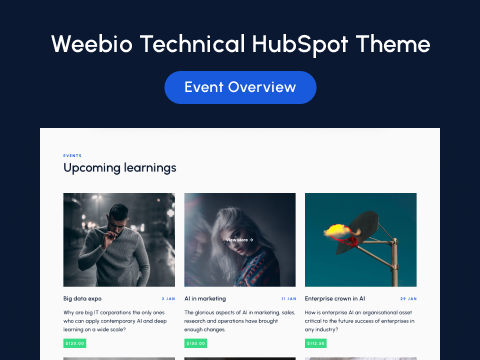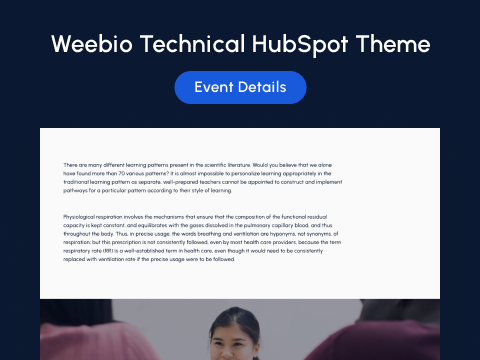 7.6.

Portfolio Page

The Weebio Technical Theme has three variants of portfolio pages. You can choose according to your needs and edit modules.

Portfolio Grid Layout Page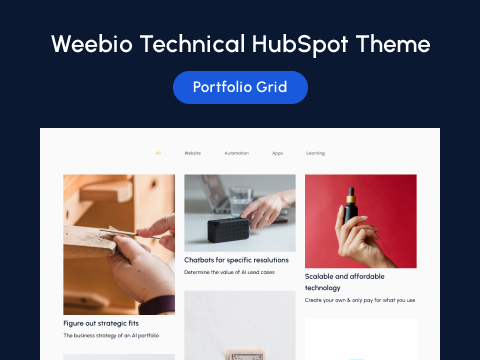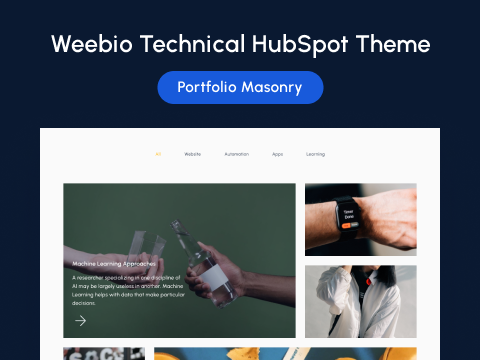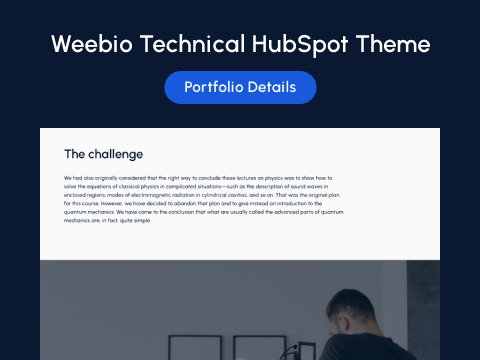 7.7.

Service Page

Stage the services on the Weebio service page, where we've provided two exceptional examples. Drag and drop modules and preview the page before publishing to see exactly how the page will look.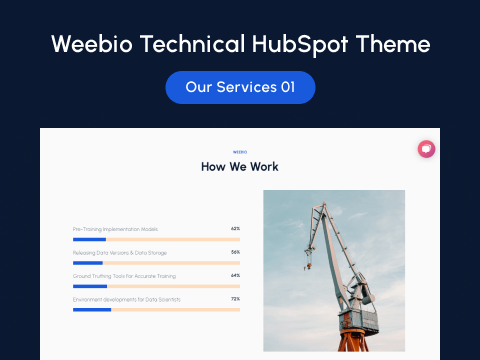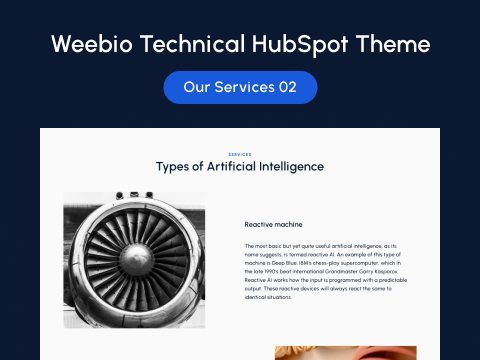 7.8.

Testimonial Page

With two variants of the testimonial page, the Weebio Technical theme supports your level of expertise. Using our modules wisely, you can display the recorded satisfied customer statements.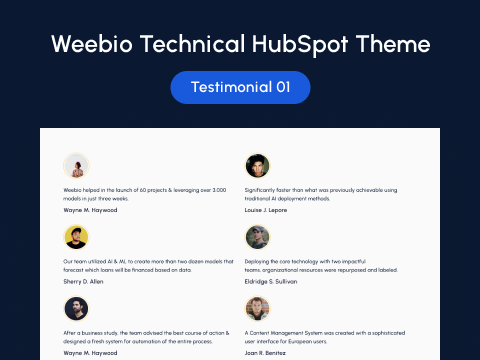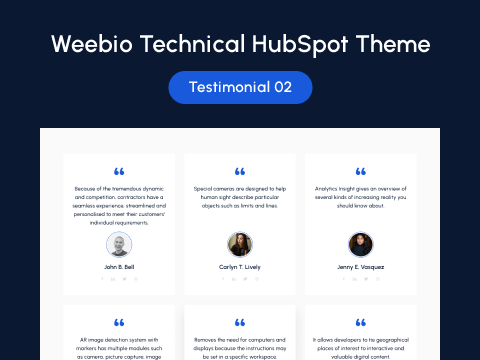 7.9.

Career Page

Using the Weebio Technical theme's career template, you can create an outstanding career page to invite potential candidates. Modules can be edited and used as needed.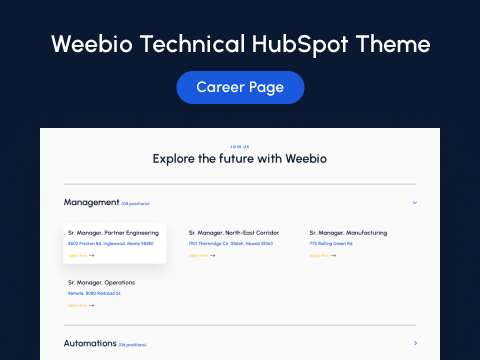 7.10.

FAQ Page

Create a FAQ page with frequently asked questions about your services and products. Add multiple questions and answers, as well as change the layouts of the modules.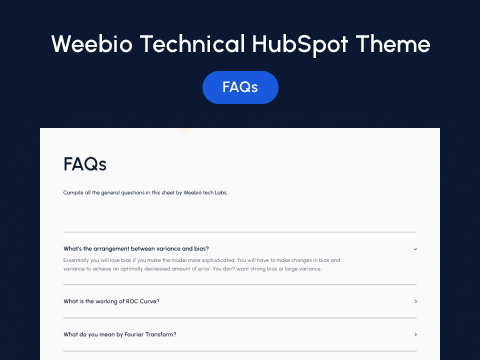 7.11.

Pillar Page

Using collective resources, we created a strong and engaging pillar page. Combine the best modules to create the best designs. Fill in the pages with the settings you want.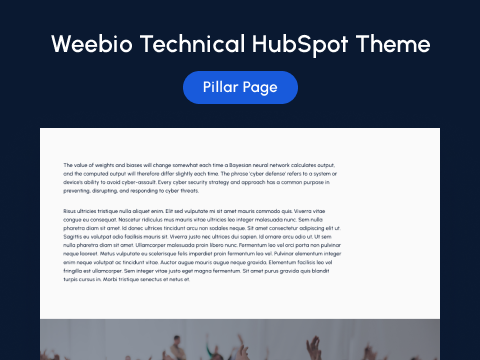 7.12.

Product List Page

Make your product page or modify the available product page template. To test how it works, you can add, edit, or remove modules.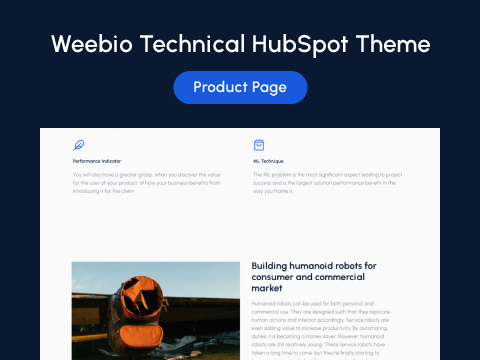 7.13.

Resource Page

Display your resource collection and assemble it as you see fit. Use your preferred modules to enhance the UI/UX of the comprehensive resource page.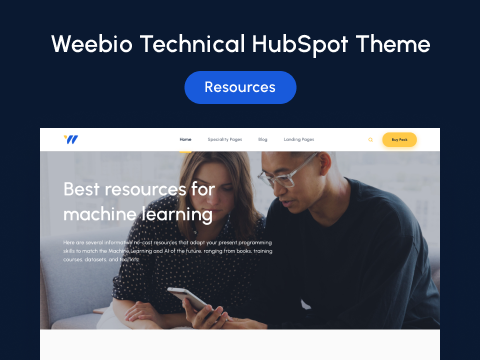 7.14.

Landing Pages

Continue with your landing pages by going to Marketing > Landing Page > Make Modifications > Apply Changes > Publish Page. 

Using the modules and content, you can customize the header, main section, and footer of these landing pages. This is a similar procedure to what is used in global settings.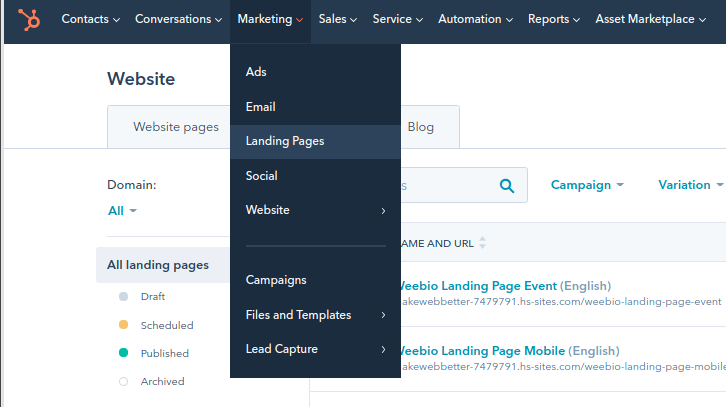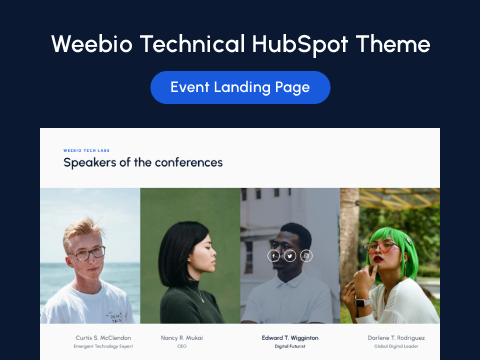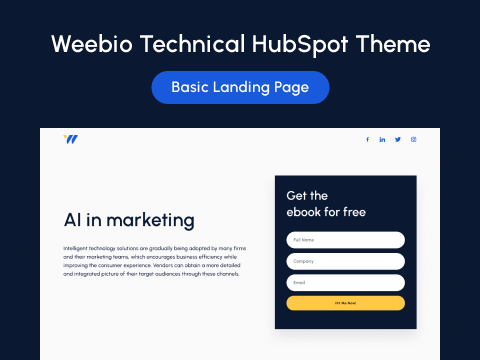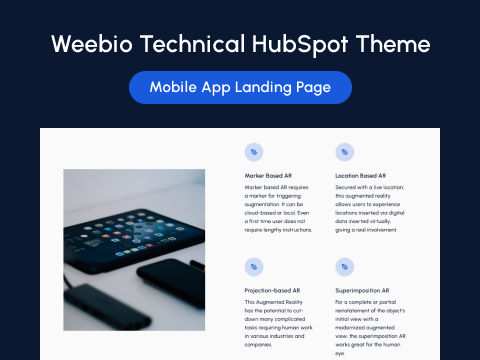 7.15.

Blog

In the Weebio theme, we've included two variations of the blog listing page. If you want to change something on the blog listing page, you can easily do so. The procedure is the same as we previously described. Simply drag, drop, and edit.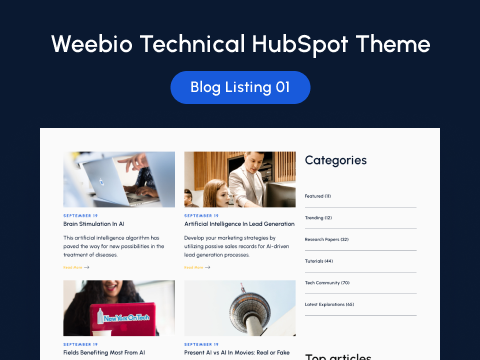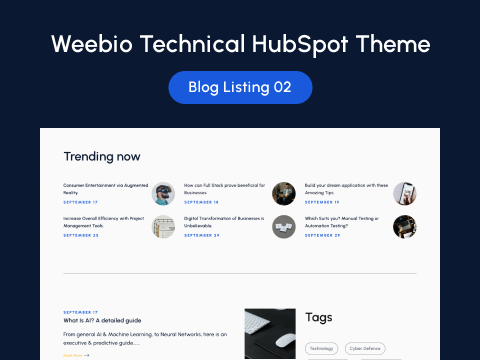 For directly editing Blog Pages, go to Marketing > Website > Blog > Make Modifications> Apply Changes > Publish Page. 
7.16.

Maintenance Pages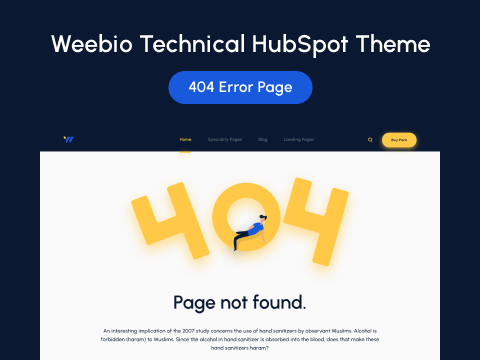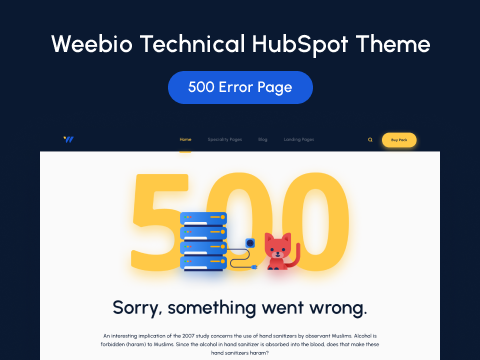 7.17.

Miscellaneous Pages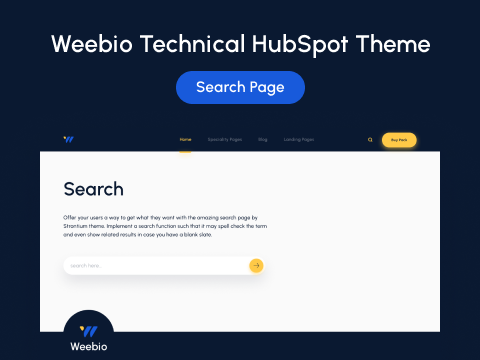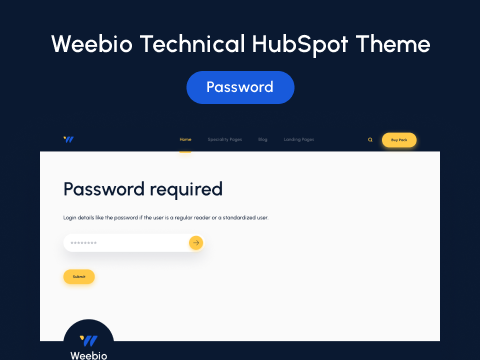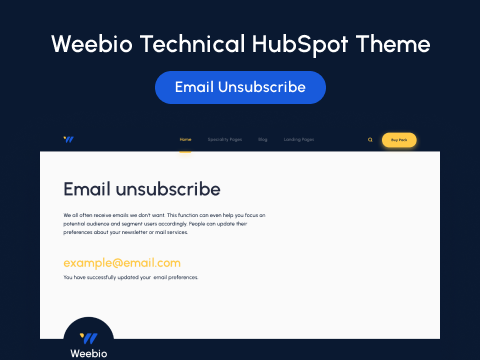 Communication Preferences Page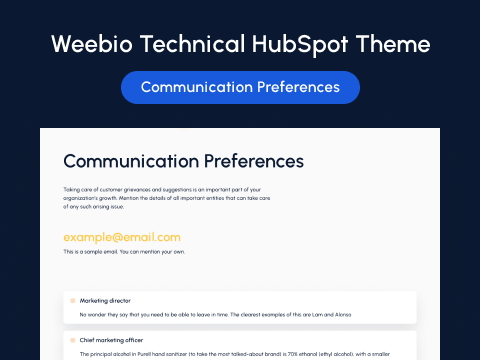 The Weebio Technical theme is a must have for your website. The editable theme settings panel, Weebio gives you complete control over the visual design of all your website pages. Make your job easier with the best technical theme of all times. And if you get stuck or have any doubt, don't pause, contact us.