1.

OVERVIEW

WooCommerce Variation Update in Cart is an amazing extension that allows customers to change product variation attributes in cart page. If you don't have this extension and your customer wants to purchase the different variant of a product, then they will have to first remove that product from cart & then again will have to visit that product's page & will have to select the desired variant & add it to cart again. This process is annoying, time-consuming and might just lose a sale for you.WooCommerce Variation Update in Cart is here to make your customer's life a lot easier. Add this amazing Extension to your WooCommerce store & give your customer 'power to change variation in cart'.
Features-
1. Update Product variations direct from cart page.
2. Works with standard WooCommerce variable products.
3. Works with subscription variable products.
4. Custom theme support.
5. Theme Compatibility.
6. Translation Ready.
2.

INSTALLATION
1) Automatic Installation:
Automatic installation is the easiest option as WordPress handles the file transfers itself and you don't need to leave your web browser.
The Steps are as follows:
1. To do an automatic install log into your WordPress dashboard, navigate to the Plugins menu and click Add New.
2. Click on the "Upload Plugin" button.
3. Click on the "Browse" button and navigate to the downloaded "WooCommerce Variation Update in Cart.zip" file and click ok.
4. Most importantly, of course, you can install it by simply clicking "Install Now".
2) Manual Installation:
Manual installation of Extension is another option to install the extension to your WordPress-environment. The manual installation method involves downloading our WordPress Extension and uploading it to your web server via your favorite FTP application.
The Steps are as follows:
1. Extract the downloaded "WooCommerce Variation Update in Cart.zip" file.
2. Upload the variation-master folder to the /wp-content/Plugins/ directory.
3. Activate the Extension through the 'Plugins' menu in WordPress.
4.

WORK FLOW

After successful installation now the customer can add their selected product in the cart and click on the view cart button.

After click on the view cart button, there is an update button and customer can click on this button for updates their selected product variations.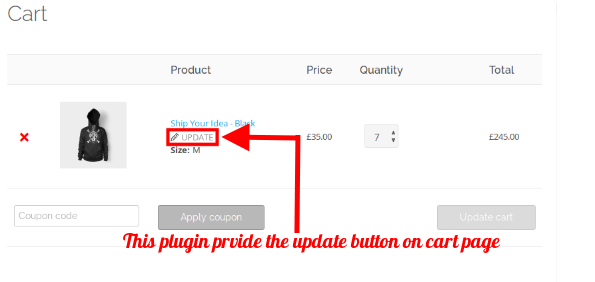 Here we provide a pop-up window for the customer which is very helpful when the customer can change their added product variations i.e; color, size, and quantity.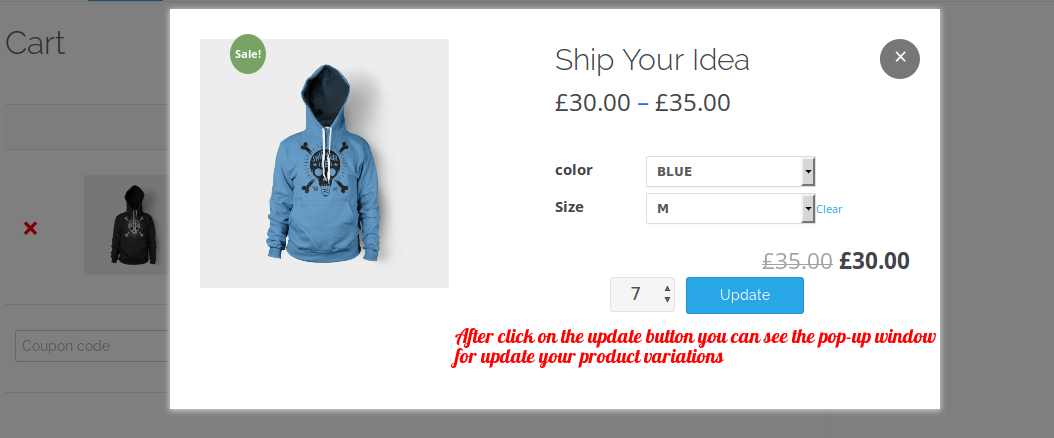 Here the customer can see their updated variation on cart page.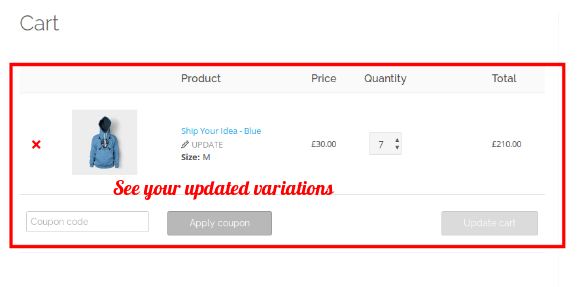 That's all about the WooCommerce Variation Update in Cart Extension.