1.

OVERVIEW

Through, this plugin you can get the real-time value of the cryptocurrency according to market to your web and list down table form according to your choice which will display the market watch.

You can convert all coin types to the supported currency type according to which your country favors i.e. USD,  Euro, dollar and many others.

Features:
Display the value of the set coins according to real-time.
Displaying of charts and graphical analysis.
Customizable enabling/disabling sections.
Admin is authorized for writing custom CSS.
Easy access to display all coins through a single table.
2.

INSTALLATION
AUTOMATIC INSTALLATION
Automatic installation is the easiest option as WordPress handles the file transfers itself and you don't need to leave your web browser.
Steps are as follows :
1. Download the zip folder of our plugin WordPress Crypto Watcher.
2. Once downloaded install the plugin through browsing and activate it.
MANUAL INSTALLATION
Manual installation of the plugin is another option to install the plugin to your WordPress-environment. The manual installation method involves downloading our WordPress Crypto Watcher Extension and uploading it to your web server via your favorite FTP application.
Steps are as follows :
1. Upload the WordPress Crypto Watcher folder to the /wp-content/plugins/ directory.
2. Activate the plugin through the 'Plugins' menu in WordPress.
3.

ADMIN SETTING

After successful installation of the plugin, Admin uses these settings.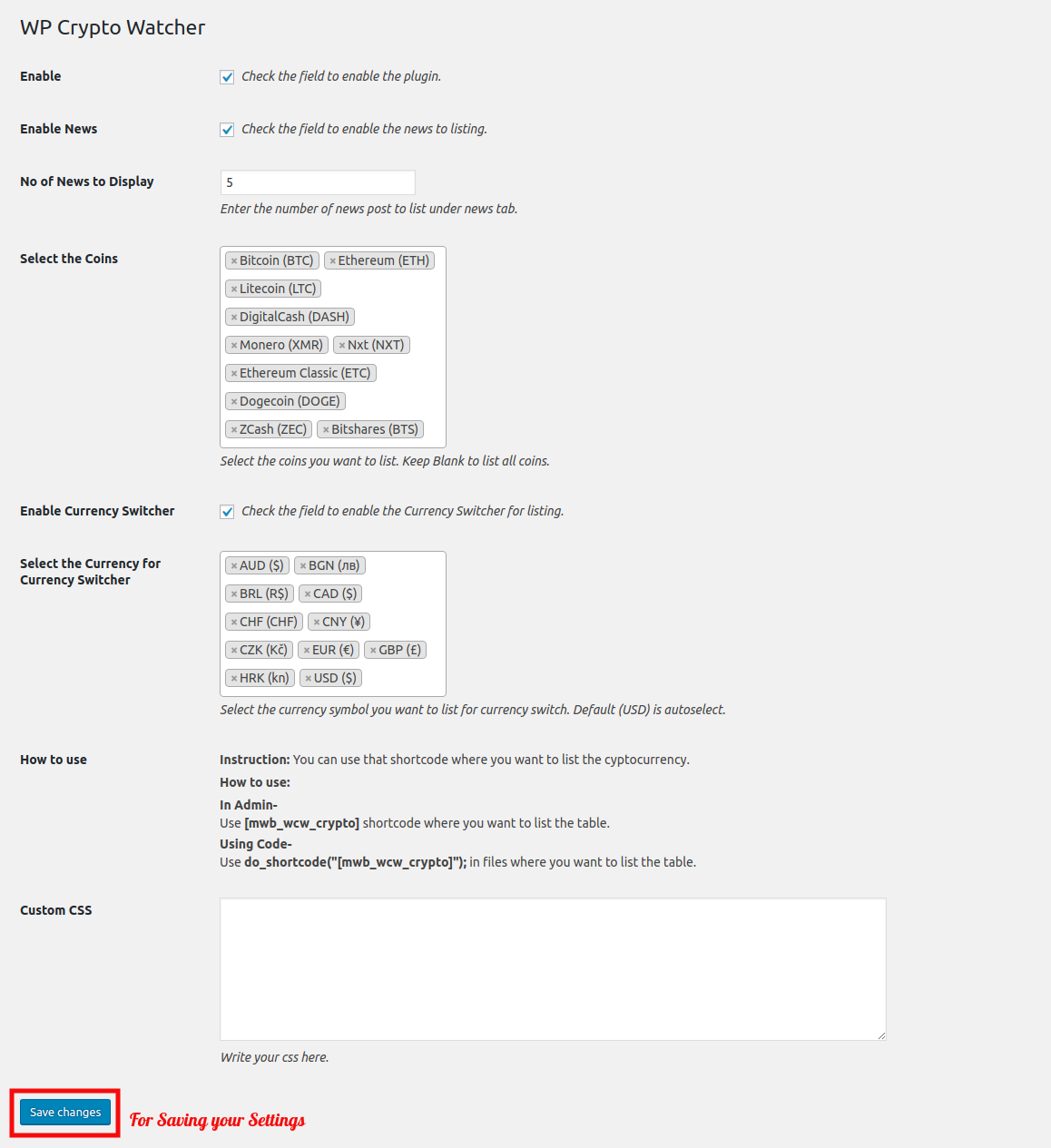 check the enable box to set up the plugin.
check the Enable News box to allow for display the news.
Number of news: Set the number which you want to display the news on the front end.

Select the coins: select those coins which you want to display the value on the front end.T

he value and its rate on the real-time basis according to the international market.

check the Currency Switcher box to allow the switching between currencies.
Select the currencies: select those currencies which you want to display for currency switching.
                   How to use: use the shortcode where you want to display the cryptocurrency.
                            [mwb_wcw_crypto]  use this shortcode where you want to display the table.
                             do_shortcode("[mwb_wcw_crypto]")  this code use in the file where you want to display the table.
Custom CSS: The admin has the authority to manage the layout of the plugin.
4.

WORK FLOW

If you want to view coins and it's values Click on the COINS tab all the selected coin displayed in the tabular form with the value on the basis of real-time according to the international market and the change.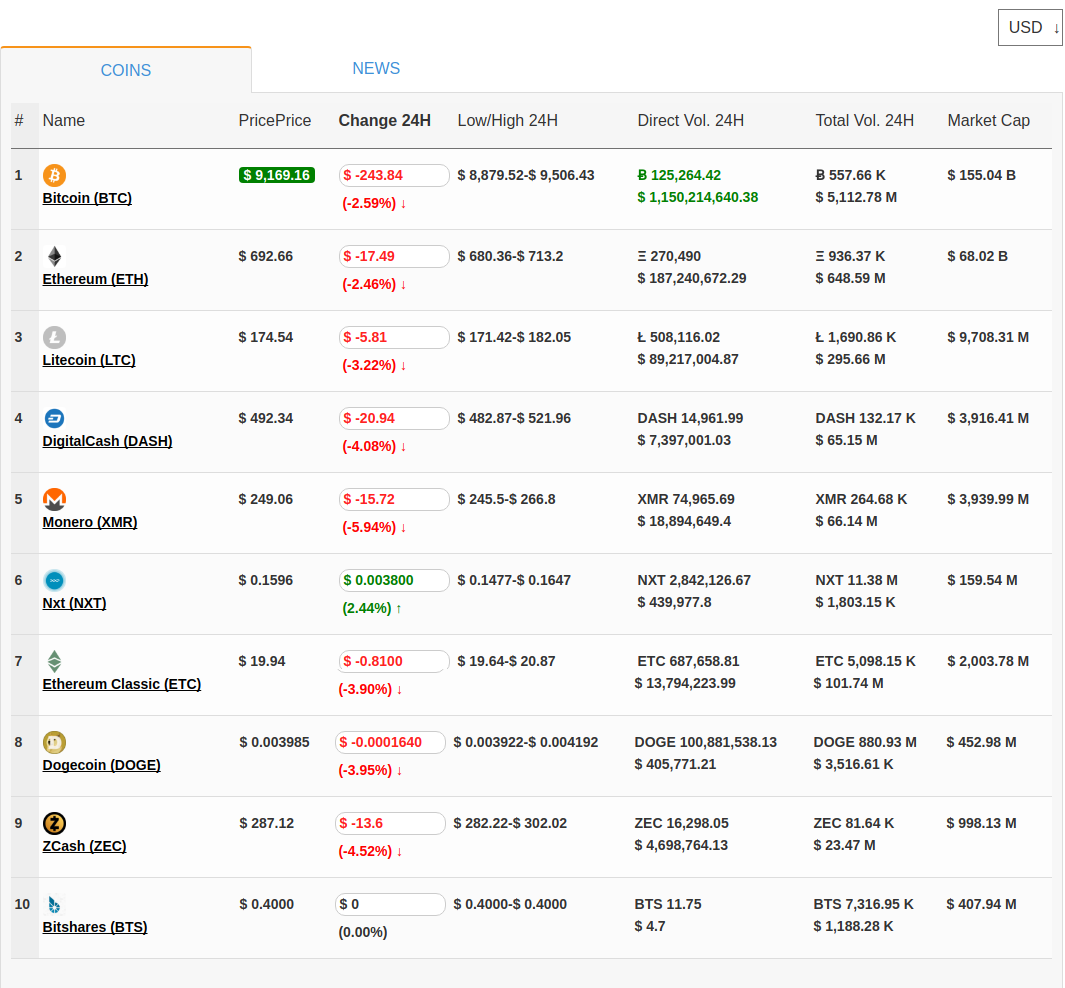 For perceiving all the selected currencies click on the USD button.

If you require full information about the selected coin in real-time, click on the particular coin_name. A pop up will be generated with graphical representation.The graph varies between market Gap and price.
Click on the NEWS tab for displaying the news.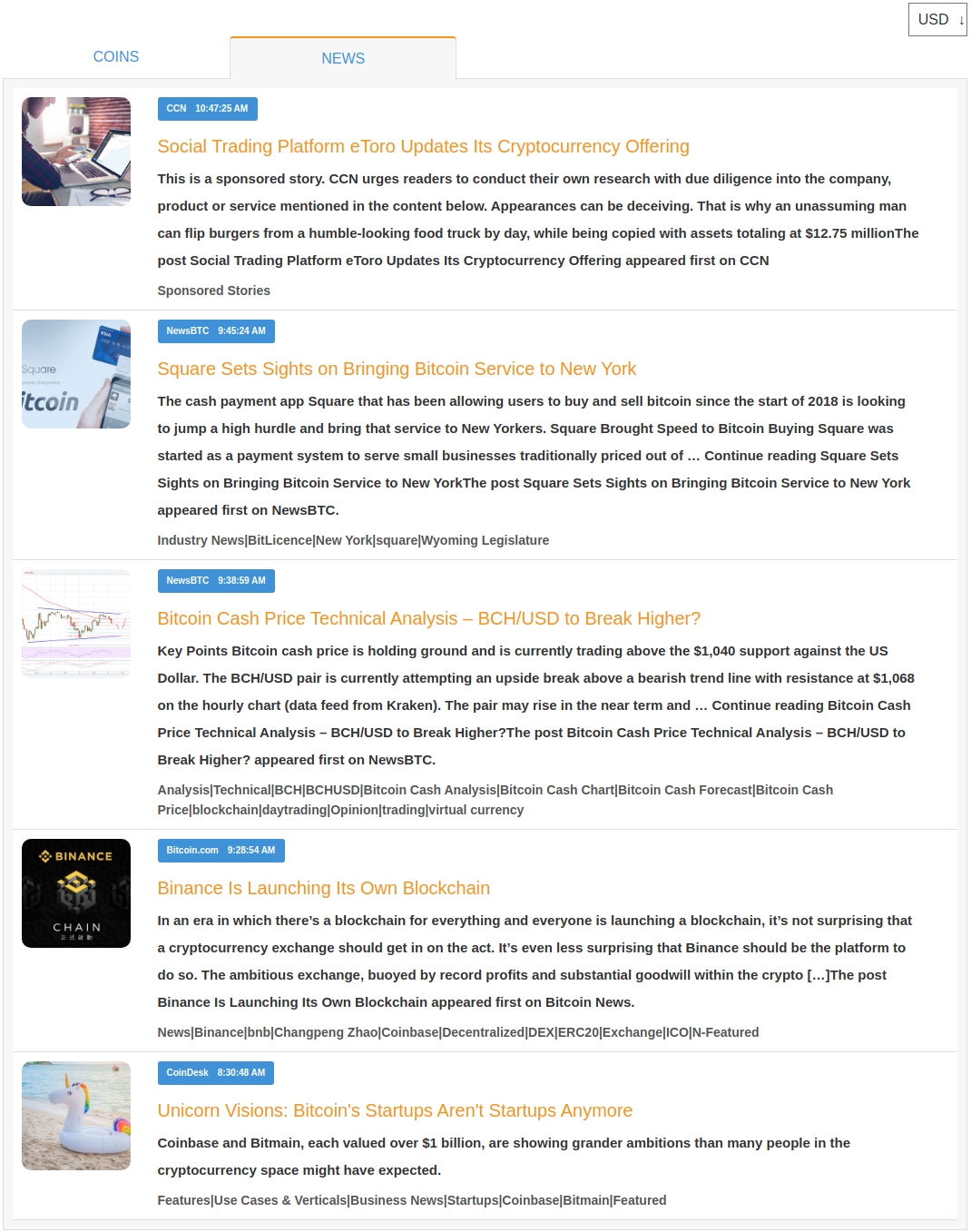 For any Query please contact us on:
Email: support@makewebbetter.com
Skype: makewebbetter