1.

Overview

WP Ultimate PDF Generator Plugin allows you to convert all posts, pages, and products into PDF. Blog readers can export post into pdf and can print or send it to a registered email address.

Features:

This extension Provides various key features :
In this new version, we provide the 3 default templates for Post and Products.
Custom post types- It supports custom post types and print them to PDF.
Custom meta fields- It supports custom meta fields and prints them in PDF.
Custom fonts- Feature to set Custom fonts for PDF.
 Header- You can include header logo to pdf, Option to show site name, site description, and site URL.
Footer- You can add footer on all pages of PDF
 Watermark- Add watermark text and images to look PDF wonderful.
Different Font- Can customize fonts of header and content.
Featured Image- Can select to display featured Images.
File Name- Can set the filename for pdf. The default file name of the plugin is Post Id.
Add Front Page- Add front page of the PDF with company name, logo, and watermark
PDF from Cache- Have the ability to generate pdf from the cache to reduce the load from the server and can schedule a backup of cache if Your blog is not updating too frequently and much more options.
Custom CSS- Can add custom style to post contents, mostly all CSS supported.
Title- Can set default blog title for pdf
Email Mode- In email mode, each pdf export link generates a popup window and visitor have to enter an email address to which the created PDF will be sent.
Setting to manage all post type custom fields.
Cache supporting- It provides the functionality to deliver the cached PDF to decrease server memory usage if the cache is available in the system.
 ACF compatible – It is compatible with Advanced custom fields and supports all its meta fields.
2.

Installation
AUTOMATIC INSTALLATION:
Automatic installation is the easiest option as WP handles the file transfers itself and you don't need to leave your web browser.
Steps are as follows :
1. Download the zip folder of the plugin WP Ultimate PDF Generator.
2. Once downloaded install plugin through browsing and activate it.
MANUAL INSTALLATION:
Manual installation of the plugin is another option to install the plugin to your WP-environment. The manual installation method involves downloading our WP Ultimate PDF Generator Extension and uploading it to your web server via your favorite FTP application.
Steps are as follows :
1. Upload the WP Ultimate PDF Generator folder to the /wp-content/plugins/ directory.
2. Activate the WP Ultimate PDF Generator plugin through the 'Plugins' menu in WP.
3.

Display Setting

Go to Settings > WP Ultimate PDF Generator.

DISPLAY SETTINGS :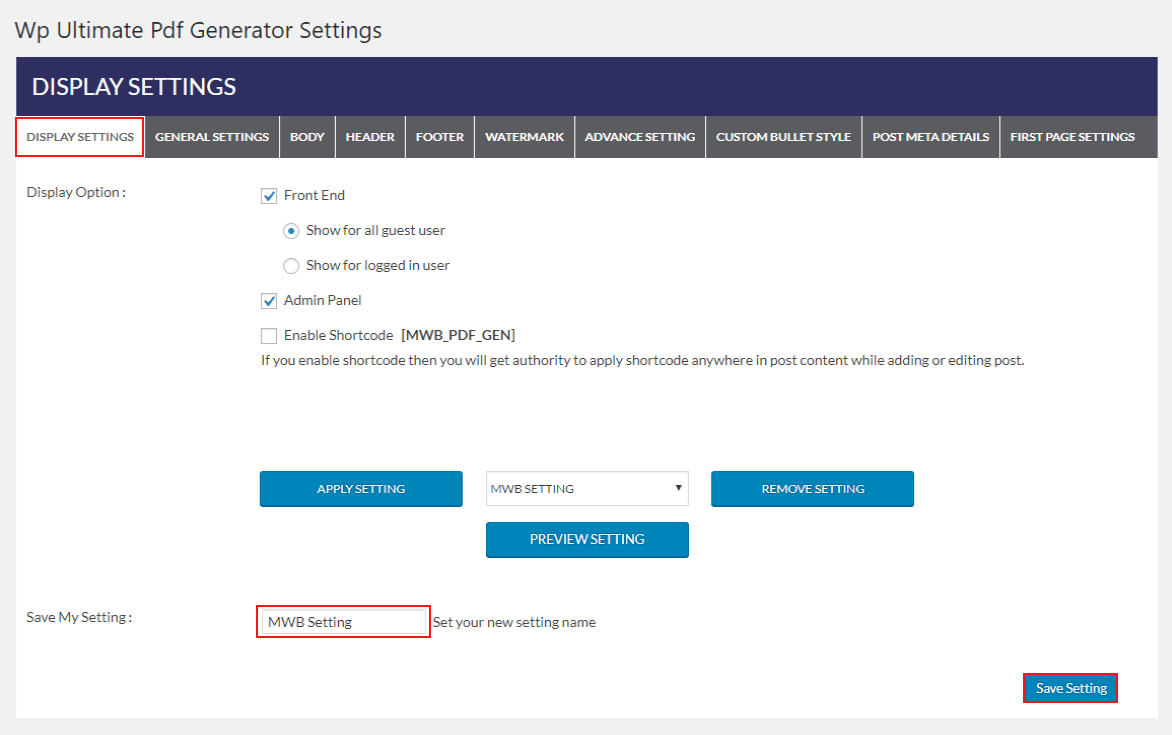 Display Options:
Select Front End option to show the pdf link on post and page.
And also select the option to show pdf link to all guest users or only logged in.
Enable  Admin Panel option to display a pdf link on the post and page only for admin panel.
Enable shortcode– If you enable shortcode then you will get the authority to apply shortcode anywhere in post content while adding or editing the post.
Admin use these setting to display the PDF.
4.

General Setting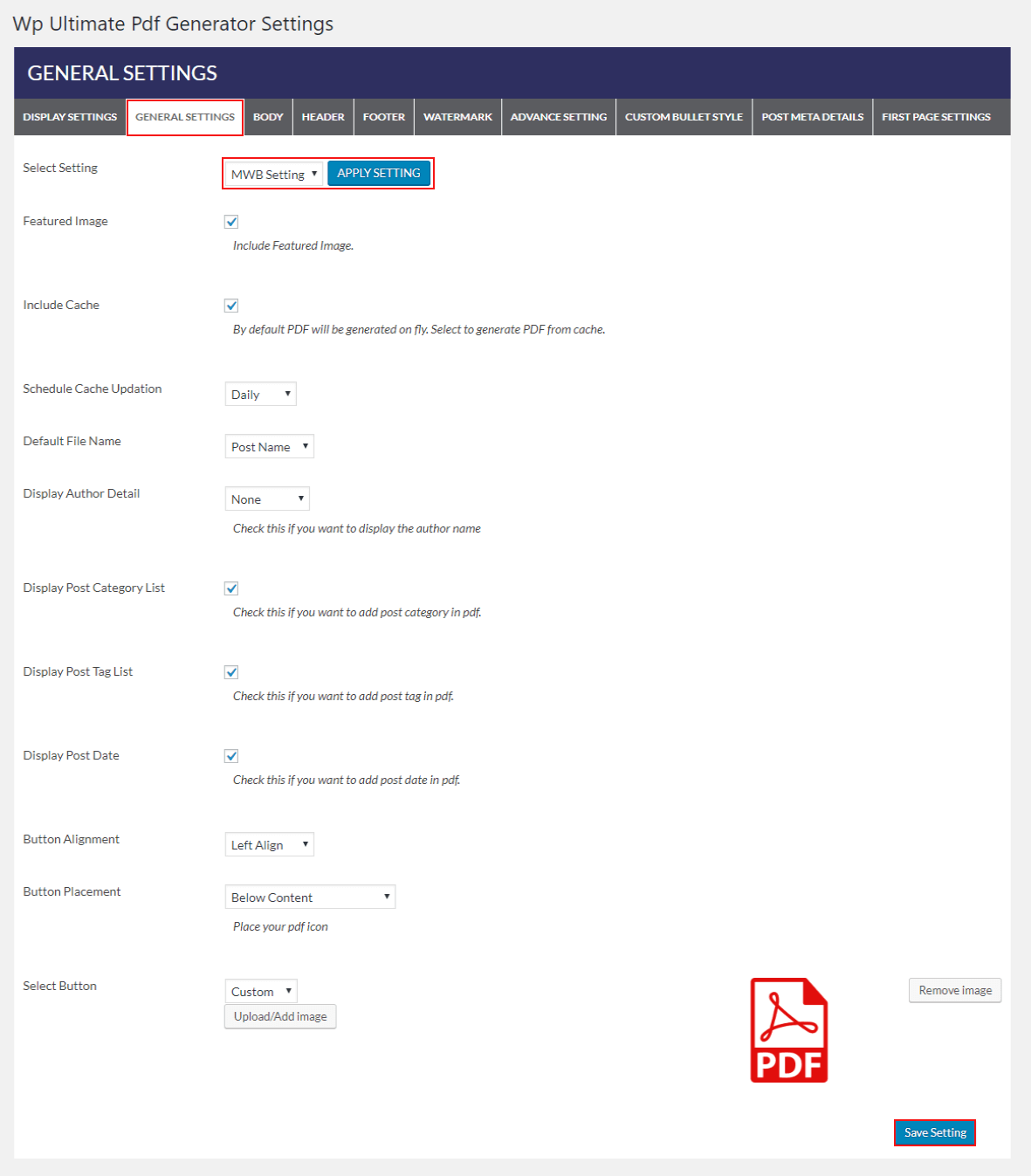 Select Setting: Select a setting which you want to apply on PDF.
Featured Image: Enable Display featured image to display featured image below the title of the PDF.
Include Cache: Select if you want to render PDF form Cache if available in Cache.
Schedule Cache Updation: Select time duration for which you want Cache to be updated. By default, the cache will not be updated.
Default File Name: Select file name of generating PDF file(Post ID/ Post Slug).
Display Author Detail: Select to include the author's name in the PDF, and how it should be formatted.
Display Post Category List: Enable this setting to add post category in PDF.
Display Post Tag List: Enable this setting to add post tag in PDF.
Display Post Date: Enable this to display post release date in PDF.
Button Alignment: Here you can set the location of the button. You can align the button left, right or center.
Button Placement: Select the position of the PDF link on the Posts and pages.
Select Button: You can add your custom buttons. By default, a pdf icon will display as PDF link on the posts and pages to generate the PDF file.
5.

PDF Body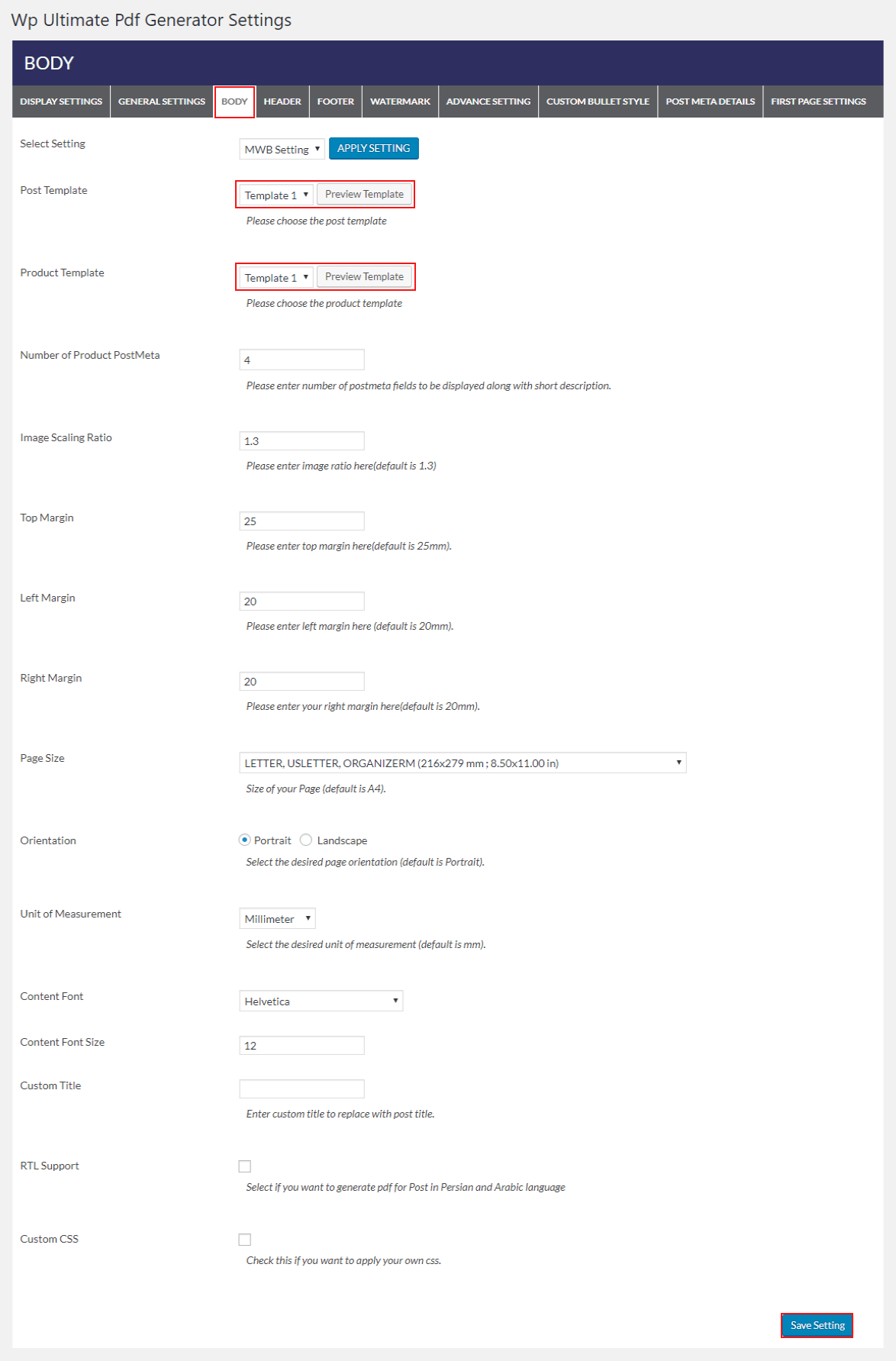 Post Template: Here we are proving three types of post templates, you can select any one predefined template whom you want to convert your post into pdf.
Product Template: Here we are proving three types of post templates, you can select any one predefined template whom you want to convert your product into pdf.
The number of Product PostMeta: In this section, you can enter the number of post meta fields to be displayed along with the short description on the converted PDF.
Image scaling Ratio: Select Image height and width with respect to original featured Image.
Top/Left/Right Margin: Select options for selecting left, right and top margin to pages of PDF.
Page Size: Select the desired page size (default is A4) of PDF.
Orientation: Select the desired page orientation (default is portrait) of PDF.
Unit of Measurement: Select the desired units of measurement (default is mm) of PDF.
Content Font: Select content font for the PDF body.
Content Font Size: Select the content size for PDF body.
Custom Title: Enter a PDF title to replace with the post/Page title.
Custom CSS: Enable this setting if you want to write your custom CSS for the PDF file.
After saving the settings, the PDF will be shown as below.

Template 1: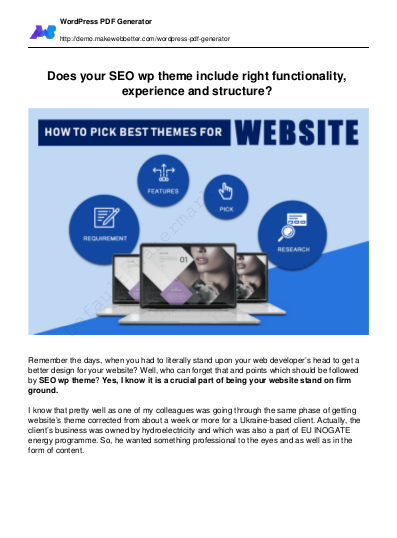 Template 2: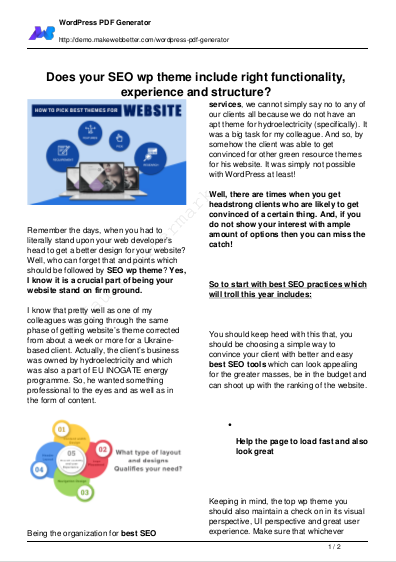 Template 3: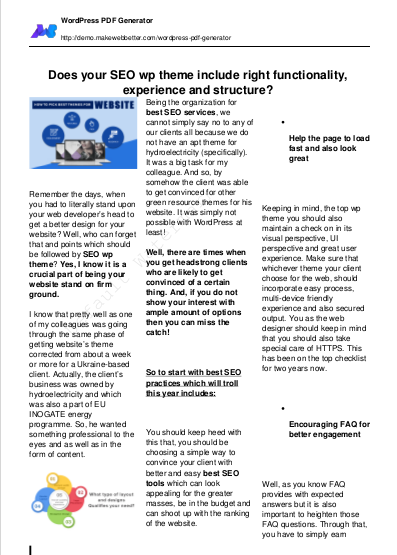 6.

PDF Header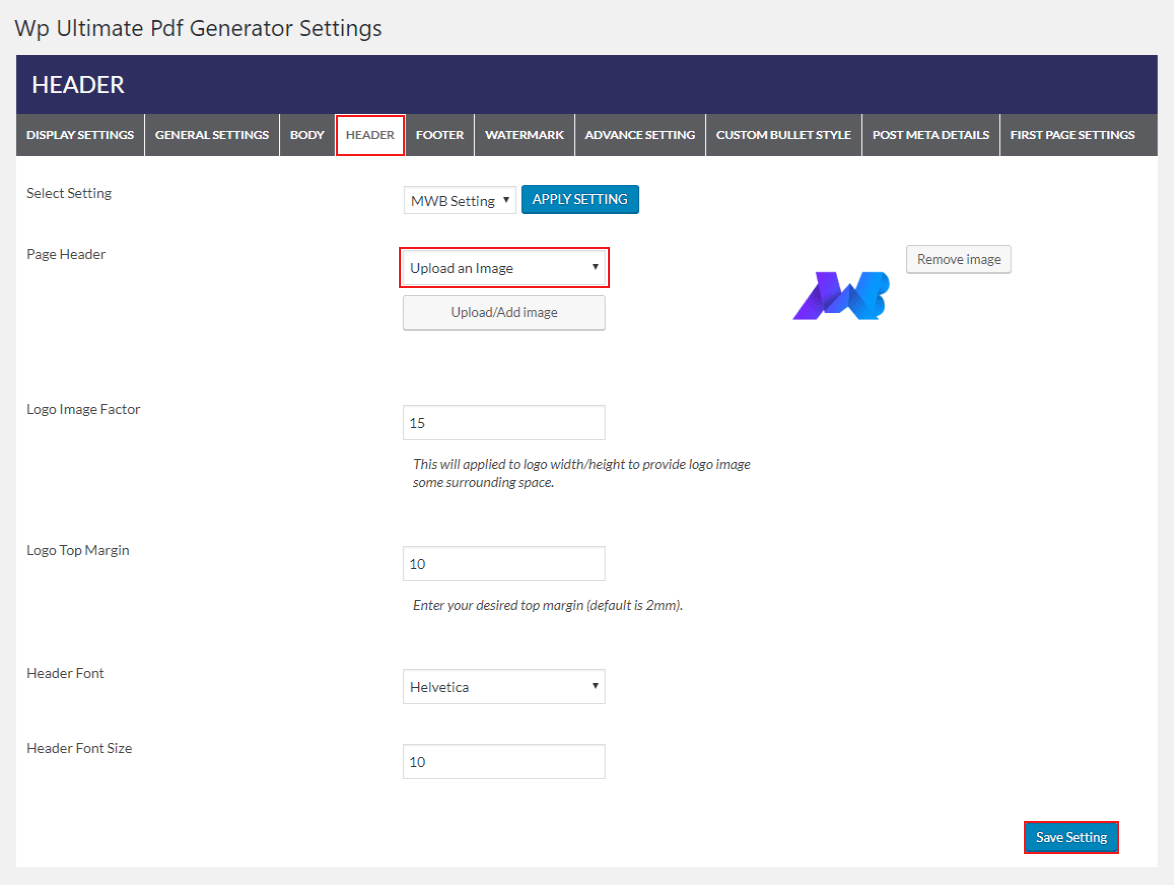 Page Header: Select to upload a header logo for the PDF file.
Logo Image Factor: This will apply to logo width/height to provide logo image some surrounding space.
Logo Top Margin: Enter top margin (default is 10 units) of the logo image.
Header Font: Select different font of the header content.
Header Font Size: Select different font size of the header content.
Here we can see that the header of the PDF with the logo.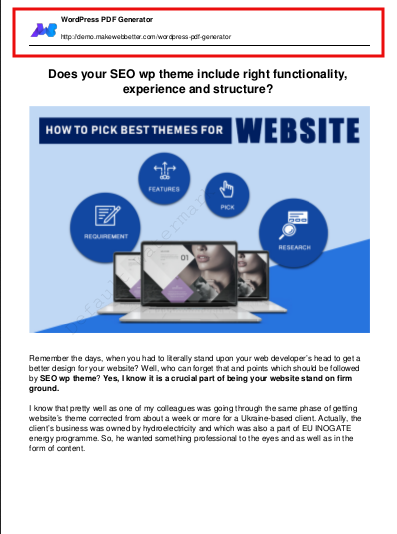 8.

PDF Watermark

In this section, we provide all the options possible to add a watermark of the PDF like watermark text, Font of text, add an image of watermark, height & weight of watermark and set the transparency of the image.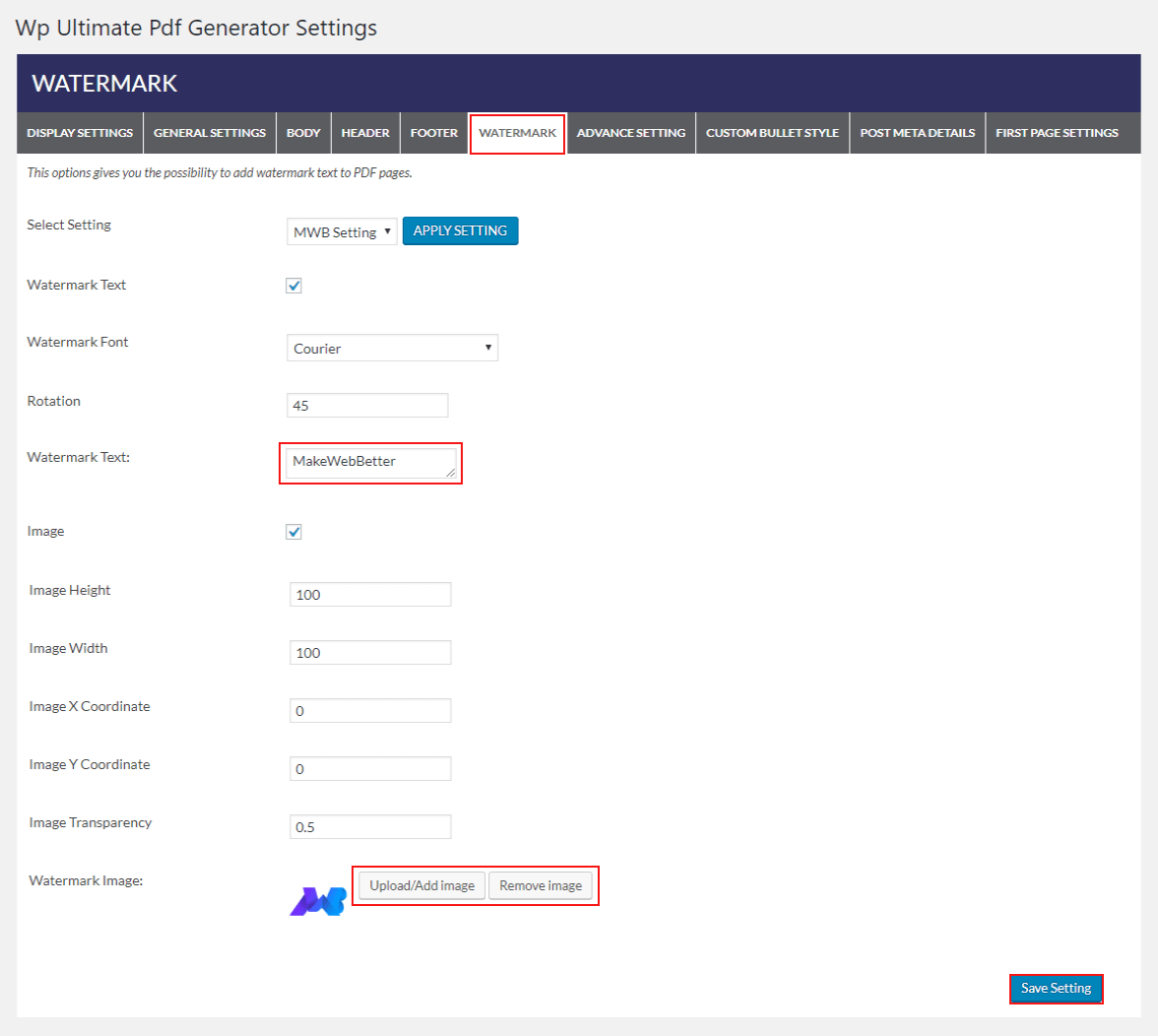 Watermark Text: Check this option to Add Watermark text to your PDF. Enter Font, Rotation and Watermark Text.
Watermark Image: Check this option to Add Watermark Image on your PDF. Enter Image height, width, transparency and Watermark Image.
Here you can see the watermark image on the Pdf file.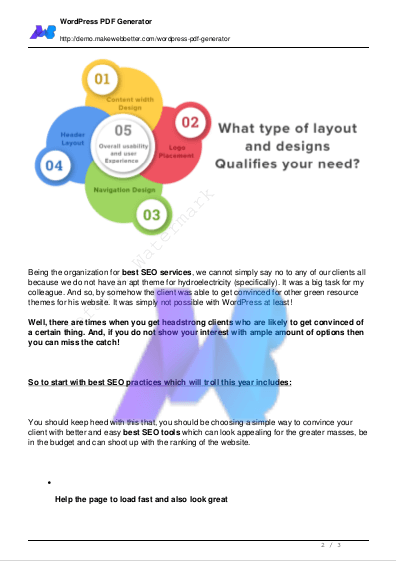 11.

Post Meta Details
Allowed post types:
Select Post type for which You want to export PDF. On click, you can see what meta fields post type have just checked the post type and display it over PDF.
WP Ultimate PDF Generator LOG :

Log of PDF downloads:
It shows up all the log of the downloaded PDF with the user email and name along with the post, page or product name.