1.

Overview

Integration with Mautic for WooCommerce help in setting automated campaigns to delight your visitors and customers as well, designed for businesses of any size, which allows you to increase your leads, sales, and conversions. With Mautic, you can create highly effective marketing campaigns to grow your business without any manual effort. The Integration passes real-time customer data from your WooCommerce store to Mautic which gets synced in the custom fields created by our extension. The extension syncs user-related data from WooCommerce to Mautic, which is needed by various tools for further analysis and marketing research in Mautic.

We create several custom fields for contact on Mautic like:
Customer Group

Order


Last Order Status
Last Order Fulfillment Status
Last Order Tracking Number
Last Order Tracking URL
Last Order Shipment Date
Last Order Number
Total Number of Current Orders

RFM Information


Total Value of Orders
Average Order Value
Total Number of Orders
First Order Value
First Order Date
Last Order Value
Last Order Date
Average Days Between Orders
Account Creation Date
Monetary Rating
Order Frequency Rating
Order Recency Rating
RFM Segmentation: The RFM segmentation feature will be based on the rating of 5 to 1.(rating 5 is considered as best and rating 1 is considered as worst). You can segment your customers based on their RFM rating on Mautic and can target your best as well as lost customers.
Reflecting Changes in Orders: Whenever a customer order is updated, we sync those details as well.
Customer Data Sync: The customer's real-time data is synced on Mautic with the help of background scheduler which runs in every 5 minutes. To test the plugin functionality, place an order and wait for at least 5 minutes and your order data will be there. You can check in Mautic contacts section and there you will find a contact for the placed order.
2.

Installation
Automatic Installation:
Automatic installation is the easiest option as WordPress handles the file transfers itself and you don't need to leave your web browser.
Steps are as follows:
1. To do an automatic install log into your WordPress dashboard, navigate to the Plugins menu and click Add New.
2. Click on the "Upload Plugin" button.
3. Click on the "Browse" button and navigate to the downloaded Integration with Mautic for WooCommerce zip file and click ok.
4. Most importantly, of course, you can install it by simply clicking "Install Now".
 Manual Installation:
Manual installation of Extension is another option to install the extension to your WordPress-environment. The manual installation method involves downloading our WordPress Extension and uploading it to your web server via your favorite FTP application.
Steps are as follows:
1. Extract the downloaded Integration with Mautic for WooCommerce zip file.
2. Upload the Integration with Mautic for WooCommerce folder to the /wp-content/Plugins/ directory.
3. Activate the plugin through the 'Plugins' menu in WordPress.
3.

Getting Started

After the successful installation and activation of the extension, the plugin's overview section will appear to the administrator. This section will introduce you to the overall working of the plugin and the main part to get started button.

Click on the Get Started button to start setup with Mautic Account.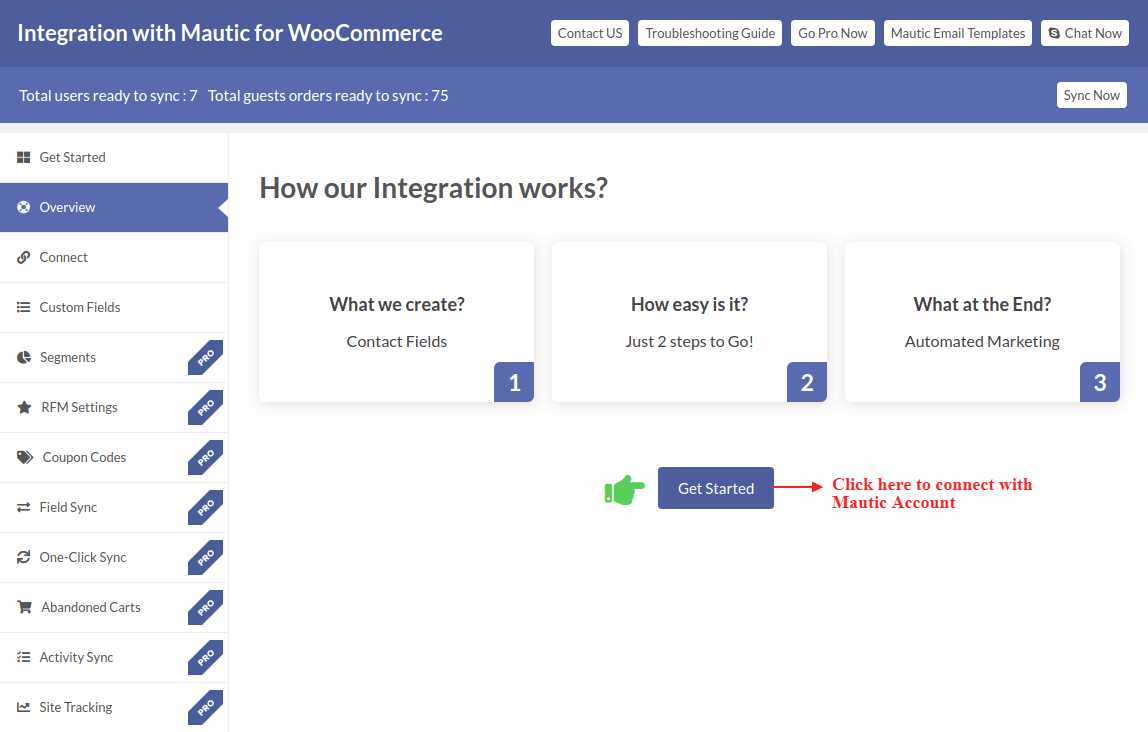 4.

Connection with Mautic Account

The connect part will include filling up the Mautic related credentials in the given connection form. The details can easily get from the Mautic APP created by you.

Here you have to enter the Mautic base URL, Client, and Secret Key to connect your Mautic Account. Click on 'Mautic APP Setup' tab to know more about APP setup in Mautic.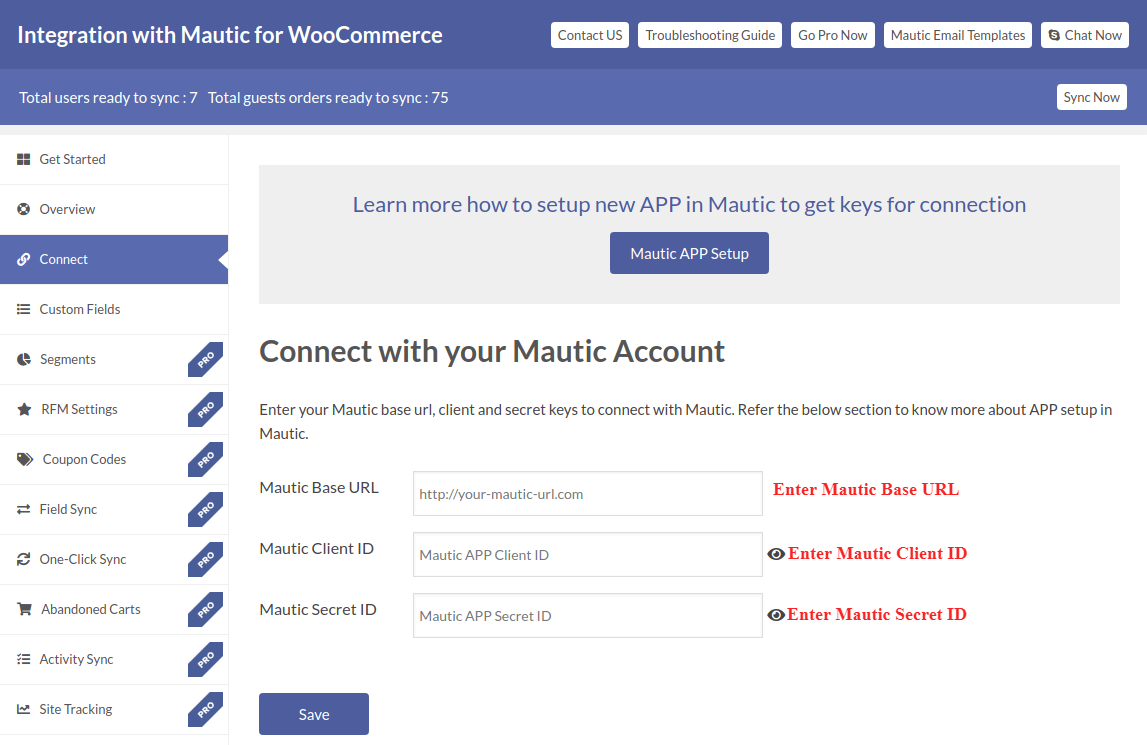 After validating the information filled by you, the plugin will ask you to authorize for the Mautic account. Clicking on authorize button will take you to Mautic login page. There you have to log in and provide access to Mautic App which you created for connection.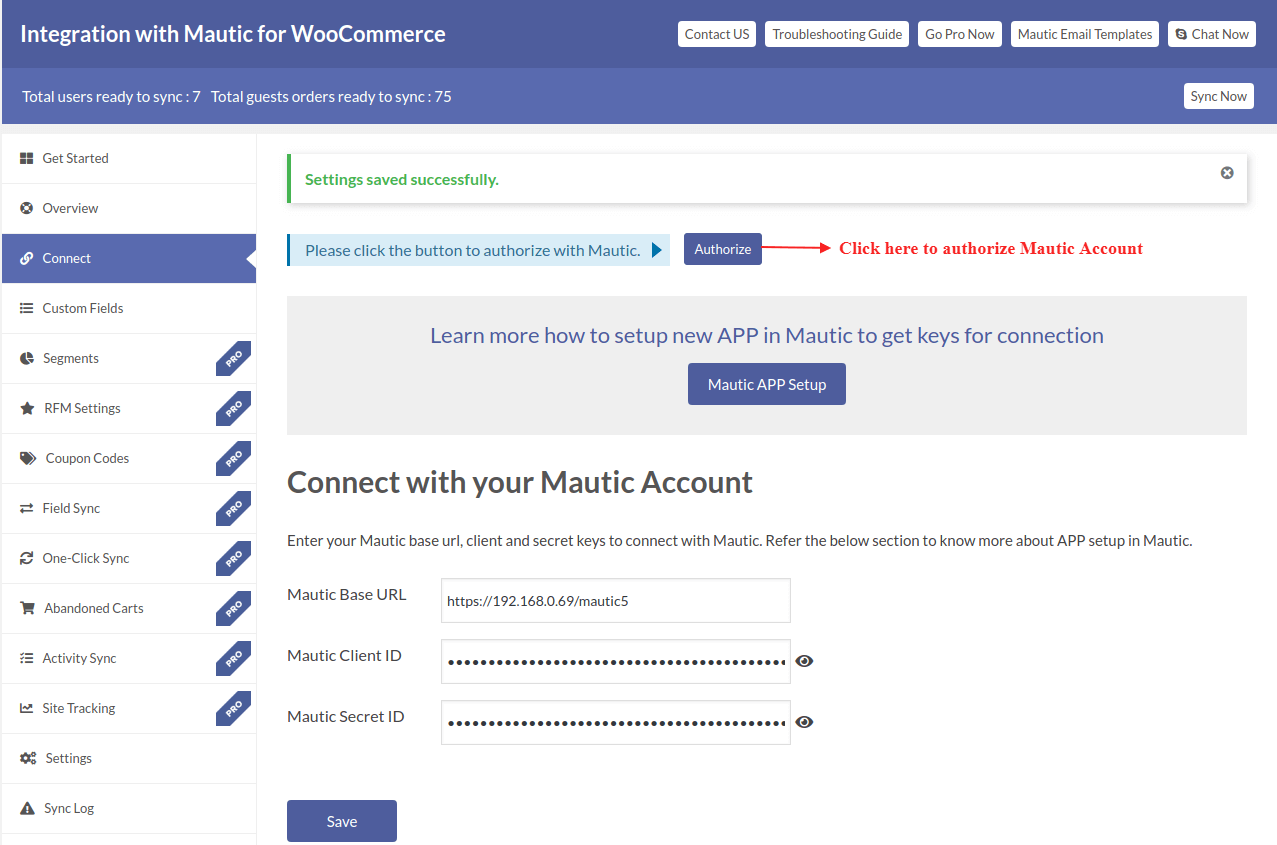 On the Mautic page, you have to allow access to Mautic APP to integrate your account with the extension.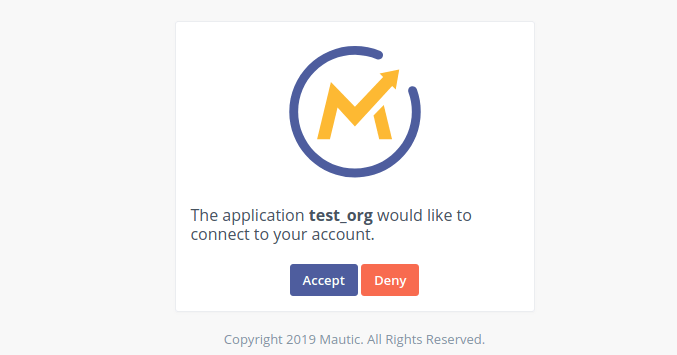 5.

Custom Fields

After successful verification and authorization, you will be taken back to the plugin page and from here you can proceed to the next step.

Next step will include creating custom fields for contact's data storage on Mautic. You will be asked for a confirmation before moving to set up part. You can either go with selecting your fields or with our integration's fields.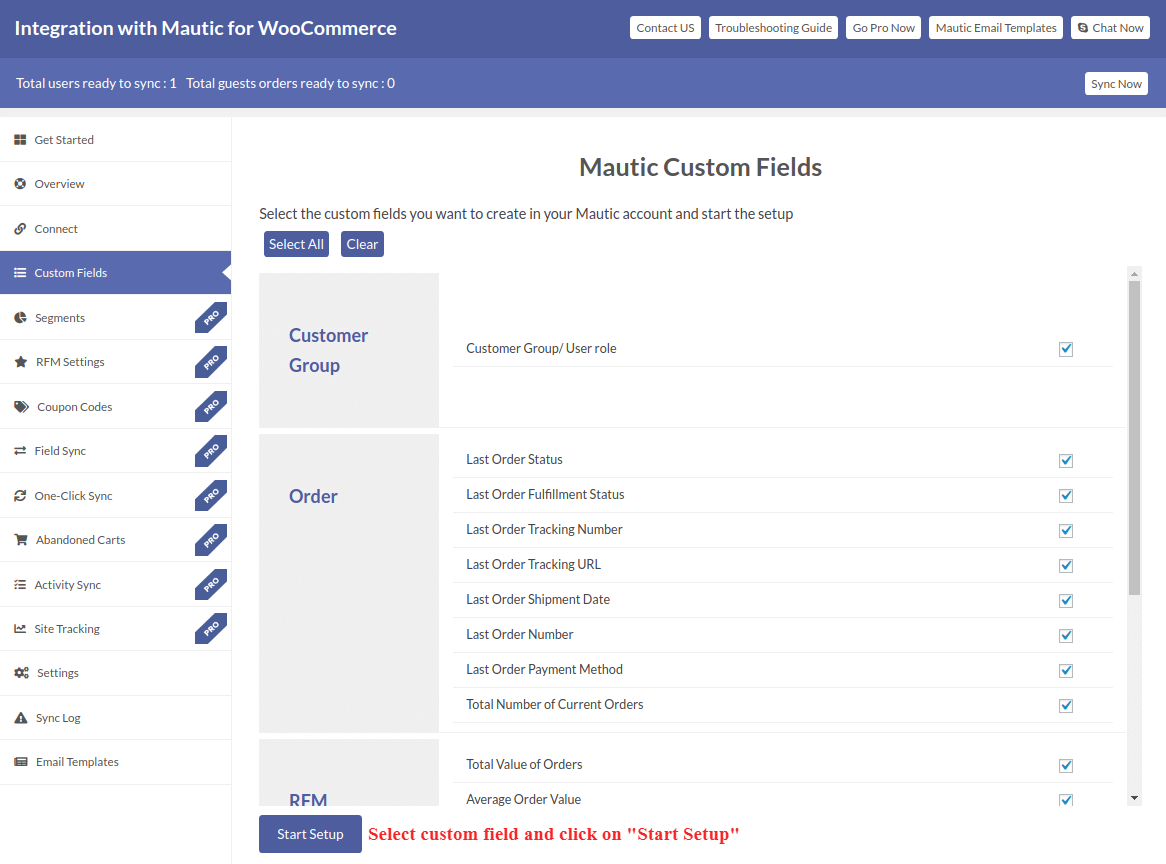 If you have opted for all fields created by us, then you will show all those fields before the setup. And if you want can start the setup from here.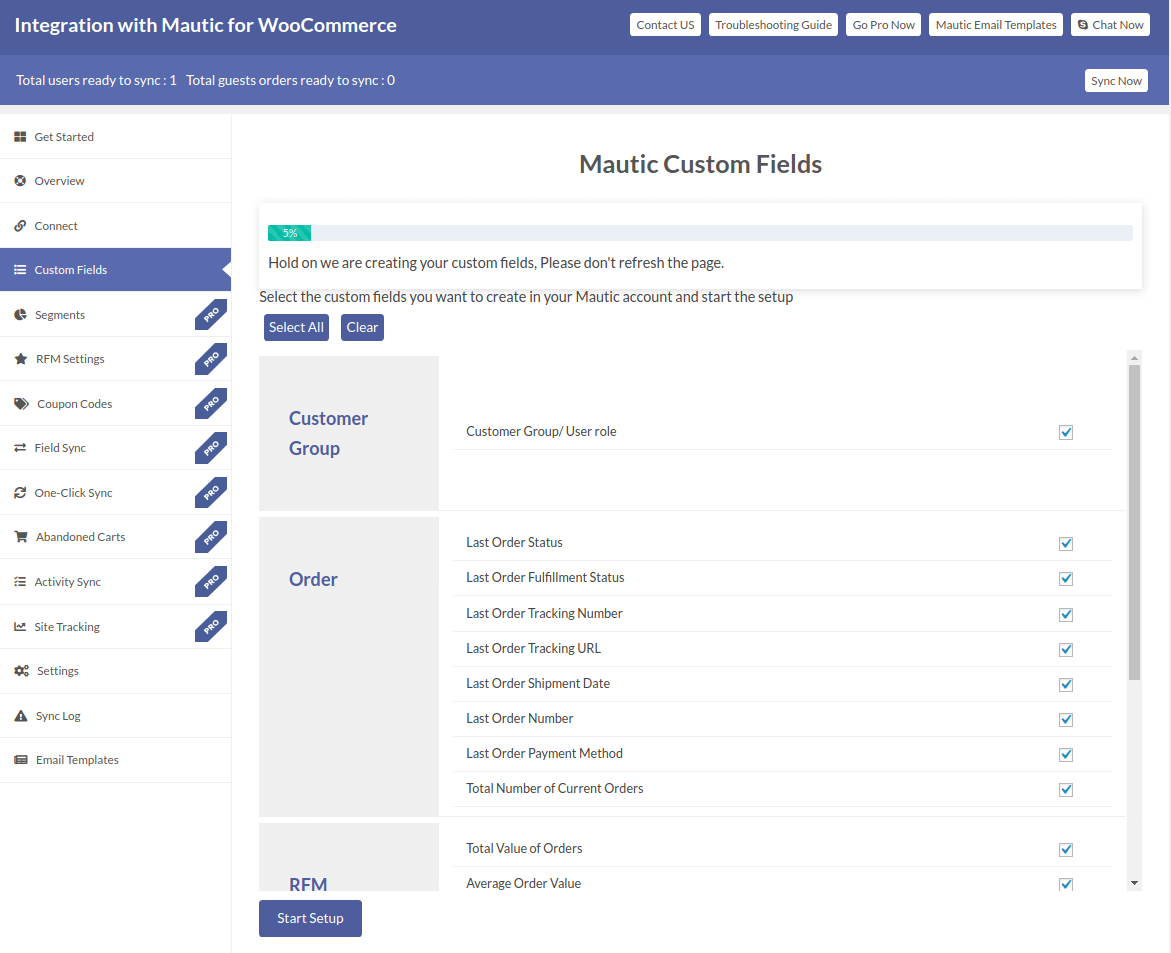 The custom fields setup will create all the fields one by one on your Mautic account. Also if you want,  can create a single field whenever you want on your Mautic account.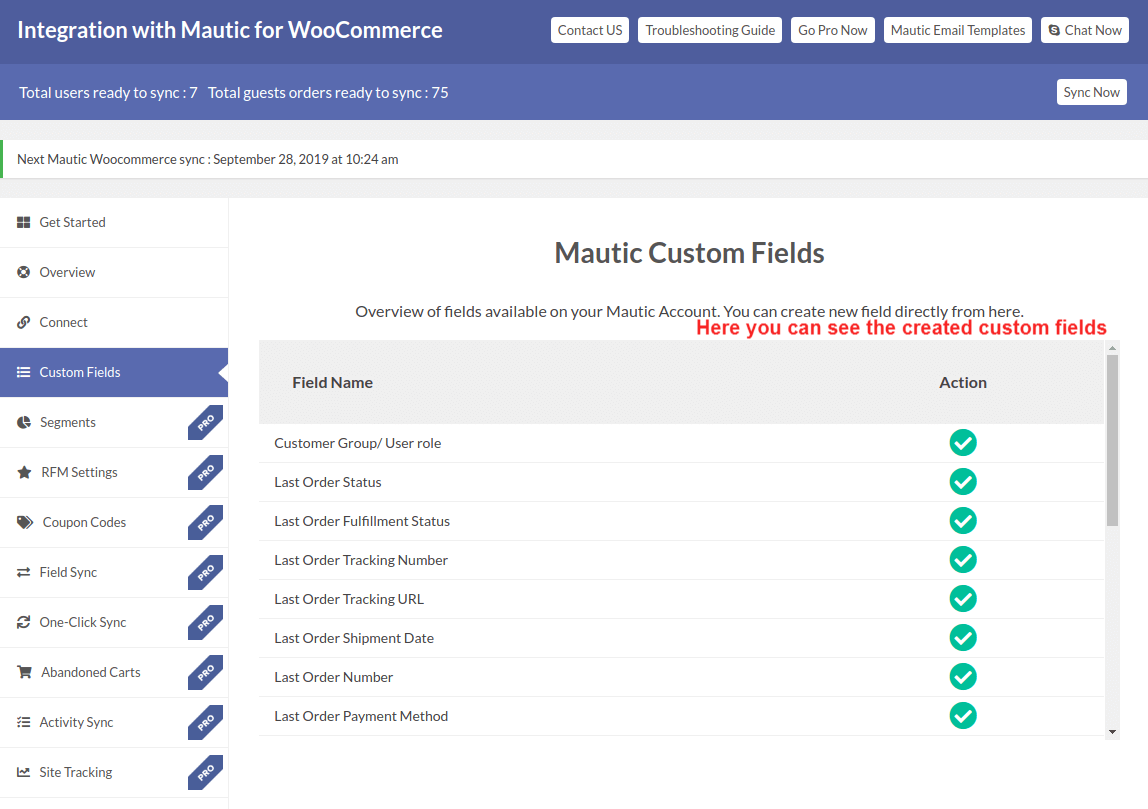 These are the custom fields of Mautic created by the extension. Through these fields, you can make your decision making task simple and effective as the fields will provide you with the real-time data of customers.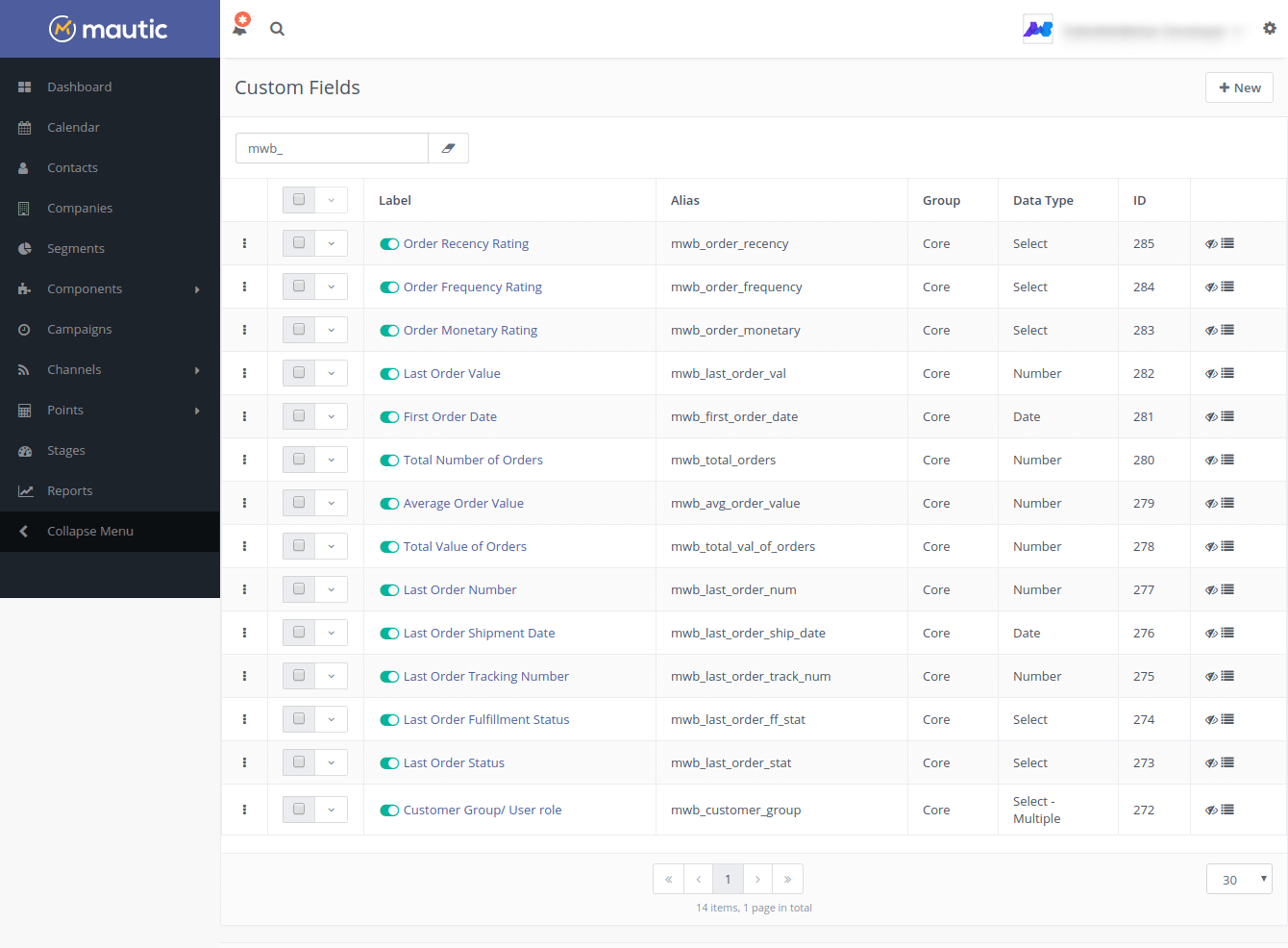 6.

Settings

You can set the order through their status and only these orders will be used for syncing the customer's real-time data on Mautic. The default will be all order statuses.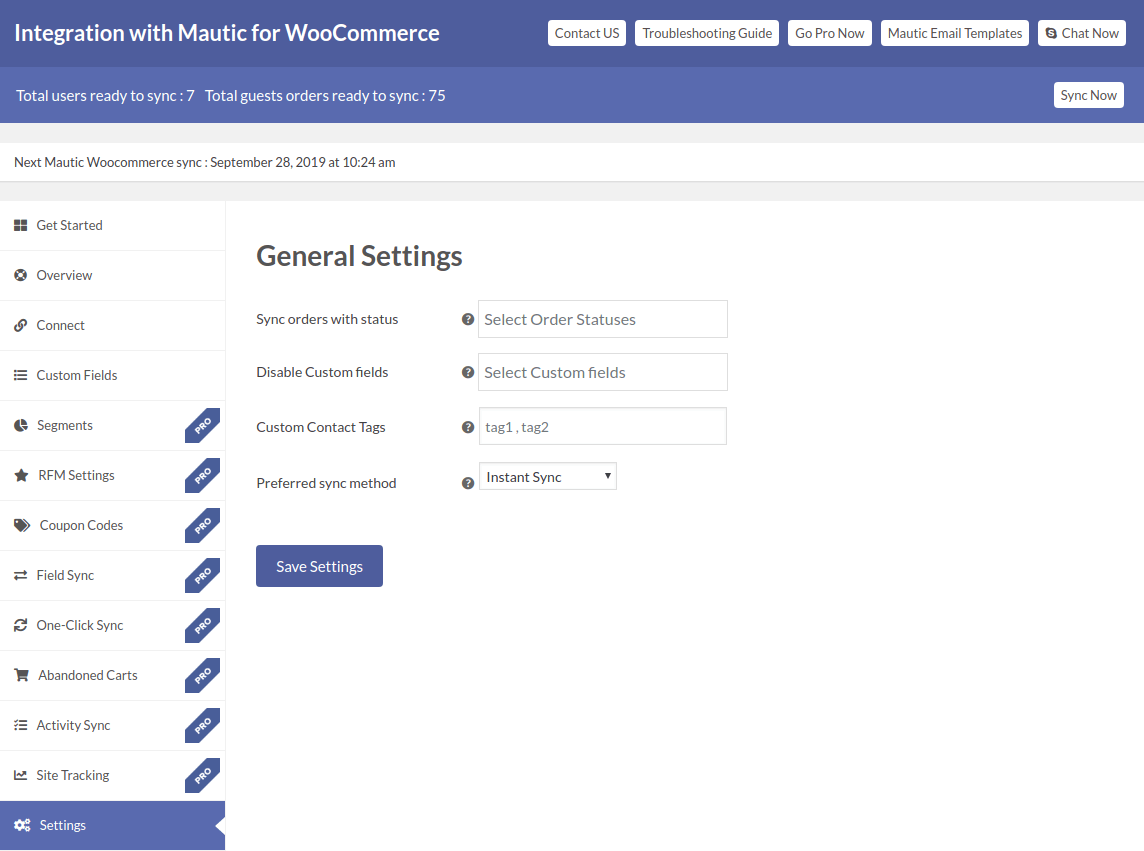 Sync orders with statuses: The order with the selected order only will be sync with the Mautic Account.
Disable Custom Fields: Select one and more fields to prevent the syncing on Mautic Account.
Custom Tags: Enter one or more tags to assign each contact.
Preferred Sync Method: Select a method between in every 5 min or real-time syncing to allow the syncing on Mautic.