1.

Overview

Petex is a free HubSpot theme specially designed for

pet care, pet sitters, pet shop, animal rescuers, pet grooming, animal shelter, or any other pet-related website

. 

With the Petex HubSpot theme you get:
Complete Design Control

Pre-built Pages and Blogs

Designed for Conversion

Future Feature Updates

Clean and Beautiful design
Petex theme offers easy customization. However, if you need any assistance with the installation or setup,
connect with us
for
a free 30 minutes session.
2.

What's Included?

Petex HubSpot theme offers,
Modules – 28

Sections – 8

Templates – 8

Blog – 2

System Pages – 7
If you want us to add any module or curate a template for you, talk to our experts, share your requirements and we'll get it done as soon as possible. 
5.

Typography

This setting lets you tweak the headings from H1 to H6 along with the body and links.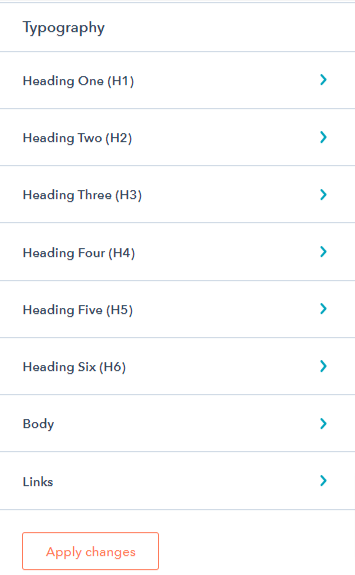 The H1 to body submenu of the typography has options to select desktop font, adjust line height in pixels, alter letter spacing, and text transformation. For mobile devices, you can change the font size, line height, and letter spacing of the theme. You can change the normal and hover color of the links too. 
8.

Website Header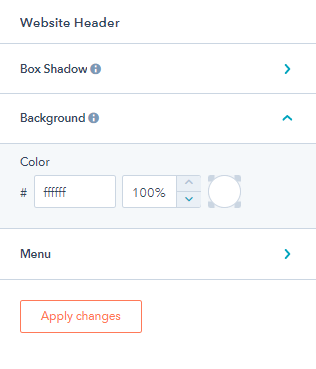 The website has 3 sub-settings:
Box shadow:

Enable or disable box shadow and change the box shadow color.
Background:

Change website header background color.
Menu:

Edit menu text ( desktop font, line height, transform, mobile font size, and line height), hover & active font, change menu drop-down background color, hover text and background color, and active text font color. 
10.

Forms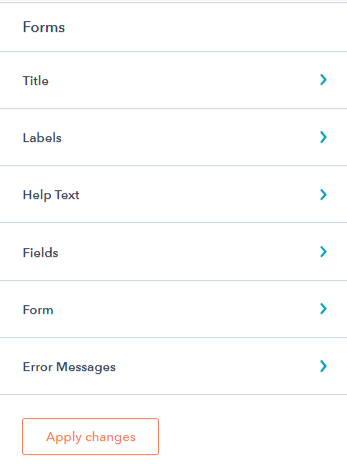 The following sections of the form have these mentioned settings for forms:
Titles

: Edit text (font, line height, letter spacing, text transformation), background color, spacing, and corner radius. The border radius only alters the top left and top right of the title.

Labels

: You can edit the text and spacing of the form labels.

Help text:

Change the font of the help text on forms.

Fields:

Change the font of the GDPR Text and Rich Text, alter border radius, change border color on focus, border style, spacing, background color, text, and placeholder color of the input fields. 

Form:

Alter form background color, mobile and desktop spacing, border style, and corner radius of the form.

Error Messages:

Change font, alter spacing, and border color of the error messages.
11.

Tables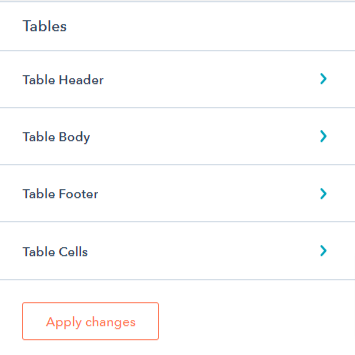 The tables option has a further 4 sub-options.
Table Header:

Change table header text color and background color

Table Body:

Change table body text color and background color.

Table Footer:

Change table footer text color and background color.

 
Table Cells:

Change spacing, padding, and border of table cells.  

 
13.

System Page Setting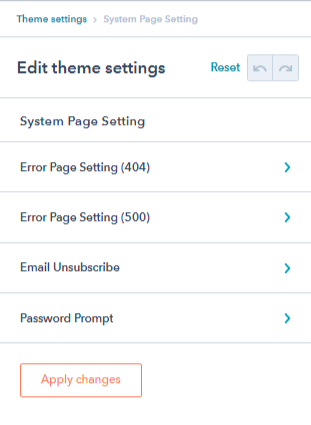 You can use the system page settings to make changes to system pages. There are 4 settings here,
Error Page Setting (404)

: Enable/disable the error image, and change the error banner image from here.

Error Page Setting (500)

: Enable/disable the error image, and change the error banner image from here.

Backup Unsubscribe

: Enable/disable the banner image, and change the backup unsubscribe banner image from here.

Password Prompt

: Enable/disable the password prompt image, and change the password prompt banner from here.
14.

Theme Modules

Petex HubSpot theme has the following 28 modules:
Accordion

Banner

Blog Listing

Blog Related Posts

Button

Card

Counter

Copyright

Custom Form

Custom Image

Donation Form

Donation Card

Footer Navigation

Gallery

Header Controls

Header Toggler

Icon Box 

Image Card

Logo

Map

Menu

Progress Bar

Social Follow

Spacer

Team

Testimonial

Title Content

Video Popup
16.

Theme Templates

Petex has 8 theme templates.
Home

About Us

Contact Us

Adopt A Pet

Blog Listing

Blog Detail

Our Team

Support Us(Landing Page) 
17.

System Pages

Petex theme offers you 7 different system pages that are as follows,
404 Error

500 Error

Password Prompt

Search Results

Backup Unsubscribe

Subscription Preferences

Subscription Confirmation